If you want to generate new leads and cases for your firm this year, one of the absolute best ways to do that is by Google Ads. When managed properly, Google Ads can be an incredible tool to increase your online visibility and drive high-quality leads to your practice. iLawyerMarketing, a certified premier Google Partner, specializes in creating and managing Google Ads campaigns specifically tailored for law firms. We can help if you are looking to generate:
Personal injury leads
Mass tort leads
Criminal law leads
Family law leads
Employment law leads
Immigration law leads
Bankruptcy law leads
Any other area of law
With our team of highly experienced Google Ads experts, we help you maximize your return on investment and generate more clients through targeted and data-driven Google Ads campaigns.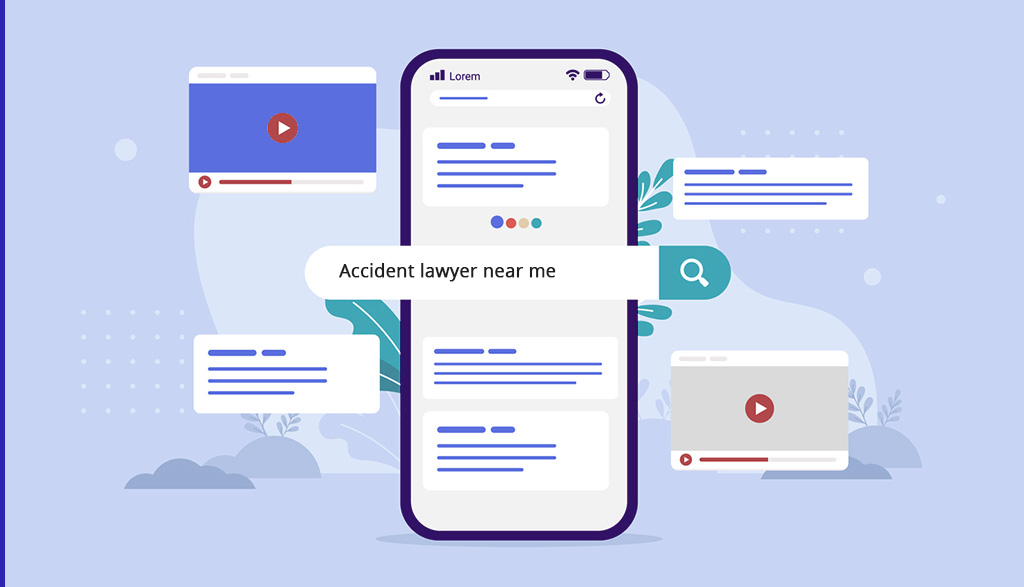 Why choose iLawyerMarketing to run Google Ads for your law firm?
We optimize paid campaigns for signed cases, not simply leads
We havae 15+ years of experience of running Google Ads for law firms. We know what works!
Our landing pages are built with CRO best practices (Conversion Rate Optimization), which results in lower CPL (cost per lead) and more signed cases
How iLawyerMarketing Can Help Your Law Firm Generate More Leads with Google Ads
Expert Campaign Management: Our Google Ads certified experts will create and manage your campaigns, ensuring that they are optimized for maximum performance. We continually monitor and adjust your campaigns to improve their efficiency and increase the number of quality leads generated. We've been doing this for a very long time. The expertise and experience we have running campaigns specifically for law firms plays a big part in the success we can have together.
Data-Driven Strategies: We use our extensive experience, industry research, campaign data and proprietary keyword intelligence tools to develop targeted keyword strategies that drive high-quality leads to your law firm. By utilizing the right match types, negative keywords, and ad extensions, we ensure that your ads reach the most relevant audience.
A/B Testing: We conduct A/B testing on all our campaigns to optimize ad creatives, landing pages, and other elements, in order to try to continue optimizing and improving your campaign performance.
Conversion-Focused Landing Pages: Our team designs and develops high-converting landing pages that encourage visitors to contact your law firm. With nearly two decades of experience creating landing pages that convert, we put our knowledge to work for you with every campaign we run and every landing page we create.
Transparent Reporting and Analytics: We provide you with detailed reports and analytics, allowing you to track the performance of your Google Ads campaigns and measure your return on investment. With our call tracking solutions, you can accurately determine the source of your leads and optimize your marketing efforts accordingly.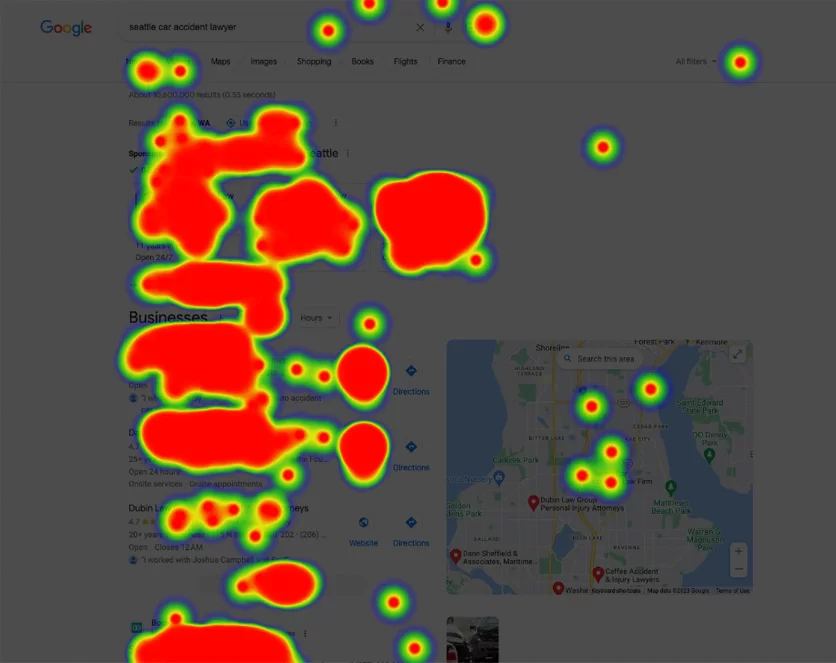 Type of Google Ads We Can Help You With
Search Ads for Law Firms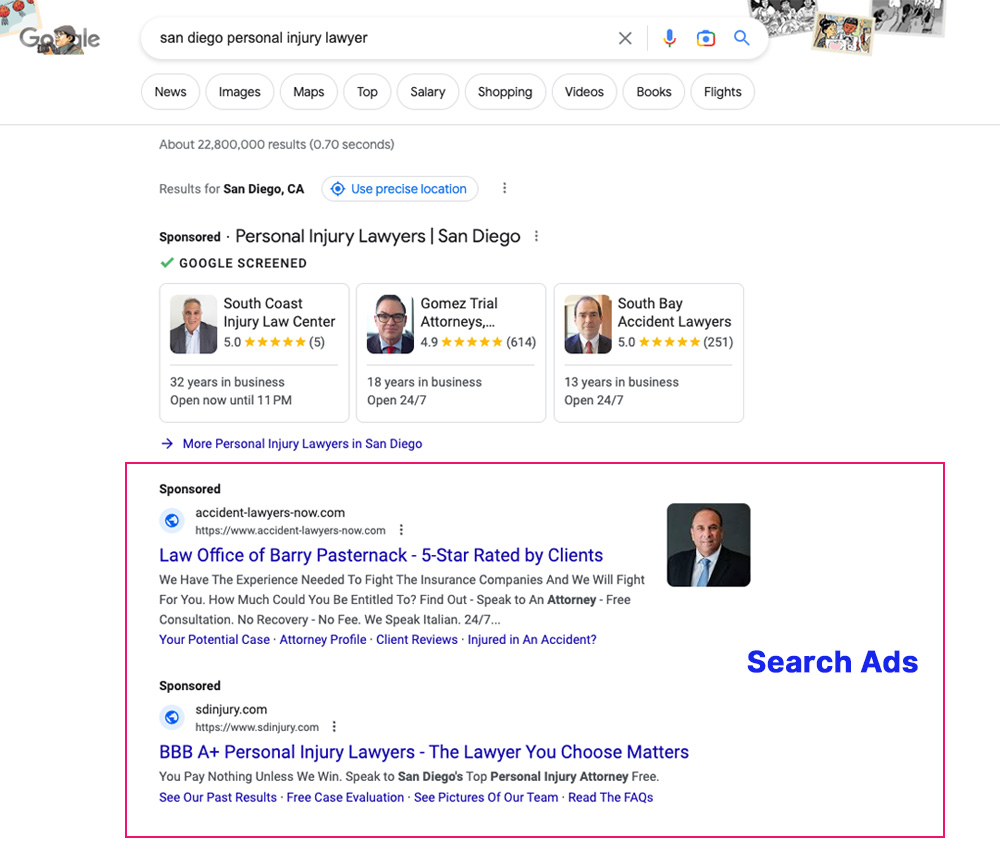 Traditional Search Ads are the most common type of Google Ads and appear on the search engine results page (SERP) when users search for specific keywords related to your area(s) of la. You've seen these ads for many years. Search ads include a headline, description, and link to your website, and they are charged on a pay-per-click (PPC) basis. When properly ran, these are can be a powerful way to drive more leads.
Local Services Ads (LSAs) for Law Firms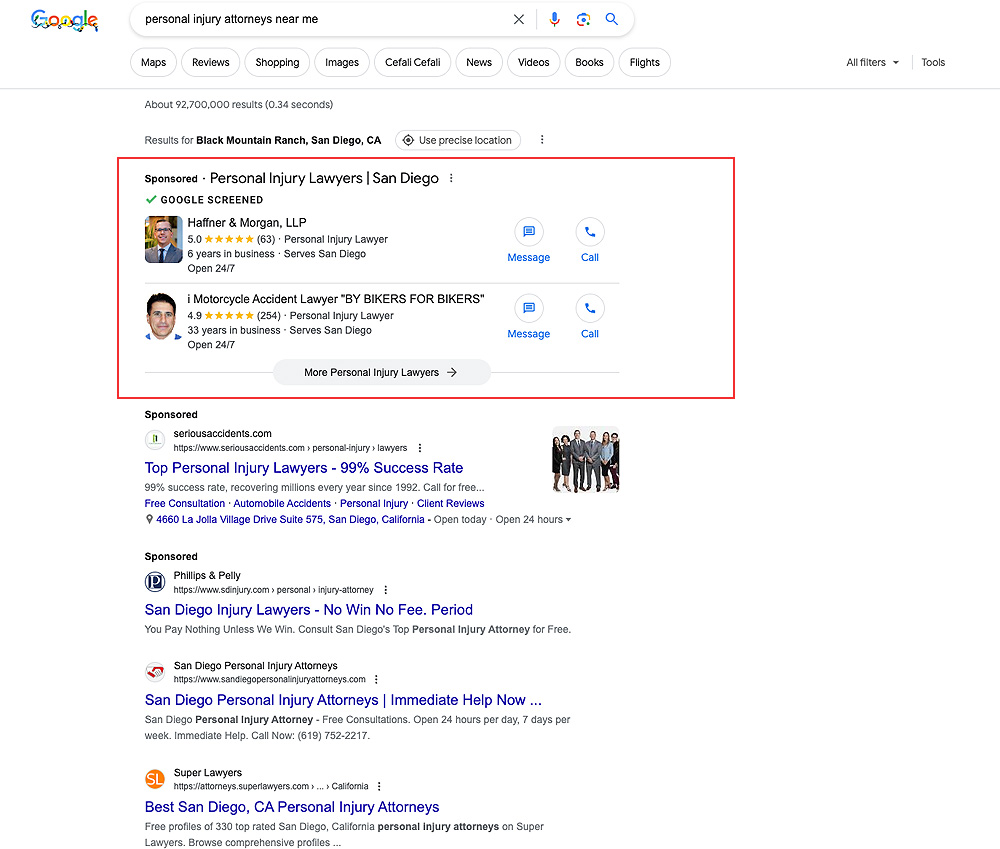 Local Services Ads have become very popular in the last couple of years. LSA ads are specifically designed for businesses that serve clients in a particular geographic area. These ads appear at the top of local search results and include your law firm's name, phone number, and customer reviews. As opposed to regular search ads where you are charged per click, Local Services Ads are charged on a per-lead basis, making it a great option for any firms who have the marketing budget. It's highly effective for the most competitive areas of consumer law, such as personal injury, criminal law and family law. Previously, Google showed 3 law firm LSAs, but recently Google changed this to just two, as shown in the image above.
Video Ads for Law Firms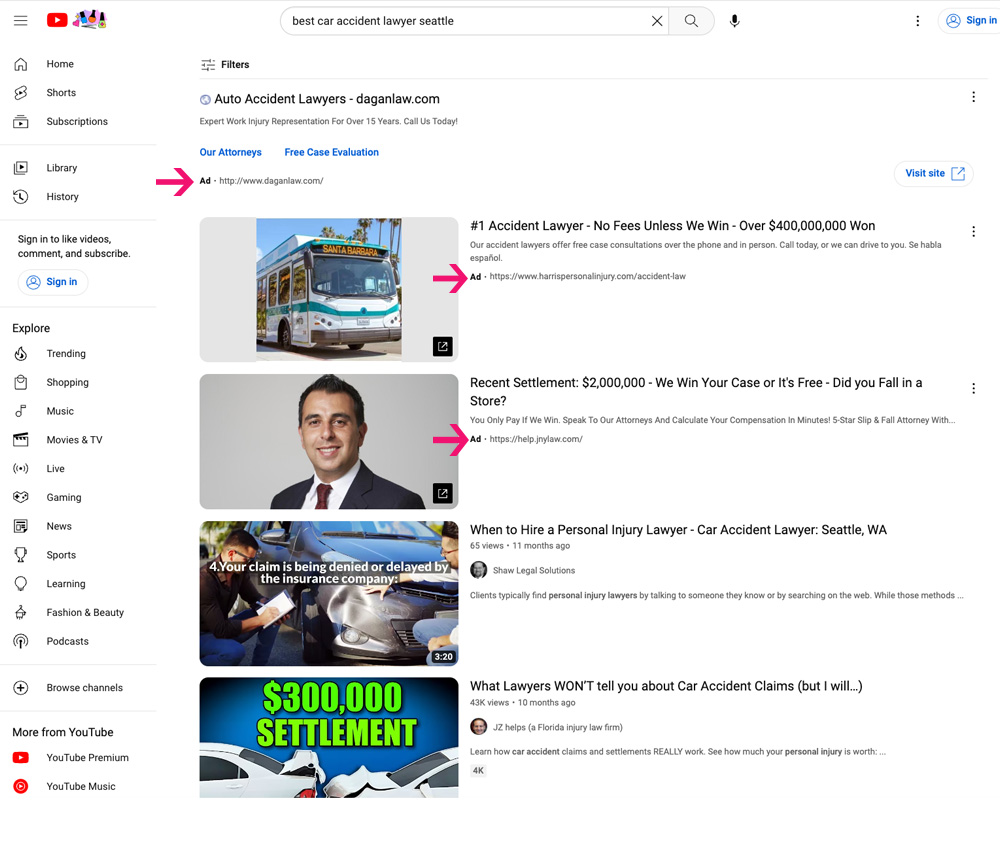 Video ads run on YouTube and/or other video platforms within the Google Display Network. For some of these ads, it's hard for a user to even realize these are ads. Video is a powerful way to gain trust from potential clients who are looking for a law firm online. Additionally, video ads can help increase brand awareness and engage potential clients. According to our recent study on how consumers research law firms online, 20% of people use YouTube to research law firms.
Retargeting Ads for Law Firms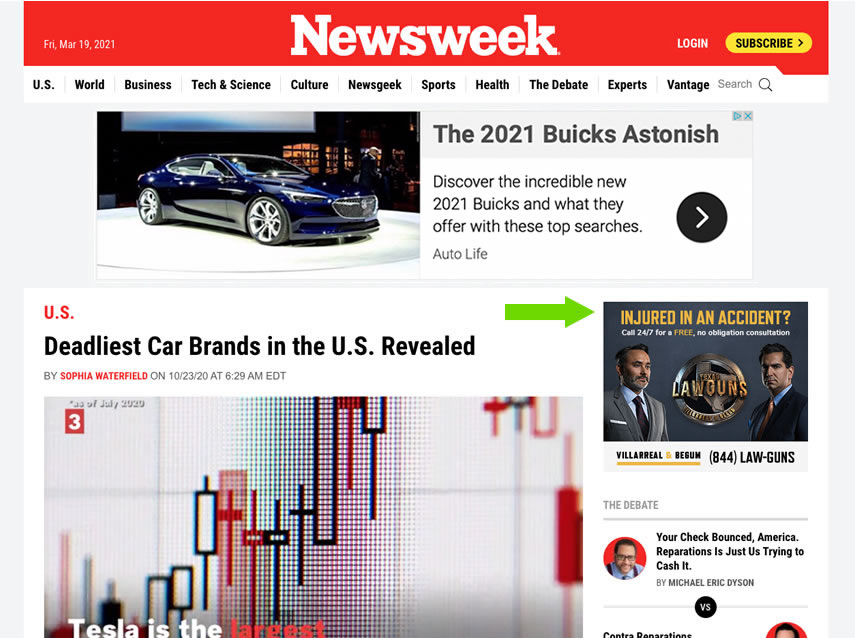 Remarketing ads allow you to target users who have previously visited your website but did not convert into a lead. These ads can appear in both search and display formats and are designed to remind users of your services, encouraging them to return to your site and take action. Remarketing ads can help law firms increase their conversion rates and make the most of their marketing budget.
Display Ads for Law Firms
Display ads are banner ads that you see on various websites and apps. Most commonly, these are retargeting ads. These ads can include images, text, or rich media and can be targeted based on keywords, demographics, and interests. Display ads are useful for increasing brand awareness and reaching potential clients who might not be actively searching for legal services. Since most banner ads are generally ignored, we are not fans of display ads unless they are being used for retargeting/remarketing purposes.
Why Google Ads for Law Firms:
Virtually Instant Visibility: Some Google Ads provides your law firm with immediate first-page visibility on search engine results, allowing you to reach potential clients who are actively searching for a law firm online. While we still believe SEO provides the best value when it comes to cost per lead (if your site it ranking high on search), if your Google Ad are run efficiently, it's a great way to grow your practice.
Targeted Advertising: Google Ads allows for precise targeting based on keywords, location, and demographics, ensuring that your ads reach the right audience. By focusing on specific areas of law and geographic locations, you can effectively target potential clients who are most likely to require your services.
Measurable Results: Google Ads provides detailed analytics and reporting, allowing you to track the performance of your campaigns and measure your return on investment. With this data, you can optimize your campaigns to improve their performance and generate even more leads for your law firm.
Flexible Budgeting: Google Ads offers flexible budgeting options, making it suitable for law firms of all sizes. You can set your daily budget, choose how much to bid for each click, and adjust your spending based on the performance of your campaigns. However, certain markets and certain practice areas require bigger budgets in order for a campaign to work.
Law Firm Google Ads FAQs
Question: How much will it cost to run Google Ads for my law firm?
Answer: This will depend on your budget. Google Ads budgets vary greatly, and depend on several factors including how many cases you are looking to generate, how much your competitors are spending in your market, what types of cases you want, which targeted keywords we want to appear for, the types of ads you are running, etc. The best way to find out how much you will need to spend will be to speak to one of our law firm marketing consultants. During this process, we will ask important questions so we can learn more about your firm and your goals. This will help us create campaign and budget recommendations for your law firm. At the end of the day, we realize that running Google Ads for your law firm is all about ROI.
Question: How will I know if my Google Ads campaign is working?
Answer: You will have access to our campaign dashboard so you can check the performance of your Google ads or LSA campaign at anytime. We will meet with you each month to review and find ways to improve the campaign we are running. Inside our dashboard, you will be able to tell us which leads are good leads, bad leads and which ones turn into new signed cases. We use this information to report back to Google, which helps to continue optimizing the campaign. Google will learn from the data we report back, which will help improve campaign performance. Additionally, our dashboard will identify which leads that you get come from organic SEO and which ones come from paid search ads. This way you will know which type of marketing is working best for your firm.
Question: Will running PPC ads help my organic rankings?
Answer: Not directly, no. However, indirectly it can absolutely help. This is because running Google Ads may increase brand awareness for your law firm. If more consumers are searching for your brand name in Google search, this can have a positive impact on rankings. Additionally, when iLawyerMarketing handles law firm SEO services and PPC management for any firm, we share data between our departments to try and improve performance for each type of campaign.
What are you waiting for? Call us now for your free consultation!
At iLawyerMarketing, we are built different. Our goal is not to be the biggest, but to simply be the best. Call us today and speak with one of our consultants who have over 15 years in the digital marketing for law firms business. We want to find out what out what your needs and goals are so we can come up with a customized game plan for your law firm.