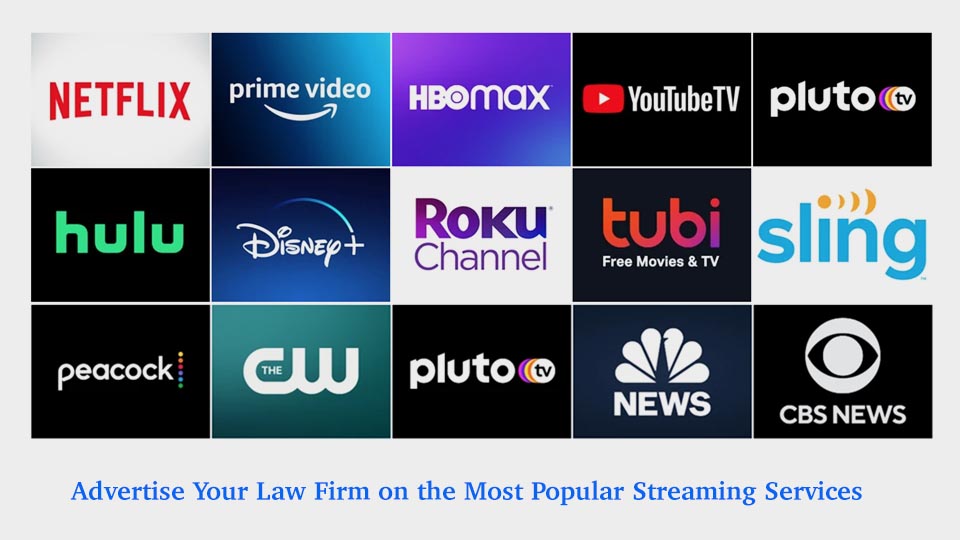 Are you wondering how your law firm can take advantage of advertising your law firm via streaming TV? If so, good for you, as you are probably ahead of your competition. iLawyerMarketing can help!
The way that people consume TV and video media these days is very different from in years past. Cable providers no longer dominate the video content market like they used to. In 2020, major pay-TV providers lost over 5 million subscribers, as more consumers "cut the cord" on satellite and cable TV. Consumers are turning to streaming services like Hulu, Netflix, AppleTV and other subscription on demand services to watch their favorite content when they want, wherever they want. Nearly 4 in 5 U.S. households now have at least one CTV (Connected TV) device on an estimated 820 million connected video devices. With an audience size that large and with the ability to target consumers on thousands of factors, CTV and Over-The-Top (OTT) ads are becoming much more appealing to advertisers in the know.
If you are an attorney looking to increase the number of leads you generate this year, you should be considering OTT (Over The Top) advertising in 2021. This is especially true if you are a Mass Tort or PI firm looking for the type of personal injury lawyer marketing that can give you the advantage over your competition. However, this is not just for PI lawyers. Streaming TV advertising can be a valuable way to reach your potential clients if your law firm handles criminal law, family law, employment law, bankruptcy law or other consumer focused areas of law.
What is Over-the-Top (OTT) advertising?
OTT (Over-The-Top) is streaming TV content that is delivered to consumers over the internet to consumers. It's called "Over-The-Top" because it bypasses traditional broadcast, satellite and cable TV for delivering video content, giving advertisers the ability to reach audiences in a much more targeted manner. Hundreds of millions of consumers in the U.S. now use streaming or video on demand providers like HULU, HBO Now, Amazon Prime, Disney+, etc. OTT advertising is advertising delivered to viewers of these streaming service providers. Mostly commonly, 15-second or 30-second video ads are served while consumers are watching shows on these platforms, similar to the way that commercials are shown on traditional TV but with the ability to laser target your audience based on thousands of factors including age, sex, location, income, and much more.
Why Streaming TV (OTT) advertising for Lawyers?
There are many reasons why you should consider running OTT ads for your law firm.
Demographic targeting: OTT advertising gives you the ability to target on thousands of factors, including geo-location, demographics and interests.
High Video Ad Completion Rates: Consumer will watch your ads! Unlike normal TV, users cannot skip your ads, so video ad completion rate is typically 97%! Compare that with traditional TV where most consumers simply ignore commercials.
Retargeting: Reach your audience across devices! For example, someone may see your ad while watching Netflix on their laptop but you can still retarget that visitor at a later time when they are using their iPhone. Or serve ads to visitors that have been to your website and then are watching shows via a streaming service at a later time.
Be first to market: Use an advertising medium that is not (yet!) overly saturated by other law firms.
Marketing campaign synergy: OTT ads are not just a branding or consumer awareness play. They can work work together with other forms of digital marketing to make your overall marketing campaign much more successful.
Lower cost to entry than TV ads: Unlike with traditional television advertising, OTT ads give you the ability to try to run commercials for your law firm but without enormous budgets often required by traditional television advertising.
Top of mind awareness: Running streaming TV ad campaigns can help your firm become a brand name in your market so when someone needs legal help, your law firm is the very first thing that comes to mind.
How do you Track Performance with OTT advertising?
Unlike the paid search advertising that most law firms have experienced, OTT & CTC ads don't normally rely on clicks so when tracking performance we use different metrics. The effectiveness of these campaigns is measured much more like the way traditional TV advertising is, only with more insight and information. Some of the metrics we use to measure campaign effectiveness include:
Reach (the number of users that viewed your ad) and frequency (how many times users saw your ad)
CPCV (Cost Per Completed View)
VCR (Video Completion Rate)
CPM (Cost per 1,000 impressions)
Impressions by geo, state, county & zip
Views by device
Increase in branded search traffic to your website
Call tracking activity
Increase in total leads generated
Tracking performance is not always obvious when using Over-The-Top but that doesn't mean you shouldn't run OTT ads. For example, a consumer may see your ad, then search your law firm on Google, fill out a form online and the OTT ad wouldn't be able to be "credited" with that lead. However, creating more awareness for your law firm by utilizing OTT ads will help you become more "top of mind", which usually means more leads for your firm. At the end of the day, what truly matters is maximizing the number of leads you generate with your marketing budget.
What devices are OTT ads served on?
OTT ad commercials are services on a many different types of devices, including:
Streaming devices (Apple TV, Chromecast, Roku, Amazon Fire TV, etc.)
Mobile Devices (iPhones, Android phones, etc.)
Tablets (iPads, etc.)
Computers & Laptops
Smart TVs/Connected TVs
Gaming Consoles (XBox, Playstation)
OTT Related Terminology
There are a lot of acronyms and terminology used for when referring to OTT ads that you may have heard being used, such as:
OTT = Over-The-Top
CTV = Connected TV. Any TV that is connected to the Internet is a CTV.
SVoD = Subscription video on demand. Examples: Netflix, Amazon Prime, Hulu.
AVoD = Advertising based video on demand. Refers to streaming service providers that offer free, ad supported video. Examples: Crackle, Roku Channel, Tubi.
vMVPDs = Multi-channel video programming distributors. These are streaming service providers that have paid TV, such as Sling or YouTube TV.
CPCV = Cost Per Completed View
VCR = Video Completion Rate
Linear TV = Traditional TV.
Questions?
If you have any questions, contact us today and we can discuss your needs and see if OTT ads are the right fit for your law firm.