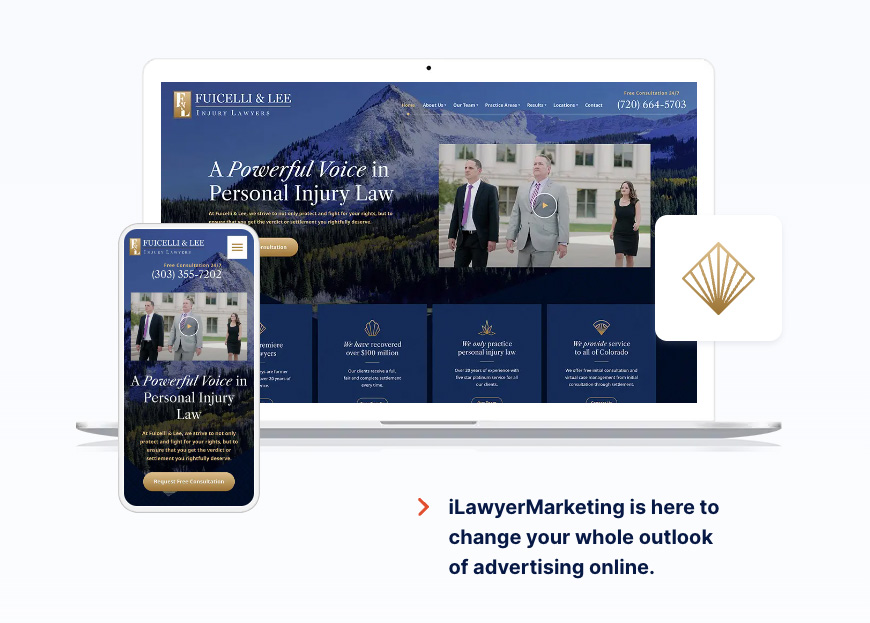 iLawyerMarketing.com specializes in law firm website design solutions that will help you grow your practice through the Internet. The saying "You never get a second chance to make a first impression" without question applies to the web. On average, a visitor will make a judgment about your law firms website within the first three seconds of landing on your page. The bottom line is that if your web site doesn't immediately grab the attention of your site visitors, they will leave and move on to the next lawyer website they find. Our professional web designers will create a custom website for your law firm that will grab the attention of your site visitors and help to convert website visitors into new clients.
What makes our attorney web designs different from others?
Designed to Impress: We know the importance of making a great first impression on your potential clients. That's why our goal is always to design a website that impresses your website visitors and makes your law firm look better than your competitors.
Custom designs: All our designs are custom designed by our incredibly talented designers. Unlike most other companies who buy and use cookie cutter templates, we personally create every single site we design.
SEO friendly websites: Most attorney websites that exist on the web today suffer from code bloat, which usually results in a negative impact to search engine rankings. That's because sites were not built with SEO in mind. We keep SEO in mind with every site we design and build.
Designed to Convert: The goal of every site we create is to maximize the conversion rate of website visitors. This ultimately translates into more leads and more cases for your law firm. We use research, data, and 15+ years of law firm marketing experience when it comes to designing and building law firm websites.
Designed to Impress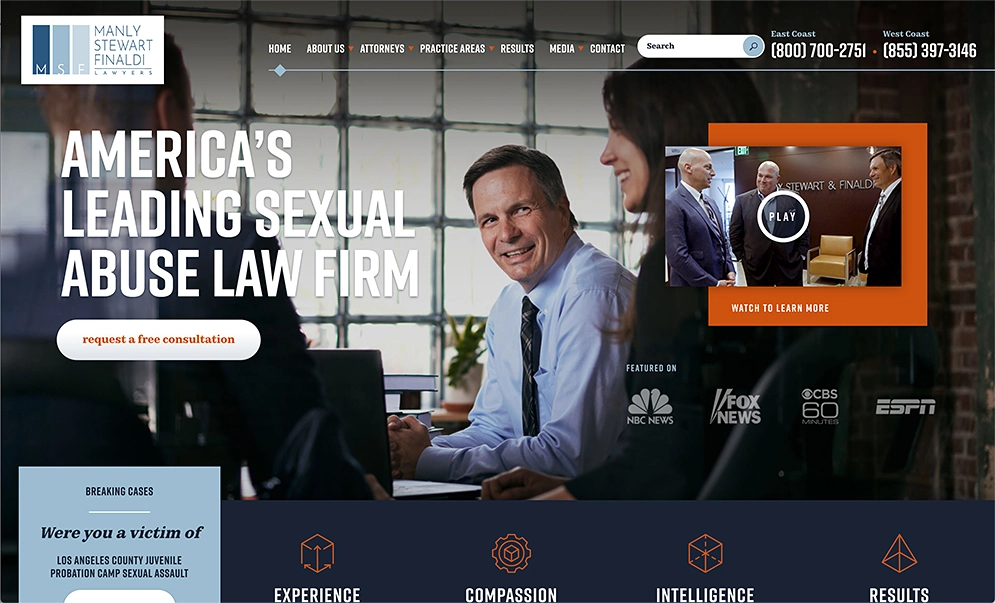 Created to Convert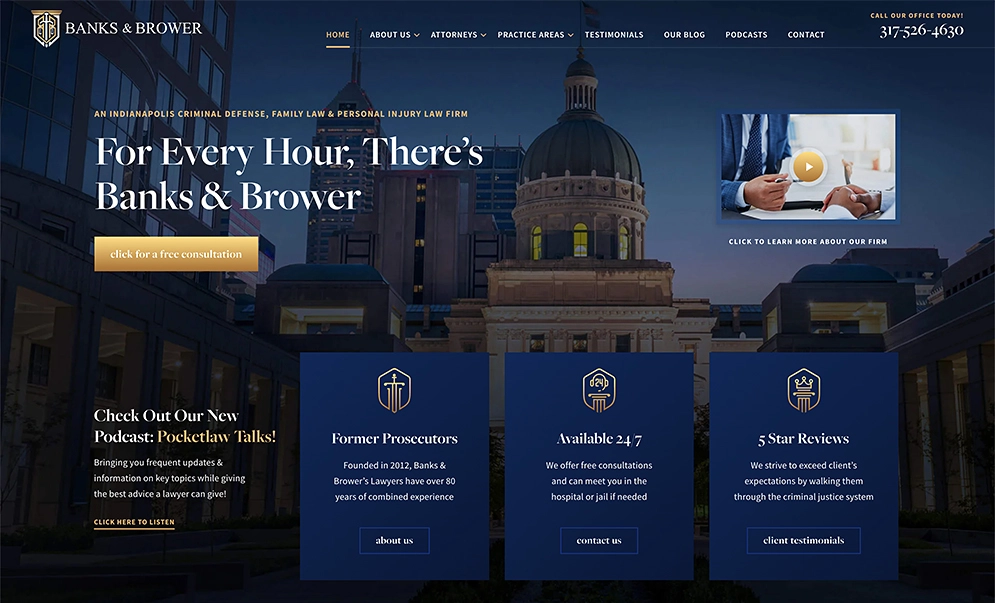 What is the design and development process like?
At iLawyer Marketing, all law firm web designs with an in depth analysis of your law firm and your law firm's strengths. We want to make sure that your "selling points" are prominently featured in your design, so it's important for us to know and understand your firm better before we begin the design process. We want to know what you like (design, colors, images), as well as what you don't like, to make sure we are creating a website that matches your vision.
After learning about the firm, we start the design process. Here we blend the information we learned about your firm together with the deep insights we have of how consumers research and hire law firms online. We incorporate CRO (Conversion Rate Optimization) best practices in all our websites in order to maximize the leads you get from potential clients visiting your website.
We then present you with the design we've created. We will review it together, and if needed, make design revisions in order to perfect the design. Once you have given us your stamp of approval, we can begin the development process, which is what brings your website to life. After the web development work has completed, you will be able to review the fully functioning website on a development environment before we publish your new site to the web.
Law Firm Websites That Can Help You Generate More Revenue
At iLawyer Marketing, we believe in smarter law firm marketing. Successful marketing campaigns for law firms always start with smarter websites and/or landing pages. We have invested heavily in research around understanding consumer behavior when it comes to researching law firms online. The design decisions we make are based on data and experience. Through years of research, we know that your site visitors are often comparing your website to other law firm websites, so our goal is to create a website that looks and functions better than your competitors. Ultimately, these things can help you convert more website visitors into actual signed clients.
If the goal for your site is to help you generate more cases, it's also incredibly important to have a website that is built "search engine friendly". Since our expertise lies in SEO, all our website are programmed with code that allows all the content on your website to be found by search engines. Our website developers are trained by our SEO experts to ensure that your website is built to maximize your visibility on Google. Other attorney web design services do not understand search engine optimization at the level that we do, which means the websites they build often times are missing important elements that a site needs in order to attain high visibility on the Internet. Better online visibility means more leads for your law firm.
Your website is the foundation of a successful Internet marketing campaign. Investing in a professionally built, high quality website will mean a higher conversion rate of website visitors, ultimately meaning more business for your law firm.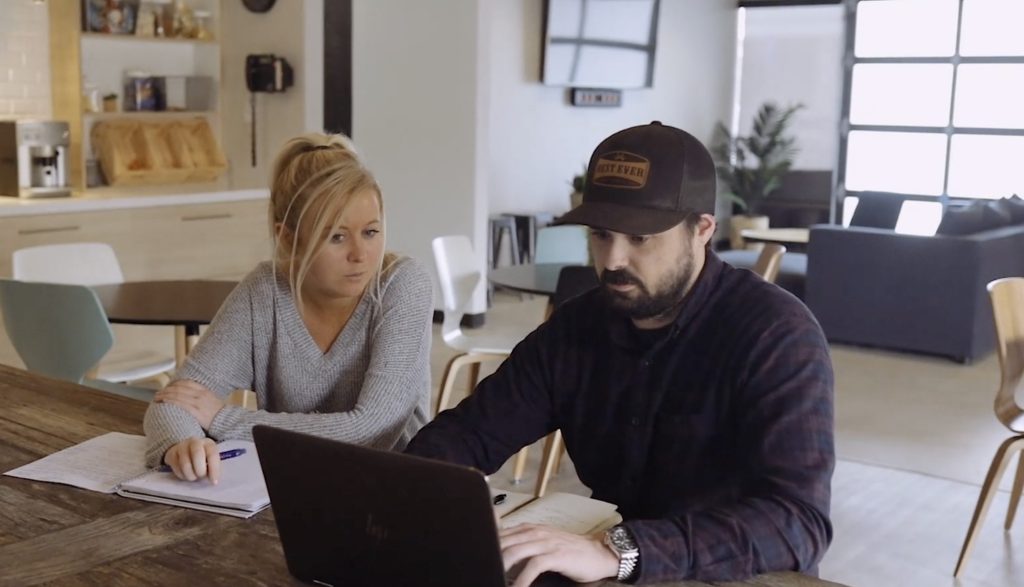 SEO Friendly Website Build to Convert
We spend thousands of dollars and hundreds of hours each year trying to study and learn how consumers research and contact lawyers online. What is important to consumers? Does design matter? What can increase your website visitor conversion rates? We put a lot of thought into the sites we design to help increase the chance that your law firm marketing campaign is a success!
Are you ready for take your law firm's website to the next level?
Isn't it time for your website design to match the quality of your law firm? If you are ready to impress your consumers and. your peers, it's time to contact iLawyer Marketing. Fill out the quote request below and get started today.