Smarter SEO for Personal Injury Attorneys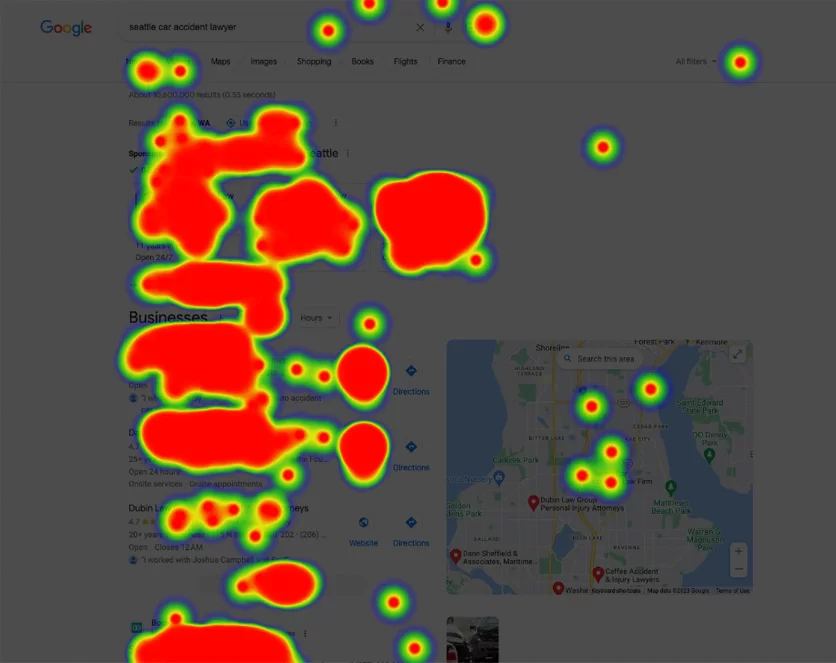 If you're like most personal injury attorneys who are looking to grow their practice and generate more revenue for your law firm in 2023, you know just how important it is to have high visibility on Google. Unless your website can be found on the 1st page of Google for search phrases related to the types of cases you are wanting to generate, you will miss out on the many consumers who turn to the search giant when trying to find a personal injury lawyer online. Those consumers will find your competitors websites instead of yours. While Google Ads are an option that all attorneys handling personal injury cases should consider utilizing in 2023, there is no better value than search engine optimization (SEO) when it's done the right way. If you consistently rank near the very top of the results for hundreds (or thousands) of search phrases related to consumers wanting to hire a personal injury attorney, the revenue potential is enormous.
What Makes iLawyerMarketing the Best SEO Provider for Personal Injury Law Firms?
iLawyerMarketing has been recognized as the premier SEO provider in the legal industry for many years. No matter how competitive the market is that you are in, iLawyerMarketing can help you get the visibility you need to generate new leads and cases. Even in the most competitive markets in the country, from Los Angeles to New York, we've helped our clients get top rankings for the most important keywords that we know consumers are using to find personal injury attorneys online. Compare us against any other legal marketing vendor and we can share objective Google ranking data that proves we are the best in the industry. We have data on every single vendor in the legal marketing industry, as well as several thousand personal injury websites across the country.
So what makes us the best?
Our past and current results: Any company can tell you that they can get you to the top of Google. The reality is only a select few law firm marketing companies actually are capable of getting you there. Ask us to share with you the results we are currently getting for other personal injury law firms. We will be happy to show you where we have clients ranking at the top of Google, for the most competitive search terms, in the most competitive markets.
Unmatched Experience: No company doing personal injury SEO has the experience that our SEO leadership team has. Our founder has been doing personal injury SEO for nearly 20 years. Our VP of Search has been doing it for 15 years and our SEO director for over 12 years. We know what works and what doesn't work when it comes to SEO for personal injury law firms. This experience and knowledge is applied to the strategies we use in all our SEO campaigns.
Data driven SEO: The smartest SEOs use data to help drive the strategies used in an SEO campaign. No legal marketing company has all the data we have, since the data we have is a combination of public data (public SEO tools, Google Analytics, etc.) and data provided by our personal SEO software tools that we have developed in house. We have data points on hundreds of thousands of law firm websites that we have been tracking for years.
Smarter SEO strategies: Most SEO providers, and law firms, are only focused on "primary" keywords like "personal injury lawyer" and "car accident lawyer". While those are absolutely important, you give yourself a much greater chance of increasing the volume of leads if you are optimizing your site for hundreds of keyword variations. We optimize for a wide variety of phrases that are both bottom of the funnel ("personal injury lawyer near me") and top of the funnel content ("should I talk to the insurance company after an accident?") to maximize the chances that a consumer will find your law firm. In 2023 and beyond, this is the best strategy to use.
SEO Software: Our in-house SEO software tools give us a big competitive advantage over other SEO companies. We have Google algorithm tracking software, giant keyword research databases with millions of keywords, content optimization software and more. We continue heavily investing in our SEO tools to make sure we have an unfair advantage over other SEO providers.
We want to win: Personal injury SEO is incredibly competitive in 2023. But guess what? We are incredibly competitive ourselves. Just like you, we want to win. We want to maintain our reputation for being the best personal injury SEO provider. We work very hard to try and make sure we win for our clients. After all, we know that's the best way to keep our clients for a very long time.
Questions about Personal Injury SEO
You may have questions related to personal injury marketing and SEO. Here are some of the most common questions we get asked by prospective clients:
What works better for personal injury lawyers: SEO or PPC?
This of course depends on many factors. If your website is powerful and you have great visibility for hundreds of phrases, SEO almost always outperforms PPC if you look at the CPC (Cost Per Case). However, if you don't have good visibility, PPC may provide a better value. In 2023, SEO takes time. In certain highly competitive markets it may take a year or longer before you start generating cases on a consistent basis. SEO is an investment and it takes time to pay off. Also, as paid ads continue to get more and more expensive each year, the value of SEO is growing in value. Ultimately it comes down to a few factors:
When do you need cases? If you said you needed to generate new cases quickly (within 90 days for example) then paid search is the way to go. if you understand that it will take time and you can afford to wait, then SEO is usually the way to go.
What is your budget? Certain markets around the country are going to require at least $25k a month in PPC ad budget to generate cases consistently. Usually PPC budgets are going to be higher than monthly SEO fees.
Can you afford both SEO and PPC? An ideal situation in 2023 is for you to do both paid ads and organic SEO for advertising. Google will continue prioritizing paid ads. If you can do LSA ads, text ads, retargeting ads and SEO, that will give you the absolute best chance for clients to find your law firm. Some aggressive personal injury firms appear 3x on a single search using this tactic. Mathematically, that significantly increase the chance the someone will find your law firm if you are showing up three times on the first page of Google for a single search.
How much does personal injury SEO cost?
Without question, personal injury SEO is the most competitive of all areas of law. Some law firms spend millions of dollars on marketing their personal injury or mass tort practice. While often a large portion of that budget is used on paid search, most firms use a healthy portion of their budget specifically on SEO. The price of SEO typically depends on different variables, such as the types of cases you are looking to generate, the size of the market you competing in, the number of geographic locations you are targeting and the level of competition on Google's 1st page of the search results. For example, if you are only looking to bring in car accident cases in Fort Collins, Colorado, that will be less expensive than also targeting Aurora and Denver as well. Since the algorithm is in a constant state of change, we always provide custom quotes based on your specific needs and the current algorithm. Contact us today and we will be happy to provide you with a custom quote.
How do I choose the right company to handle SEO for my law firm?
Choosing the right vendor is very difficult for most personal injury attorneys. And understandably so. You hear the same message from everyone, telling you they can get you great results. Fortunately, we can make the decision process easier for you (even if you don't choose us). Here at iLawyerMarketing we developed software that tracks the performance of all legal marketing providers in the industry. Our database has over 1,000 companies in it, so with this many companies to choose from, it wouldn't be wise to make a decision without using data and performance metrics. Not only does our software track companies, but our software also keeps track of the performance of every company on Google. We have data and metrics that nobody else in the industry has. If you are trying to decide between certain legal SEO vendors, contact us and we will share performance data with you to help make your decision process an easier one.
Do Links Matter in 2023?
Yes, links still matter for organic search rankings, although, they aren't as important as they used to be. Google is using many other factors when it comes to ranking website, and there is much more importance to the actual on-page content. However, in any competitive market, you still need links to rank, no doubt. In 2023, it's not about quantity of links but the quality. Higher quality links are the ones that have an impact on rankings, while low quality ones are ignored or have the potential to get you penalized. When it comes to ranking your GBP (Google Business Profile) in the map packs, links are even less of a factor. Firm name, reviews, proximity to searcher (among many other things) are the primary ranking factors.
Personal Injury Quote Request
"*" indicates required fields
What are your options when it comes to Personal Injury SEO?
There are a few different options you have when it comes to personal injury SEO.
Hire an agency that handles SEO
Hire an in-house SEO team
Learn SEO and do it yourself
Let's go through each option to give you some insight from someone who has been personal injury SEO for nearly 20 years.
​Option 1: Hire an agency that handles SEO
This is the option that without question will produce the very best results, if the right marketing company is selected. It's also the option that makes the most financial sense for almost every personal injury law firm. While personal injury SEO is not cheap by any means, it's much less expensive to pay an agency for monthly SEO services than to pay for an in-house marketing team that in reality won't be able to compete with an agency like ours. We have too much experience, talent, and proprietary SEO software that help make us the best in the industry and it's not practical to think any in-house marketing team can compete with us or any other top tier company in the legal marketing space. What does it take to succeed at personal injury SEO in 2023?
Advanced SEO strategies (you need to be better than your competitors!)
SEO friendly website design that utilizes smart UX (how users perceive interacting with a web page is a factor with Google's algorithm )
Technical SEO proficiency
Keyword research experience and skills (especially terms related to personal injury law)
Content analysis skills
Content writing skills that understand the importance of satisfying user intent
Advanced content ideation
Competitor analysis proficiency
Outreach skills
Link building skills
Web developers who understand what's important to Google's ever changing algorithms (ex:, Google's Page Experience
SEO Software
Analytical analysis skills
Constant monitoring of Google's algorithm (which Google updates thousands of times each year).
A small in-house marketing team is no match for the best companies who specialize in personal injury SEO and that's why you see search rankings dominated by websites that are being optimized by an outside agency.
While there are absolutely some other vendors providing personal injury SEO services that are very good at what they do and can show excellent results, there is not another legal SEO vendor that can show results like these in the largest markets in the country. All this being said, keep in mind that Google's algorithm updates thousands of times a year and that different results are often served to different people depending on their location, device, previous search history, etc. However, if you're going to hire a company to handle personal injury SEO for your law firm, you should always choose a vendor with a great track record of results. Specifically, for personal injury law firms in ultra competitive markets like these shown above.
Option 2: Hire an in-house SEO team
You might be considering hiring an in-house team to handle SEO for your personal injury practice. After 15+ years in the personal injury marketing field, I can tell you that this option doesn't work out very often. However, if you are dead set on this as an option for your firm, you need to have the right team in place. Here's what you will need:
Highly experienced SEO person(s)
Talented in-house content writer
Skilled web designer (not for designing your website but for creating visual assets for your blog and to help with SEO efforts)
Marketing director (to oversee the work done by the team, as well as paid search marketing or other marketing efforts you do for your firm)
Now, take it from a company that interviews hundreds of SEO candidates every year: The number of talented SEOs available for hire is incredibly small. We receive hundreds of candidates every year for SEO positions and the number of candidates that have the skills we require is less than 3%. Unfortunately most people with SEO experience have not learned the right way. So, it's highly unlikely that your firm will be able to find the right person(s) for the job. The right team is going to cost you an absolute minimum of $200K in salary (and in reality much more) if you hire the right personnel and still they will be no match for the diverse talents of an agency like ours or any other top tier personal injury SEO company. Add to that the proprietary SEO tools we have developed and it's no wonder in-house marketing departments are no match for premier SEO companies like iLawyerMarketing. Are we biased? A bit yes, but the ranking data is not biased and that makes it perfectly clear that 99% of internal marketing departments cannot compete with us. For this reason, we wouldn't recommend this option if your primary goal is to dominate your market and produce consistent results.
Option 3: Learn to do SEO yourself
There are some personal injury attorneys out there that have tried to handle their own SEO. As you would expect, these stories do not have a happy ending. Not because they were not capable of course. Anybody with a sharp mind and a good work ethic can become a successful SEO if they learn how to do search engine optimization the "right way". However, the "right way" is not so easy to figure out. Especially with an algorithm that changes an average of more than 12 times a day! An important question to ask yourself is this: Should you be spending your time trying to handle your marketing or practicing law? Of course this depends on what stage you are in with your practice and what you want to spend your time on. For the great majority of personal injury lawyers, this isn't the best use of your time. There are too many things to learn and to try and stay on top of when it comes to Google's algorithm. What would you need to learn and master when it comes to digital marketing and SEO for your firm?
Google Analytics
Local SEO and local SEO strategies
Google map pack/local pack optimization
Google Search Console
Google My Business
Content marketing
Content writing that satisfies both human visitors and search engines
SERP (Search Engine Results Pages) pages analysis
Conversion rate optimization
Backlink analysis
Link building
Outreach
Technical SEO
Structured data markup and schema implementation
SEO split testing
UX (User Experience) testing
SEO strategies
SEO experience
Sure, you could learn these things over the course of many years but there are too many things for one individual to handle. Would you be able to compete with top tier personal injury lawyer SEO companies? Not a chance. It takes an entire team to win when it comes to personal injury law firm SEO.
What Areas Do You Serve?
iLawyerMarketing serves law firms all over the world, although most of our clients are in the U.S. Some of the cities where we have been able to help law firms generate new cases include:
New York City; New York
Los Angeles; California
Chicago; Illinois
Houston; Texas
Philadelphia; Pennsylvania
Phoenix; Arizona
San Antonio; Texas
San Diego; California
Dallas; Texas
San Jose; California
Austin; Texas
Jacksonville; Florida
Indianapolis; Indiana
San Francisco; California
Columbus; Ohio
Fort Worth; Texas
Charlotte; North Carolina
Detroit; Michigan
El Paso; Texas
Memphis; Tennessee
Boston; Massachusetts
Seattle; Washington
Denver; Colorado
Washington; DC
Nashville-Davidson; Tennessee
Baltimore; Maryland
Louisville/Jefferson; Kentucky
Portland; Oregon
Oklahoma ; Oklahoma
Milwaukee; Wisconsin
Las Vegas; Nevada
Albuquerque; New Mexico
Tucson; Arizona
Fresno; California
Sacramento; California
Long Beach; California
Kansas ; Missouri
Mesa; Arizona
Virginia Beach; Virginia
Atlanta; Georgia
Colorado Springs; Colorado
Raleigh; North Carolina
Omaha; Nebraska
Miami; Florida
Oakland; California
Tulsa; Oklahoma
Minneapolis; Minnesota
Cleveland; Ohio
Wichita; Kansas
Arlington; Texas
New Orleans; Louisiana
Bakersfield; California
Tampa; Florida
Honolulu; Hawaii
Anaheim; California
Aurora; Colorado
Santa Ana; California
St. Louis; Missouri
Riverside; California
Corpus Christi; Texas
Pittsburgh; Pennsylvania
Lexington-Fayette; Kentucky
Anchorage municipality, Alaska
Stockton; California
Cincinnati; Ohio
St. Paul; Minnesota
Toledo; Ohio
Newark; New Jersey
Greensboro; North Carolina
Plano; Texas
Henderson; Nevada
Lincoln; Nebraska
Buffalo; New York
Fort Wayne; Indiana
Jersey ; New Jersey
Chula Vista; California
Orlando; Florida
St. Petersburg; Florida
Norfolk; Virginia
Chandler; Arizona
Laredo; Texas
Madison; Wisconsin
Durham; North Carolina
Lubbock; Texas
Winston-Salem; North Carolina
Garland; Texas
Glendale; Arizona
Hialeah; Florida
Reno; Nevada
Baton Rouge; Louisiana
Irvine; California
Chesapeake; Virginia
Irving; Texas
Scottsdale; Arizona
North Las Vegas; Nevada
Fremont; California
Gilbert town, Arizona
San Bernardino; California
Boise; Idaho
Birmingham; Alabama