Search Engine Optimization (SEO), Paid Search and Content Marketing for Family Law/Divorce Law Firms
Are you looking to get more leads and cases for your family law practice in 2023? Now more than ever, you need to make sure you have the right marketing team behind you to help you generate more business in the time ahead. We've been helping family law practices (from sole practitioners to multi-attorney firms) successfully market their practice online for over 15 years. No matter the size of your firm, we know how to help you succeed online.
The Keys to Successful Divorce Lawyer Marketing in 2023
There are many factors that are critical to successfully marketing your family practice online. These can be broken down into three things:
1st page visibility on Google for a wide variety of search phrases
Visually impressive website to impress your site visitors
Compelling content that convinces your visitors you are the right choice
1st Page Visibility on Google
It's what every divorce lawyer wants to have: Visibility on the 1st page of Google so people looking for a family lawyers online can find your website. As we can see in this image below, there are multiple ways to appear on the first page of a search on Google.
By running Google Ads
By appearing in the local pack (also called "maps pack", "snack pack", "3-pack", etc.)
By showing on in the organic search results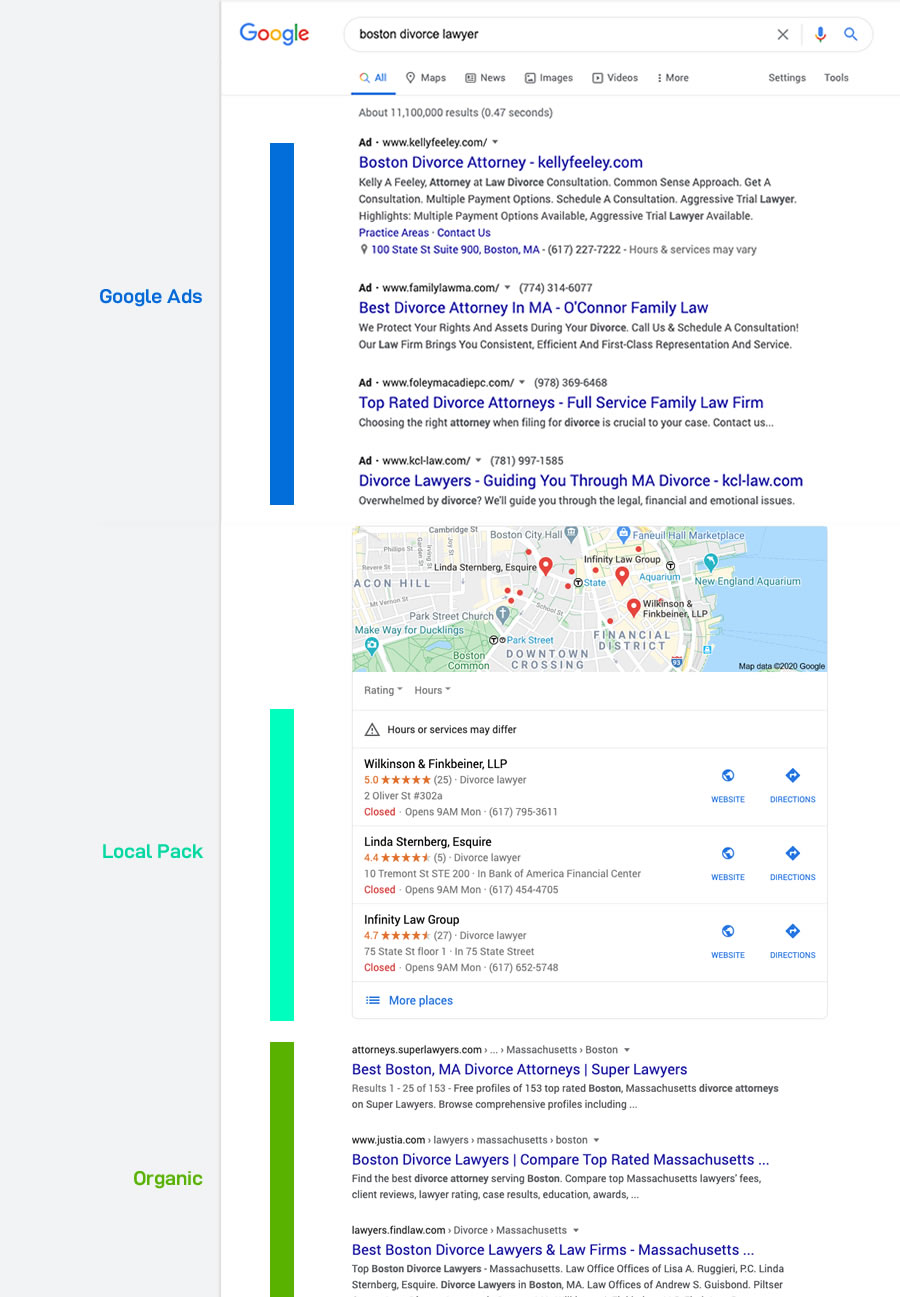 Some divorce practices with great marketing teams behind them show up in all 3! The more times you appear on a search results page, the greater the statistical probability that a visitor ends up on your web page and you increase the chances of landing a new client. For this reason, the most savvy divorce practices run both organic SEO and Google Ads. While running Google Ads can certainly be expensive, the ads are at the very top of every search so they get enormous click activity. As with all marketing, you need to consider your ROI but there is a reason why so many family law firms run paid ads on a regular basis. It works if the team managing your Google Ads knows what they are doing and is experienced running ad campaigns for divorce lawyers.
What is better for divorce attorneys? Google Ads or Organic Search Engine Optimization?
Without having a conversation with you and knowing what your specific needs are, there is no "one size fits all" answer. This depends on many factors, including:
How fast do you need to generate new cases?
Are you targeting high end divorce cases?
What is your monthly marketing budget?
What is the competition doing in your market?
Do you have landing pages?
What does your current local SEO performance look like?
What geographic areas are you looking to generate cases in?
All this being said, Google Ads can bring in cases faster than any other method. The trade off is that it's expensive. For many family law practices, it's still worth it despite the cost. With SEO, once you start ranking for a wide variety of terms, the average CPC (Cost Per Click) when compared to Google Ads is much cheaper and in our experience usually provides the best ROI. However, it may take up to 1 year (or longer depending on how strong your competitors websites are) to rank for the biggest phrases like "Boston divorce lawyer". If you have a smart marketing team behind you however, you can still generate cases through organic search by also ranking for other terms like "child custody lawyer", "spousal support attorney", "legal separation", etc.
We can provide you with a specific recommendation. We offer a free marketing analysis and can provide you with a free consultation if you would like to find out more.
Facebook Marketing for Family Lawyers
Is Facebook part of your digital marketing strategy right now? If not, it probably should be. While social media in general is not the best way to advertise your practice, the great majority of your potential customers are on Facebook. One of the best things about running Facebook ads is the ability it provides to run ads to a very targeted audience. Do you want to run ads targeted at women only? Or an exclusively male target audience? You can do that. Do you want to target higher net worth individuals? You can do that as well. How about running retargeting ads on Facebook? If you're not doing that right now, it probably should be part of your legal marketing strategy in order to increase your lead generation metrics.
Websites for Divorce Lawyers
The first impression you make on potential clients that find you online is almost usually your website. In 2023, if you want to win consumers over (instead of losing them to competitors) you need an impressive website. It needs to be both visually impressive and have content that does a great job of selling visitors on why they should choose your family law practice over your competitors. Your website's design absolutely plays a part in the success you have online. Watch these consumers review law firm websites in a study we did:
Compelling content that convinces your visitors you are the right choice
The great majority of consumers who look for family law and divorce attorneys online visit between 3-5 websites online before deciding which one to call. Does your content help convince a visitor that they should call you instead of someone else. If you want to successfully market your law practice, this is a critical piece of the marketing puzzle.
Does your content differentiate your firm from other family lawyers? Why should they choose you?
Do you have compelling testimonials on your site? (video testimonials are more credible to consumers than written text.)
Do you have video on your website? This can help increase trust and as a result, increase your website conversion rate.
Is your content up to date?
Is this content easy for visitors to find? Remember most visitors today skim content, so there's a good chance people won't see this information unless it stands out on your site.
Content is important to converting visitors so make sure your website does a great job of helping visitors realize why they should contact your firm instead of your competitors.
Can we help your divorce/family law practice?
Here at iLawyerMarketing, we have helped other family law firms all over the United States to increase the cases they generate through the Internet. Our experience working with family law and divorce lawyers for the past 15 years gives us a level of expertise that very few can say in the legal industry. We can target the specifics cases you want, such as divorce, divorce mediation, child custody, child support, settlement agreements, annulments, legal separation, post judgement modifications, pre and post nuptial agreements, division of assets and debts and domestic partnerships. You tell us what you want to target and we will do everything we can to make it happen.
What is your ARC Score?
Here at iLawyerMarketing, we developed the ARC (Average Ranking Consistency) score and proprietary software that allows us to gain a quick snapshot of how any divorce & family law firm ranks for a variety of search phrases on Google. We keep records of these score for thousands of law firms across the country. If you would like to find our your ARC score (or the score of any of your competitors) please reach out to us and we will provide that for you at no cost. Additionally, we keep a database that measures the performance of all legal marketing vendors in the industry. While there are a select group of marketing vendors that do a great job of divorce lawyer marketing, our data clearly shows that the majority of legal marketing providers doing SEO for divorce lawyers are incapable of getting your site ranking organically on the 1st page of Google. Our software uses Google ranking data to rank all legal marketing vendors in the industry. If you would like to find out where your current provider ranks, reach out and we can provide this information to you and give you the scores which are not based on our opinion, but on actual ranking data. This is incredibly important information because if you are not with the right provider, you are wasting your marketing dollars.
Contact Us Today
The law firm marketing experts at iLawyerMarketing have been handling marketing for family law attorneys since 2005. We have built a reputation for having the best law firm SEO and creating the most beautiful websites in the legal industry. While we are talking about marketing on Google and there are never any guarantees of success, the great majority of our clients experience much greater results than their previous vendors. In fact we our so confident in our ability to help your family law practice pick up new cases on a consistent basis, we offer our search engine marketing services on a month to month basis. Most other SEO companies require long term contracts, but we don not. Our clients stay with us because we get results. If you would like help marketing your divorce practice, contact us today.