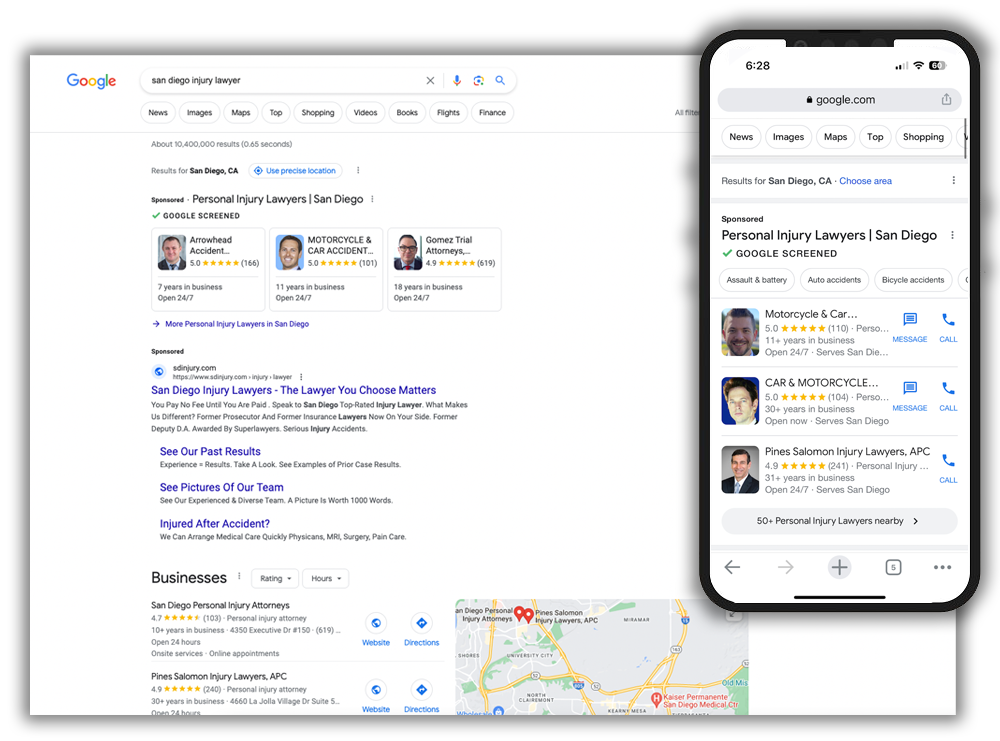 Are you looking to advertise your law firm using LSA ads? Google Local Services Ads are a fantastic way to generate leads for your law firm, especially for consumer focused areas of law like personal injury, criminal defense, family law, employment law and more. Smart law firms use iLawyerMarketing to manage their LSA ads to help them increase leads, and most importantly, to sign up more new clients every month.
Benefits of Local Services Ads for Attorneys
Sign more new cases for your law firm
You only pay for actual leads, not just for clicks.
Increase awareness for your law firm by appearing at the very top of Google search results pages.
Build trust with potential clients with the Google Screened process
LSAs often get the highest share of clicks on Google SERPs
How Local Services Ads work
The Local Services unit is shown at the top of Google Search results when people search for the services you offer in areas you've chosen. For example, a consumer may search for "car accident lawyers in Denver". The LSA ads will often appear for local searches like these. Potential customers can click or tap on your ad to either call you or send you a message.
When a customer reaches out for a case evaluation request, you'll get an email and notification from the Local Services Ads app. From this point on, your may be able to convert that lead into an actual new client.
How iLawyerMarketing Can Help
Ranking in the LSAs is not a given. Only 3 law firm LSA ads appear on a standard Google search results page. This means there are often hundreds of law firms who are competing for those prime positions. iLawyerMarketing will work to optimize your LSA ad campaign to help you get as much visibility as possible for the budget you have to work with. Some of the ways we help include:
Working with your law firm to properly optimize your profile and attain Google Screened status
Optimize daily, weekly and monthly LSA ad budget.
Optimize photos, headshot, business hours, service types & target geographic service areas
Dispute irrelevant leads with Google so you are only paying for legitimate leads
Work within Google's dashboard to help client manage leads: new, active, inactive, archived, completed & booked.
Work with your firm to improve process of getting reviews
Work with client intake to improve responsiveness to LSA leads
Optimize your campaign to help maximize the exposure for your law firm
Optimize CTR of your ads
How do rankings work with LSA ads?
LSA rankings are based on many different factors, including:
Proximity: Google LSA rankings are heavily influenced by the user's location, with priority given to law firms located closest to the user, since most consumers prefer to work with lawyers near them.
Reviews: Law firms with high ratings and positive reviews on Google My Business are more likely to be ranked higher in Google LSAs. This is because Google wants to ensure that users are connected with reliable and reputable law firms. Law firms with more and better reviews are also more likely to be clicked on.
Responsiveness: Google LSA rankings also take into account how quickly law firms respond to leads and how frequently they do so. Law firms that respond quickly and consistently to leads are more likely to rank higher in LSAs.
Completeness of business profile: The completeness and accuracy of a law firm's business profile on Google My Business also affects their LSA rankings. It's important to ensure that your profile is complete with all relevant information, including your address, phone number, and services offered.
Budget: Law firms with higher budgets for their LSA campaigns may be more likely to rank higher in search results.
Performance: The historical performance of your LSA campaign, including your click-through rate, conversion rate, and other metrics, also influences your ranking in Google LSAs.
Are you ready to start signing up more new cases?
It's time to call iLawyerMarketing. Together we can create a strategic plan to help you generate the kind of volume your firm is looking for and maximize the efficiency of your ad campaign!