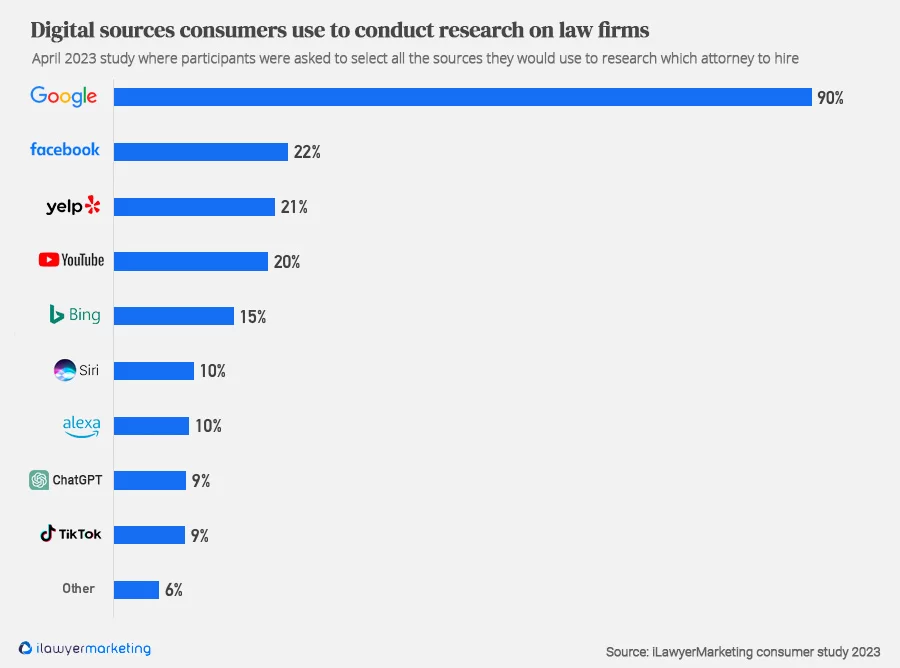 The process of consumers researching which law firm they should hire is more involved than most attorneys realize. While the significant majority of all consumers use Google, that's not the only source they use when searching for law firms online. For many Americans, it's usually a combination of multiple sources that lead them to reach out and contact a firm. With all the different resources available to consumers these days, what platforms are consumers using to conduct research on which law firm to hire? Are people using chatGPT to research lawyers? Do consumers use social media apps like TikTok to find lawyers? We wanted to find out, so we conducted a new study.
A total of 543 people across the United States participated, and it revealed which digital platforms consumers are using to conduct research on law firms before making the incredibly important decision on which law firm to hire. The study involved participants aged 21 to 65, and one of the questions we asked them was: "If you needed to hire a lawyer, which digital sources would you use to conduct research on which law firm to hire? Select all the ones you would use in your research process."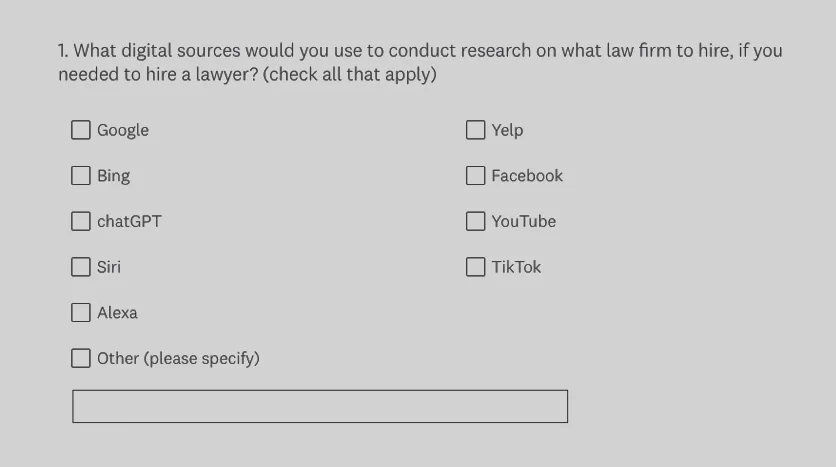 The results reveal the variety of platforms that people are relying on and show the importance of having a diverse digital presence in 2023. This analysis offers valuable insights for law firms looking to generate more leads and cases through their online presence.
Google Remains Dominant in 2023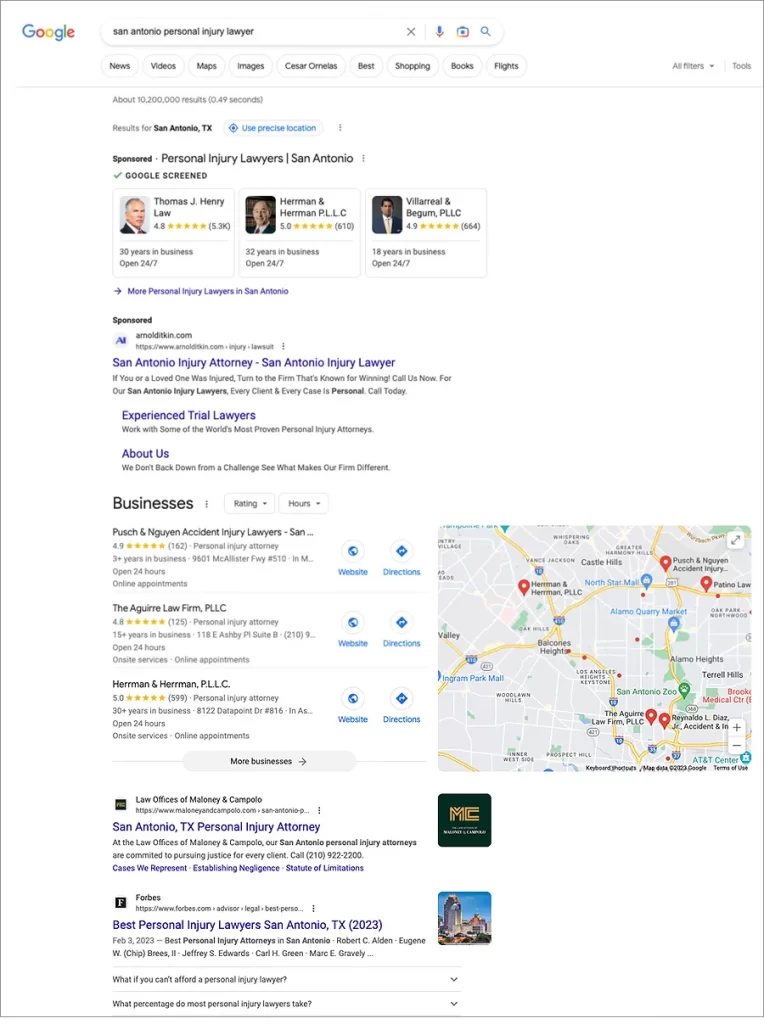 It's no surprise which platform is dominant, Google still is the king when it comes to consumer's looking for law firms online.
90% participants in this study said they would use Google to do research on which law firm to hire.
Google stands alone and completely dominates over any other digital source, as shown in the bar chart at the top of this page. We were curious if the introduction of chatGPT would have any impact on the number of people who use Google. Clearly, it hasn't changed the fact that for the great majority of people (90% in our study), Google is still going to be heavily utilized. A couple of years back we conducted a different study and had asked participants what would be their primary source to research which law firm to hire. In that study, 86% gave the answer of "Google".
It's also important to keep in mind that consumers in 2023 rely heavily on Google reviews, and the number of reviews you have play a big part in CTR (Click Through Rate) in Google search results. In a recent click study we performed with over 1,000 participants (we will post about this separate study soon), we asked people to tell us why they clicked where they did on Google results. What was the most common keyword used by that study's participants? REVIEWS! Consumers take into consideration both the quantity and quality of your online reviews.
If you don't have great visibility on Google, you already know you are missing out on business for your firm. Ideally in 2023, you are running a combination of both paid Google ads and you have great organic rankings, as this gives you the best chance of being found when consumers are looking for law firms on Google.
chatGPT: Limited Adoption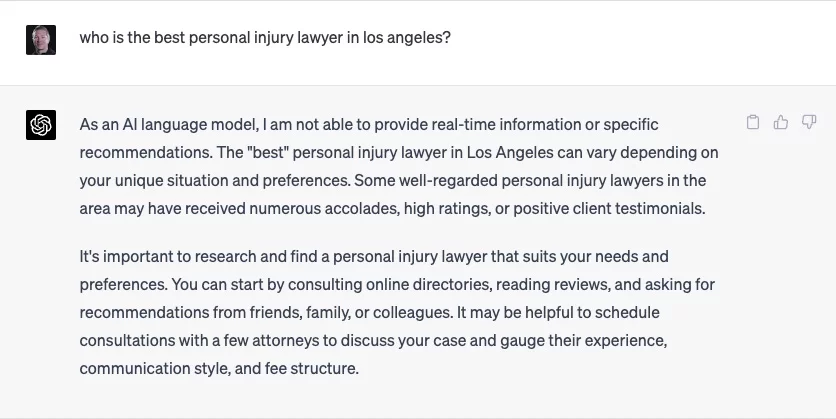 There's been a lot of buzz in the media about chatGPT this year. Some people and media outlets have called it a "Google Killer". Those people are wrong. Certainly when it comes to researching which lawyer to hire, people aren't ready to simply trust the output of a GPT, although some people will start using it as part of their research process and may be asking informational based queries. In total, less than 1 out of 10 (9%) of participants indicated they would use chatGPT when doing research on law firms.
Facebook Still Relevant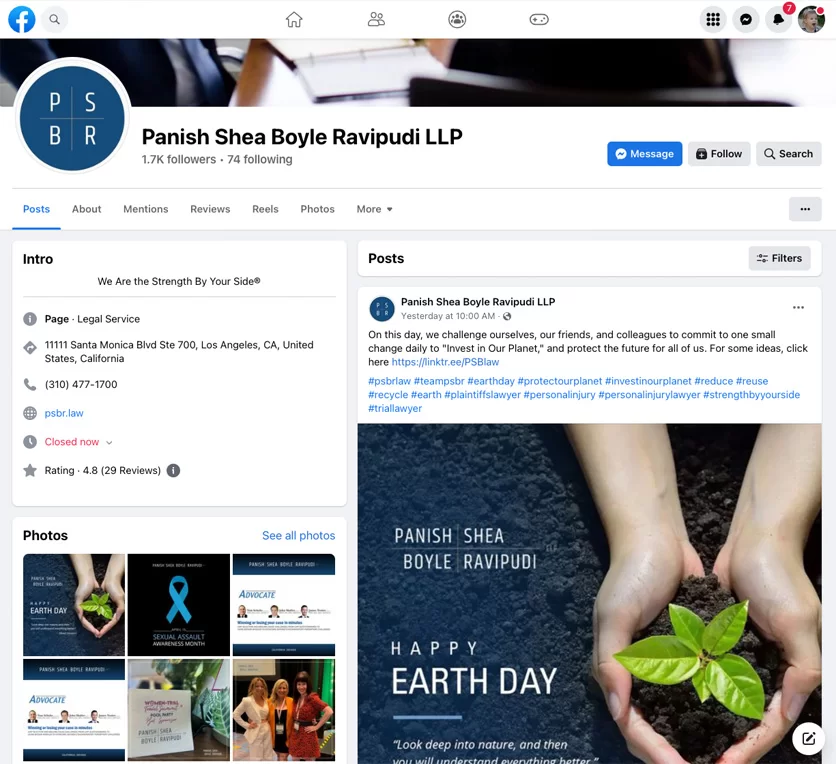 Facebook was listed as one of the research sources people would use by more than 1 out of every 5 people who participated in the study. Understandably, Facebook is more important to older study participants over the age of 30 than younger people. Considering most consumers who hire lawyers are over the age of 30, it's something that should not be ignored.
An interesting related data point we found in this study about people age 30 and over – 90% said that having a video about the firm would help them in their decision process of hiring a law firm. If you don't have a great video on your site to impress your consumers, you need to have one in order to convert more visitors in 2023.
Part of our service offerings include creating law firm videos with a goal of helping to convert more visitors because we've seen the positive impact it has on helping law firms generate more leads and cases. Our consumer research studies over the years have helped to make us the best in the business at law firm video creation because we know what things are most important to consumers, will help build trust (a crucial part of the consumer's process of hiring a law firm) and ultimately help you sign more new cases.
While 22% of consumers listed Facebook as one of the sources they would use in their research process, this doesn't mean you need to be posting on Facebook on a regular basis or that you should make it a focal point of your marketing. However, you should make sure that your Facebook page is not incredibly outdated, has positive reviews and presents your law firm in a good light for those times that consumer do visit your page.
Additionally, because it's still used over 200 million U.S. users, you should consider Facebook ads to generate more awareness for your firm. No doubt, many consumers have seen law firm ads on Facebook and that may be a factor as to why it was listed among 22% of the study participants.
Yelp: The Importance of Reviews
Why is Yelp important in 2023? Because reviews matter and are more important than ever. Yelp reviews, Google reviews, Facebook reviews…they all matter if someone is doing research on your law firm and wondering if they should hire you. Don't ignore Yelp, especially if you have no reviews or you have a rating of 3.5 or lower. It will cost you cases. Our past studies have revealed that 89% of people won't hire a lawyer if they have less than an average of 4 star reviews.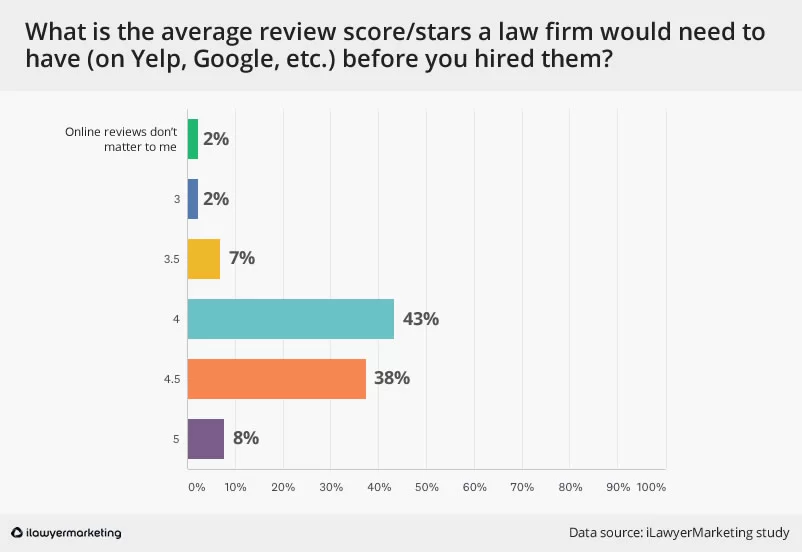 YouTube: Used for Research and as a Search Engine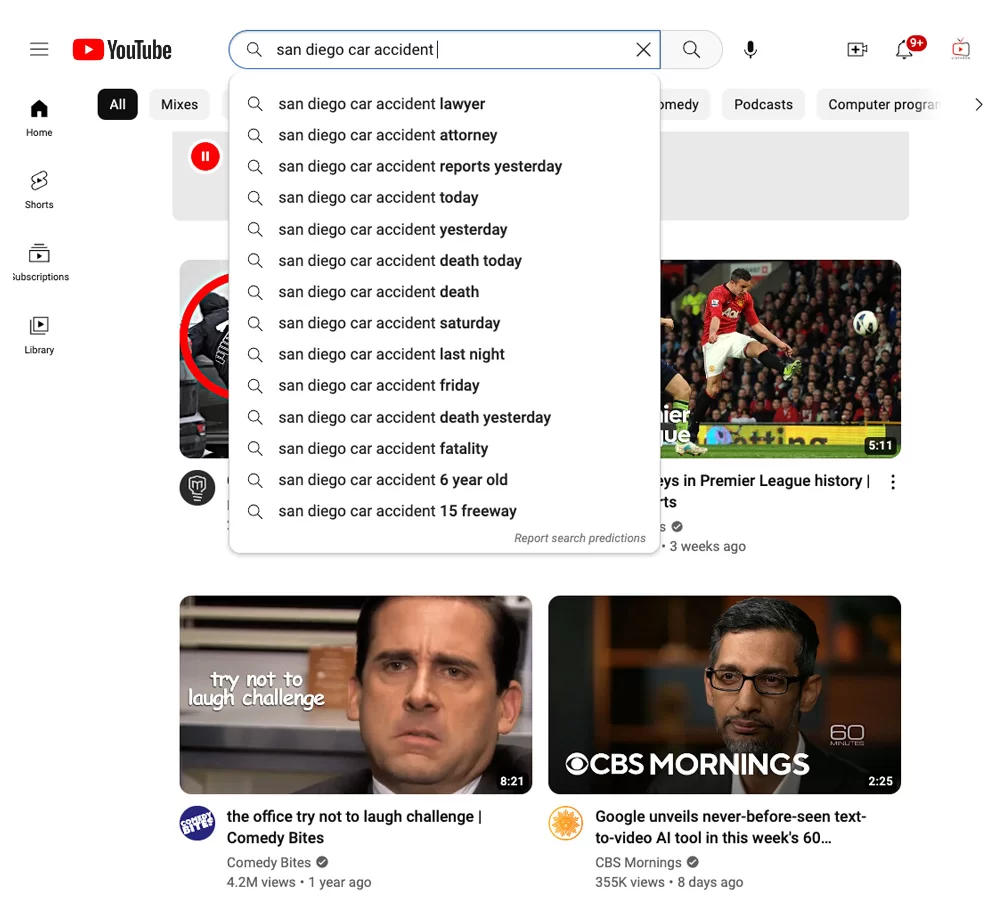 Video matters to 4 out of 5 consumers who are researching which law firm to hire. So, it's understandable that people will turn to YouTube to try to find information about a law firm. Many consumers will use YouTube as a search engine. Take a look at the image above and you'll see auto completion suggestions given by YouTube when typing in "San Diego car accident". The first two suggestions are for lawyer and attorney. These auto completion suggestions are based on actual searches being done on YouTube.
Aside from searches for lawyers, consumers also use YouTube to try and find more information about the firm they are considering hiring. In 2023, video can be a powerful way to generate more leads and cases for your firm.
Bing: Used by a small minority of users
Bing has received a ton of publicity this year, mainly due to their integration of chatGPT into their search engine and the Edge browser. This may have led to higher numbers in our study, as traditionally, Bing generally accounts for less than 5% of all search traffic for most law firms. However, we don't optimize for Bing search, we optimize for Google because of the obvious market share dominance that Google has and we don't want to jeopardize Google rankings. However, we do run Bing ad campaigns in combination with Google ads for some of our firms who run paid ad campaigns.
Voice Activated Digital Assistants
Interestingly, 10% of participants said that voice-activated digital assistants Siri and Alexa would each be utilized in their law firm research process. In past research studies we've done however, consumers don't love the experience of what is provided by Siri or Alexa. Neither one are very good at being digital assistants at the moment. However, this could change if these digital assistants perform more like chatGPT in the future. More research needs to be done here, but it may be that people are using digital assistants not to look for specific information on law firms, but to ask informational questions like "How much do personal injury lawyers charge?", "How much time do I have to file a personal injury lawsuit in California?", etc.
TikTok: Gaining Traction
Naturally, TikTok is more popular with younger audiences, but the TikTok user base continues to expand. We've seen more activity by law firms using TikTok in the past year, both for posting organically and for running ads on. Depending on who your target consumers are, it may be something to consider in 2023, at least for running ads on. Unless it gets banned in the U.S., we expect this number to increase in the future.
Key Takeaways
If you want to generate more leads and cases in 2023, you must have great visibility on Google since it is used by 90% of consumers looking for attorneys online.
Reviews are a very important part of the consumer research process in 2023. Focus on your Google and Yelp reviews.
Yelp was the 3rd most used source at 21% and remains important due to the significance of reviews.
Bing was listed by 15% of all participants – consider running Bing ads for visibility.
Facebook is a relevant research source, especially for consumers age 30+.
YouTube is used by 20% of consumers trying to research lawyers online. Your law firm videos should be on YouTube.
Having video about the firm significantly helps in the decision-making process for consumers. It is recommended to have video on your website, as well as other social media platforms (YouTube, TikTok, Facebook, Instagram).
Consumers look for information on multiple platforms. A diverse and well rounded overall digital presence will help you generate more leads.