As part of our regular research into how consumers hire lawyers, we wanted to conduct a new study that looked at ways that law firm's could increase the number of leads for their practice. The study involved over 1,300 participants from all across the U.S. One of the questions we wanted to dig into was what things would cause consumers to leave a law firm website.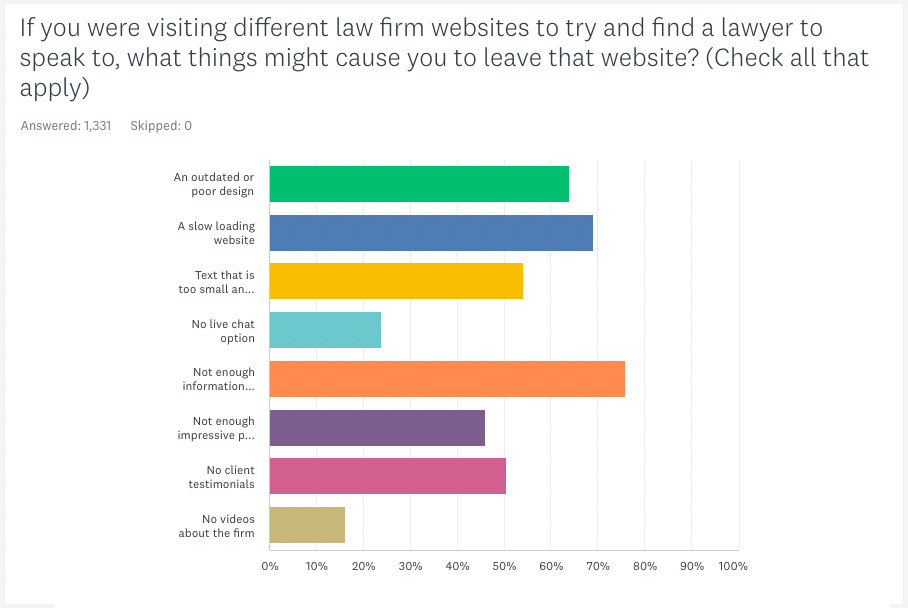 Since Conversion Rate Optimization is very important to the success of any law firm's marketing, understanding what helps or hurts conversion rate is extremely important to us when we design and build websites for a law firm. Our goal is always to try and increase the number of leads and signed cases you get out of your marketing. The truth is, if your site is causing potential new clients to leave your site, you are losing out on revenue for your law firm. This is why the sites created by iLawyerMarketing are better than most other law firm websites. Because while our sites may look great, they also are built with conversion rate optimization best practices that we have learned over the years of doing law firm marketing and conducting studies like this one.
So, why do consumers leave law firm websites? Here are the top reasons people gave in this new study.
#1 – Not Enough Information About the Firm
According to study participants, 76% said they would a law firm website if it didn't have enough information about the firm. There are a few ways this can be problematic for law firms and some may not be obvious. It may be truly be a situation where there is not enough information about the firm on the site (or landing page). It may be that there is not enough information that will convince a visitor that your law firm is a good choice. It may be that the information is not easily found by visitors. Since many website visitors just scan through text on web pages, the information might be on your site, but visitors may miss that content if it's not designed to stand out. These days, of course not all information is written in text. It can also be info provided in videos. In a previous study, 89% of people said that having video about the firm would help them in their decision making process of hiring a lawyer.
#2 – Slow Loading Websites

This isn't a surprise to most in the marketing world, as we know this is a big reason that visitors leave a site. In our study, we found that 69% of people said they would leave a law firm's website if it was slow loading. The issue for most is on mobile. When someone is not connected to WiFi, sites will naturally load slower, so it's important for your law firm website to load quickly, especially when someone loads up your site on their cell phone. Not only does that impact conversions, a slow loading site can also negatively impact Google rankings.
#3 – Outdated law firm website

Do people actually care about the way a law firm's website looks? Absolutely. Your website is a direct reflection of your law firm for the consumer. In fact, 64% of study participants listed this as a reason they would leave a law firm's site. An outdated website can send a message to a firm that you are not a "modern" and aren't a technically savvy law firm. It can also send a message to the consumer that you aren't a successful practice, because (according to consumers) if you were a very successful law firm, then you would have the money to spend on having a great website. Is that reality? Of course that's not always the case, but it is how consumers perceive lawyers and their websites. Considering how fast technology is moving these days, it's easy for design to become dated. Don't let an outdated design cost you cases!
#4 – Text that is too small

Nobody likes coming across a website that uses text that is difficult to read. Some people put up with it and others just leave a website when they come across this issue. 54% of participants listed this as a reason that would cause them to leave a law firm's website. We observe this as being a problem more often on mobile than on desktop, but there are lots of law firm websites we see with this issue. How does your website look on mobile? Is it hard to read? Don't just think of how it looks to you, but keep in mind the age range of your target consumers. If you are targeting an older audience, this is even more important to make sure your content is easy to read.
#5 – No Client Testimonials

Most law firm's know the importance of having client testimonials. If you don't have any on your site, you need to add these as soon as possible. If you only have a few, work on adding additional testimonials, you can always benefit from having more. Especially if they are video testimonials, which consumers find to be the most credible and carry the most weight with them. If you don't have video client testimonials, work on getting some to help improve your conversion rates.
What are other top reasons people gave for leaving a website?
46% said not enough examples of successful past results on the website
24% said they would leave if there was no live chat option (live human chat, not chatbots)
16% said no videos about the firm would cause them to leave
A great website that takes all these things into consideration will have improved marketing return on investment and will help you generate more revenue for your law firm.
Contact us today if you interested in generating more leads and cases for your law firm in 2024!