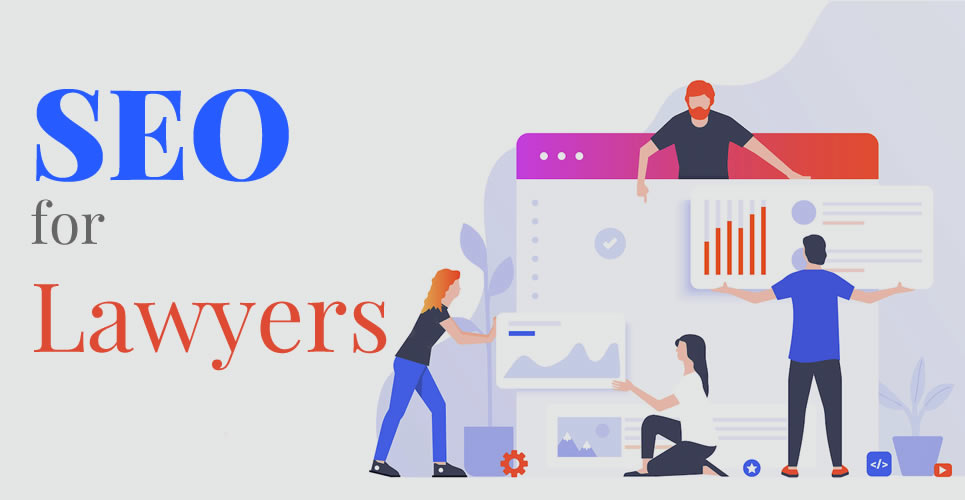 Are you looking for the right legal marketing agency to help you generate leads and cases in 2022? If so, you've come to the right place. iLawyerMarketing is the very best SEO company in the legal industry. This isn't simply our opinion. We have the data that shows that we are the very best search engine optimization company when it comes to ranking high on Google search results. Feel free to contact us today so we can show you how we've helped other firms across the country.
One of the most competitive verticals in all of the search engine optimization industry is SEO for lawyers. With thousands of law firms all over the country competing for valuable 1st page visibility on Google, only a small fraction are able to consistently generate leads from the Internet. If you want great results from your law firm's Internet marketing, you need the best lawyer SEO service handling your online marketing campaigns.
iLawyerMarketing has been helping law firms improve their visibility in the search engines for well over a decade. We understand what it takes to earn high rankings on Google in 2021 and the reputation we have as the very best in the law firm marketing industry is based on our past results. Call a law firm SEO expert at our office today, get a free law firm marketing evaluation and together we can create a smarter Internet marketing strategy that fits your personal needs.
How to Choose the Best Law Firm SEO Company
Choosing a company to handle your law firm's marketing is a difficult task. There are plenty of companies promising high Google rankings, so how do you choose the best one? How do you know which one you can trust? Here are some of the most important things that the firm you hire should have.
Extensive experience marketing specifically for law firms
Choose a search engine optimization service that understands the ins and outs of law firm marketing. This knowledge helps extensively when it comes to generating more leads and more cases. iLawyerMarketing has been helping law firms for over a decade. Just as it matters when it comes to consumers choosing a lawyer, experience in law firm marketing is crucial.
Extensive experience researching Google's search engine ranking algorithms
Google's algorithms are extremely complex and are updated thousands of times each year. The very best SEO's are constantly conducting experiments, testing to see what tactics are correlated to rankings increases or decreases and analyzing the SERPs. The ability to track Google's algorithms day in and day out cannot be understated. The team at iLawyerMarketing has been doing this for nearly 15 years.
Many clients with high organic rankings for the most competitive search phrases in highly competitive markets.
Most companies have one or two sites they like to show as ones they have been able to get ranking high and it may seem impressive. What you don't see is the many clients they have that are not ranking at all!  The law firm marketing you choose should be able to show you many examples of clients of theirs that rank high in many competitive markets. We have been able to get top results in even the most competitive fields of law firm marketing, including:
Bankruptcy law SEO
Employment law SEO
Capability to build a beautiful website that is search engine friendly, fast and built for improving conversion.
Your law firm website absolutely plays a part in how your site ranks on Google. If you have Google Analytics installed on your site, Google is analyzing the user behavior of your site visitors. If users leave your site quickly, that hurts rankings. The best law firm websites do a great job of keeping visitors on your site and increasing the time users spend on your site, ultimately satisfying your visitors. Additionally, slow website load times will also hurt your rankings and your conversions. Speed has continued to increase in importance in Google's algorithm in 2020. Last, beautiful law firm websites that are created with understanding of what consumers want do play an important factor in the decision making process of consumers looking to hire a law firm. A thorough understanding of Conversion Rate Optimization (CRO) should be an absolute must in the vendor you choose.
Customizes an Internet marketing plan that meets your law firm's specific needs.
Be wary of a company that gives you pricing before conducting an analysis on your site and your SEO competitors on Google. You should have a tailored SEO plan that meets your marketing goals because just like with the cases you handle, no two cases are exactly alike.
A team of experts that specialize in all facets of web marketing
The iLawyermarketing team has everything that you should be looking for in an SEO provider. Extensive experience with organic SEO, Google maps optimization, keyword research specialists, content strategists, talented designers, highly experienced web developers and law firm PPC management experts. Why do designers, developers and PPC consultants matter for SEO?  Beautifully designed visual content pieces help us generate more links and PR for our clients. Great developers can build faster loading, search engine friendly websites. PPC team members can share valuable keyword impression data with the SEO team for smarter SEO campaigns.
The Importance of Choosing the Right SEO Provider
When it comes to SEO experts, the best in the industry are ones that conduct their own tests and experimentation. Part of the testing process is staying on top of the constant updates made by Google. In 2018, Google made 3,234 updates to the search algorithm. They also conducted 595,429 search quality tests, 44,155 side-by-side experiments and 15,096 live traffic experiments to try and improve the quality of their results. If you have ever wondered why SEO services are needed on an on-going basis, it's because the SERPs (Search Engine Results Pages) are in a constant state of flux as a result of these constant updates. The law firm marketing agency that your law firm hires should be closely monitoring and staying on top of these changes. At iLawyerMarketing, we track rankings for over 600,000 keywords each month, specifically in the law firm marketing space, to be able to identify when Google algorithm updates impact our clients rankings and the legal vertical as a whole. Collecting and analyzing this volume of data as well as the constant SEO tests we conduct gives us insights that other lawyer SEO companies simply do not have. It also gives us the ability to create smarter, data driven SEO strategies that will help give you an advantage over your competition. We believe that we do this better than anyone other law firm SEO company.
Choosing the right SEO company to handle your marketing is critical so that your law firm website doesn't get penalized by Google. Some companies doing lawyer SEO will overpromise just to get you to sign up with them. Be careful of any company that makes guarantees or promises of quick results as that can lead to your law firm's website rankings getting worse instead of improving. The reality is that SEO in 2022 takes time. How much time depends on the level of difficulty for the keywords you are targeting, the level of competition on the 1st page of Google and the authority and trust factor that your website has. For example, optimizing for personal injury law in a competitive geographic market, the main search phrases in some cases can take a year or longer. However, only optimizing for the "home run" search phrases is an outdated way of thinking and a poor SEO strategy. The best attorney SEO providers, like the team at iLawyerMarketing, rely on experience and years of data to conduct smarter keyword research plans and create better marketing strategies so you can start generating leads and cases faster.
Law Firm SEO FAQs
Do you use white hat SEO techniques?
Yes. Our SEO strategy has never been about tricking Google algorithms by using black-hat techniques. Instead, our digital marketing services are focused on long term SEO success. Many legal marketing companies use techniques that work today but may end up causing your site to get penalized tomorrow. Instead, we focus our marketing efforts on giving your human visitors (and potential clients) a great user experience while increasing your levels of trust in Google's algorithm. For the great majority of our clients, this results in better Google rankings and ultimately more clients for your law firm.
Does your SEO include content?
Yes. Nearly all of our SEO packages include a wide range of content services including:
Content topic research & ideation
Keyword research
SEO friendly content writing
SEO friendly URL string creation when adding pages to your website
Publishing content
Internal linking and/or external linking when appropriate
On-page SEO, including title tags and meta descriptions, etc.
Our content development services including creating new web pages, adding new blog posts, refreshing existing content, creating content assets and creating internal links to relevant web pages within your site. Additionally, our SEO's use our proprietary Content Analysis Software tools to analyze the Google SERPs and help determine what elements of content are currently required to rank on the 1st page of Google for the specific target phrases we are optimizing for.  This software is essential since Google's algorithm changes on a frequent basis.
What is local SEO?
Local SEO (Local Search Engine Optimization) for lawyers is one of the most effective methods of marketing for attorneys. Sometimes called local search engine marketing, the idea is to get your law firm to rank in your local geo areas for the types of cases you handle. Many firms want to use local SEO to try and target multiple geographic areas. While this is much easier to accomplish when you have brick and mortar office locations in the geo areas you want to target, it isn't always required to have a physical location. However, Google prefers to show local law firms in their search results because they know most consumers are looking for local lawyers that are in their city or town.
An important part of the website optimization process is appearing high in the map pack results. Local map pack results are highly volatile and are always always change depending on the geo-location of the person conducting the search. Especially in downtown areas in larger cities where multiple law firms have offices, local maps results (also called local 3-pack) will change if a person conducts the exact same search but has moved a single city block from where they were when they first conduct a search.
How can I appear in the map packs?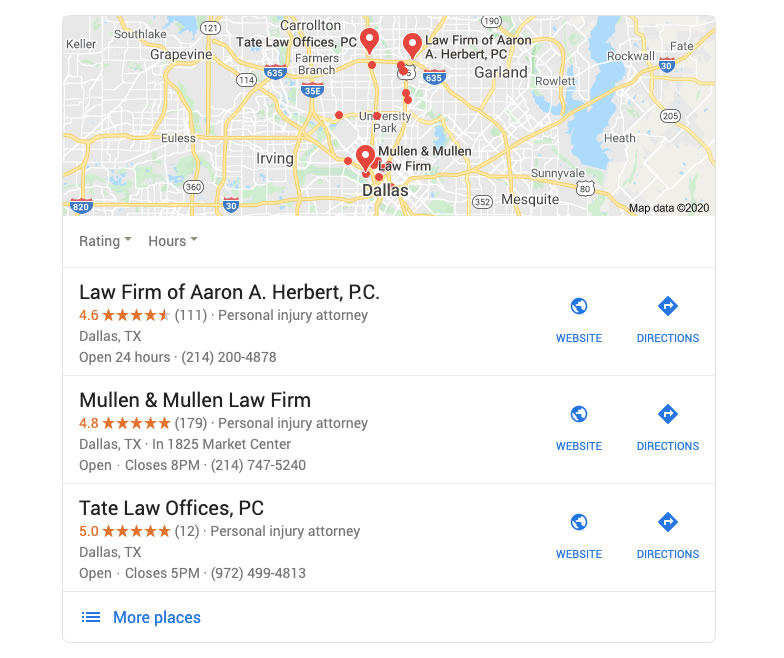 The Google local pack is highly sought after real estate when it comes to Google SERPs. In the image above, we can see our client ranking #1 in the local pack for the search "Dallas car accident lawyer". There are many different factors for appearing here, but the local pack has its own algorithm for determining rankings. Many of those ranking factors include NAP (name, address, phone number) consistency, online reviews, review sentiment, proximity from the searcher conducting the query, business citation sources, business name, category and many other factors. While nobody knows all the factors, there are many that we only share with the SEO team optimizing our client websites. The advantage of optimizing hundreds of law firm websites on a consistent basis provides us an incredible amount of data and insight into helping our clients rank high on the local map packs.
Just like Google's organic algorithm, the local map pack algorithm also constantly changes. Just like fighting against black hat SEO techniques, Google also deals with many spammy activities surrounding its local pack results. The current map pack results are often filled with law firms with spammy names that are directly against the Google webmaster guidelines and attorneys who have many fake reviews. While these techniques can still work for the time being, eventually Google will punish those unethical companies and law firms who take in this kind of activity. It's certainly something we will simply not do for anyone as it's unethical and in direct violation of Google's terms.
Does social media marketing help with SEO?
Google has said that social media is not part of their algorithm. Based on evidence from the studies that we have conducted, we agree. Social media is too easy to manipulate and it's out of Google's control, so they are much less likely to rely on that as a ranking factor. However, depending on your firm, social media may be useful in your overall legal marketing strategy. Especially when using paid social media marketing as opposed to organic social traffic.
What is Content Marketing?
Content marketing is a type of marketing that focuses on the development and distribution of content that provides value for your target audience. Instead of content that is focused on pitching your company or service, the focus here is on creating great content by providing information and value for your audience. Examples include informational videos, newsletters, presenting research study data, e-books, how-to guides, webinars, etc. Content marketing is not the same thing as SEO, although creating content assets like these are an important part of the SEO process.
How long will it take before I start ranking on Google?
The length of time that SEO takes depends on many factors, including the strength of your website, the level of competition on Google for the terms you want to rank for, the geographic market that you are in and the specific keywords you want to rank for. Typically you start to see improvements in your overall rankings in as early as 4 months but for the more competitive search phrases it can take up to a year or longer.
How much does law firm SEO cost?
SEO for law firms usually start at $3,000 for less competitive practice areas or markets but will cost more depending on the geographic areas and practice areas you are targeting. For example, SEO for personal injury in New York will be more expensive than estate planning in Provo, Utah."
Why is lawyer SEO expensive?
SEO has become much more difficult in recent years because of the level of competition among law firms on Google, as well as a result of the changes in Google's algorithm. It requires more time, more money, higher quality content, more technical understanding of how search engines work and more experienced SEO's. If you don't have the budget to engage in proper SEO, don't waste your money on low cost SEO. Google is much better at being able to detect "shortcut" tactics that used to work in years past such as buying directory links and creating low quality content pages. We are a white-hat SEO agency, meaning we follow Google's guidelines when we conduct SEO. We do this because we want to build long term relationships with our clients and want to engage in SEO methods that are safe from Google penalties now and in the future. There are many law firms who have used law firm SEO companies that have used tactics that are against Google's guidelines in order to try and get high rankings. Unfortunately for these attorneys, many of these websites have been penalized and no longer rank. We know because we have been approached hundreds of times by law firms who have been penalized due to manipulative search marketing tactics. SEO for attorneys in 2022 is very different from years past.
I tried SEO and it did not work. How are you different from other law firm SEO companies?
First, our experience is what makes us different. We have been successfully optimizing law firm websites for over 15 years and have optimized thousands of websites. In the SEO world, experience is something that cannot be replaced. Someone who has been doing SEO for 2 years and has optimized 10 websites for example does not have the expertise or experience handling all the different situations that come about. Second, the results we have been able to achieve for our clients sets us apart. Ask us to show you specific success stories and we can show you not just our ability to get law firms to the 1st page of Google for competitive searches, but more importantly we can share stories of how we have other law firms similar to you generate new cases online. Third, we have built our own proprietary tools that our SEO team uses to do better SEO, including semantic keyword research that helps us rank for more search terms, content analysis tools that help us to create better content, competitor analysis to help us identify what tactics your competition is using, and backlink analysis to help in identifying potential link targets. Last, our people are what set us apart. We have smarter law firm marketing strategists, more experienced SEO analysts and most talented team in the law firm marketing industry.
Should I choose SEO or PPC to market my practice?
The answer depends on many factors including your budget, how competitive the keywords you are targeting are, do you have time to wait for SEO or do you need to results now, etc. Every situation is different but we can help you decide what is the right fit for your law practice. For example, if you need to generate cases right away, a smart Google Ads campaign is going to provide more immediate results for you. If you understand SEO is an investment and it takes time, usually organic SEO can provide a better long term value as long as you have a great company running your campaign. If your budget allows, we highly recommend that your Internet marketing campaign includes both SEO and PPC together.
Law Firm SEO Tips
For those law firms are simply looking for tips on how to do their own search engine optimization or those just here for information, here are some tips on law firm SEO below.
1. Don't rely 100% on Google organic search: You know the saying, don't put all your eggs in one basket. That especially applies to marketing your law firm on the Internet. Don't rely on a single marketing source to drive all your leads. Why shouldn't you rely on Google organic search results for all your leads? Because you have no control over Google's algorithms, which are constantly changing. For example, Google updated their algorithm 3,234 times in 2018 (while also running over 650,000 experiments which led to these updates). At any given point in time there is always the possibility of losing your organic rankings. Smart lawyer marketing in 2020 consists of multiple methods of generating leads, including paid search such as Google Ads, Bing Ads, Facebook ads or other sources of paid search.
Considering that Google is constantly changing their organic SERP layouts to prioritize paid search, this is another reason to not completely rely on a law firm SEO strategy. Google continues to push organic results further down the page, which is why Google Ads can be so effective and are an important part of your law firm marketing strategy. The first page of Google today is not the same as it was in years past. These days we do all different types of SERP features such as knowledge panels, featured snippets, review carousels, People Also Ask and more. This has led to a reduction in organic clicks. Some studies have shown that over 50% of all searches on Google now result in 0 clicks! In a constantly changing landscape of search engine results on Google, it's important to diversify your law firm's lead sources.
2. Create content that is better than your competitors: There are technically thousands of Google ranking factors. One of the most important ones being the content you have on your website. More specifically, the content on your page needs to better than your online competitors in order to give yourself the best change to rank and have better web presence. Of course "better" is subjective, but I refer to it in the eyes of Google's algorithm.
There is no one set of content rules that can apply to all keyword phrases, as what Google deems to be better depends on how your content satisfies the true intent of the web searcher. Many legal marketing content writers today still think that repeating keywords over and over again means their content is "SEO friendly". That is not the case with Google's ranking algorithm today. Google wants to see variation and semantically relevant topics included in content that is more comprehensive in nature, while still satisfying the true intent of the user.
3. Have a website that is better than your competitors: One of the biggest mistakes that law firms when doing Internet marketing is failing to understand the importance of having a great website. A great website is one that looks beautiful enough to make a powerful first impression on your site visitors, as well as being quick and easy to navigate. Website speed is an officially acknowledge ranking factor according to Google, so it does impact rankings.
Great web design is also important for keeping visitors on your site instead of leaving and going to another law firm's website. The whole point of SEO is to get more traffic to your law firm website so you can convert those visitors into actual clients.
4. Get (real) reviews for your law firm: Reviews are important to Google's local ranking algorithm. While it's not the only factor to ranking in the local pack, it's no doubt one of the most important ones. You may be tempted to get fake reviews like many other law firms do, but this is a terrible idea. Google will eventually get a better handle on dealign with fake reviews.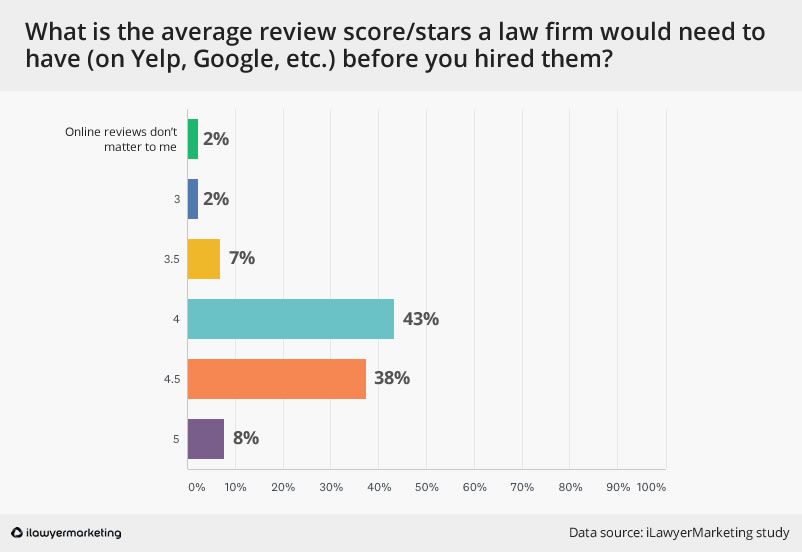 In addition to helping improve map pack rankings, they are crucial to converting leads into actual cases. As our recent study on How Consumers Choose Lawyers Online shows, 89% of consumers will not hire a law firm unless they have 4 star review or higher.
5. Get verified in Google My Business: If you haven't done this, you need to. Go to https://www.google.com/business/ and get your business verified. Google often shows your GMB profile when consumers do direct searches for your law firm so you should spend time making it as good as you possibly can. That includes filling out all information possible, adding images, videos, etc.