In July 2020, Google announced it would be rolling out Google Guaranteed certification to non-advertisers for a monthly fee. This "upgraded" Google My Business Profile will feature a Google Screened badge (or Google Guaranteed badge for non-legal) and may also show up in the Local Pack. Google Guaranteed was originally introduced in connection with Local Services Ads (LSAs) which you can see in the image below.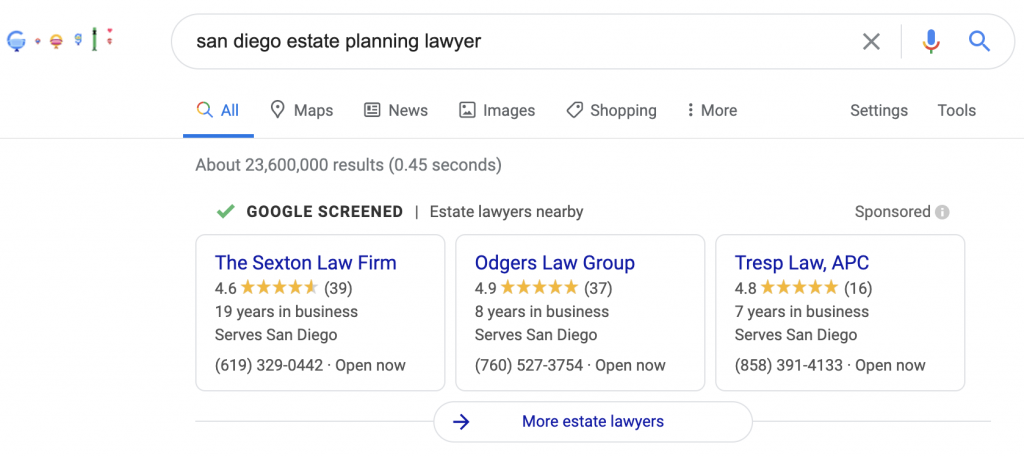 Google Screened was launched last year for professional services, including immigration and estate planning lawyers, in only a couple of markets to use as a test. Google determined this program to be a success, so now they are expanding these ads to many different types of law firms. At the present time, the Google Screened certification is only available to advertisers, which incentivizes more businesses to adopt LSAs. Due to the highly competitive nature of the legal industry, we're likely to see early adoption of these programs.
How Much Does Google Guaranteed/Screened Cost?
The cost of the Google Guaranteed/Screened program is $50 per month, subject to Google Guaranteed's eligibility rules, which include background and licensing checks. The screening process is free for businesses that want to participate and assuming eligibility requirements are met, the cost of the program would be $600 per year. However, the $50 a month charge here shouldn't be confused with LSAs (Local Services Ads) pricing.
Local Services Ads
Local Services Ads are pay-per-lead ads that appear at the top of the Google search results, above the traditional text ads. The cost here varies depending on what you are willing to pay per lead and how much competitors are willing to pay. This is of course in addition to the $50 a month fee.
What Are the Requirements for Lawyers?
To participate in the Google Guaranteed/Screened program, a law firm must pass Google's screening and qualification process. While the process varies by category, law firms can expect background checks as well as insurance and license checks:
Background Check Requirements
Business check
Owner check
Insurance Requirements
Malpractice insurance (where applicable by state law)
License Requirements
State bar license checks for each lawyer in the firm
Which Lawyers Are Eligible for Google Guaranteed?
The following attorneys are eligible for Google Guaranteed certification:
Bankruptcy Lawyer

Business Lawyer

Contract Lawyer

Criminal Lawyer

Disability Lawyer

DUI Lawyer

Estate Lawyer

Family Lawyer

Immigration Lawyer

IP Lawyer

Labor Lawyer

Litigation Lawyer

Malpractice Lawyer

Personal Injury Lawyer

Real Estate Lawyer

Tax Lawyer

Traffic Lawyer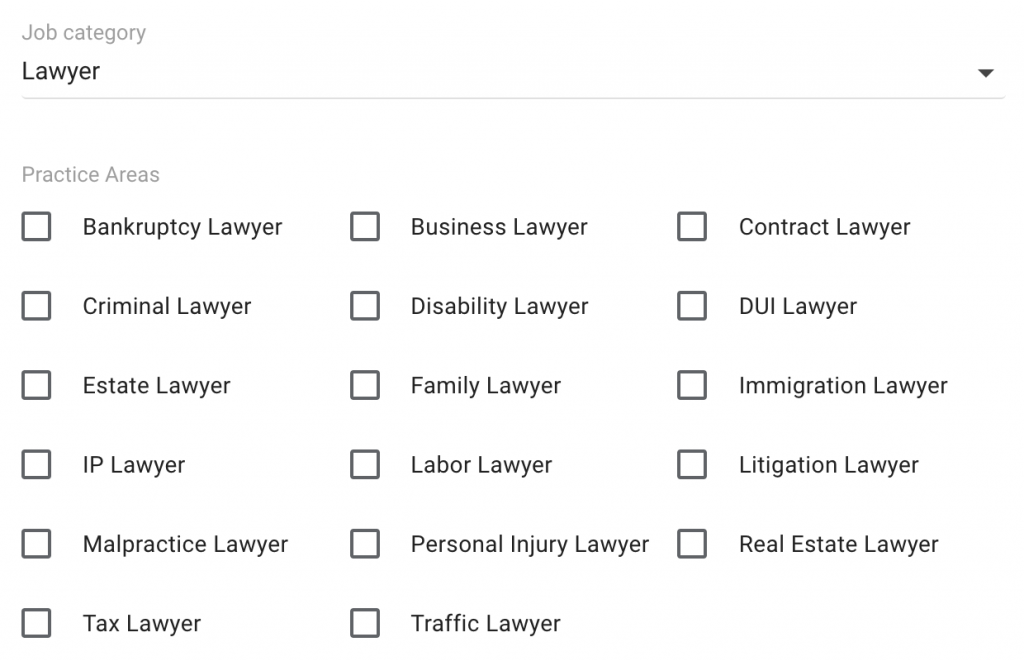 What Are the Benefits of Google Screened?
Currently, public data on improved click-through rate (CTR) or increased engagement tied to the presence of a Google Screened badge isn't available as this is a brand new product offering. With that being said, it is anticipated that profiles with badges would see CTR boosts because the badges visually stand out from the pack.
In addition to catching users' eyes, the presence of a Google Guaranteed badge builds trust and instills greater consumer confidence in a given business, which can positively impact conversion rates. We also expect that the Google Guaranteed certification program will help clean up spam in the maps that we commonly see in the legal services industry. Law firms that add keywords to their business names in order to appear higher in the Local Pack will not be allowed to participate, which is good for those law firms that play by the rules.
Is Your Law Firm Ready for Google Guaranteed?
If your law firm needs help signing up for Google Guaranteed, please don't hesitate to contact us. We work with firms across the country and in various practice areas so regardless if you are a personal injury lawyer or criminal defense attorney, we can help you get ahead of the competition with our local SEO services.