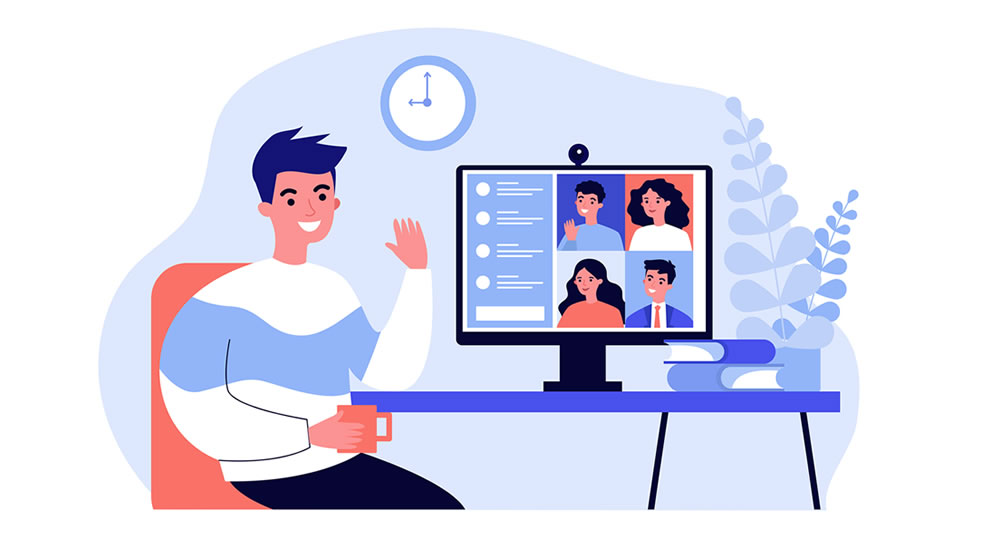 With the COVID-19 outbreak causing serious disruption to businesses of all types in 2020, many are wondering what to do about their law firm marketing plans. Of course the answer depends on many factors, such as the types of marketing you currently utilize, the area of law you practice in, your operating budget, how long this change to everyday life will be here for, etc.
While there is much uncertainty about how this will impact our businesses overall, it's important know that the marketing decisions you make today will have an impact on your Internet visibility and the new business you are able to generate in the months ahead.
Since most of our clients market their firms using Paid Search or Search Engine Optimization (many actually do both), let's look at both those areas of marketing.
How You Should Handle Paid Search Marketing During the COVID-19 Outbreak
One of the great advantages of paid search is the ability to quickly increase spend, lower spend, pause or completely stop your campaign instantly. Unlike SEO, it's not a big deal to pause a PPC campaign if you want to pick it back up later.
When running PPC campaigns, you should always be keeping an eye on your ad impressions, CTR, total clicks (or calls if you are running a call only campaign) and of course the total number of leads you are receiving to see how your ads are performing. You should be analyzing all these things for your current campaign and seeing how it compares to your normal metrics. We've also noticed a drop in CPC in many areas, so for some, you may be able get Google Ads at a "discount" at the moment.
While it's understandable that things have slowed down for the heavy majority of businesses all over the country, it's also important to realize that people are still going to be searching for lawyers online. We manage millions of dollars of paid search advertising for law firms all over the country so we have lots of data to look at and we can tell you our clients are still receiving clicks and leads.
Take a look for example at the screenshots below from our Client Analytics Dashboard for two of our clients, a personal injury lawyer and a divorce attorney who both run paid search marketing with us. I've blurred out all personally identifiable info for obvious privacy reasons but I've left the lead date & time info visible, as well as the lead source. As you can see for these clients, Google Ads are working. We still see plenty of activity even over the last couple of days. So yes, even in times like these people are still searching for lawyers and finding them through PPC campaigns.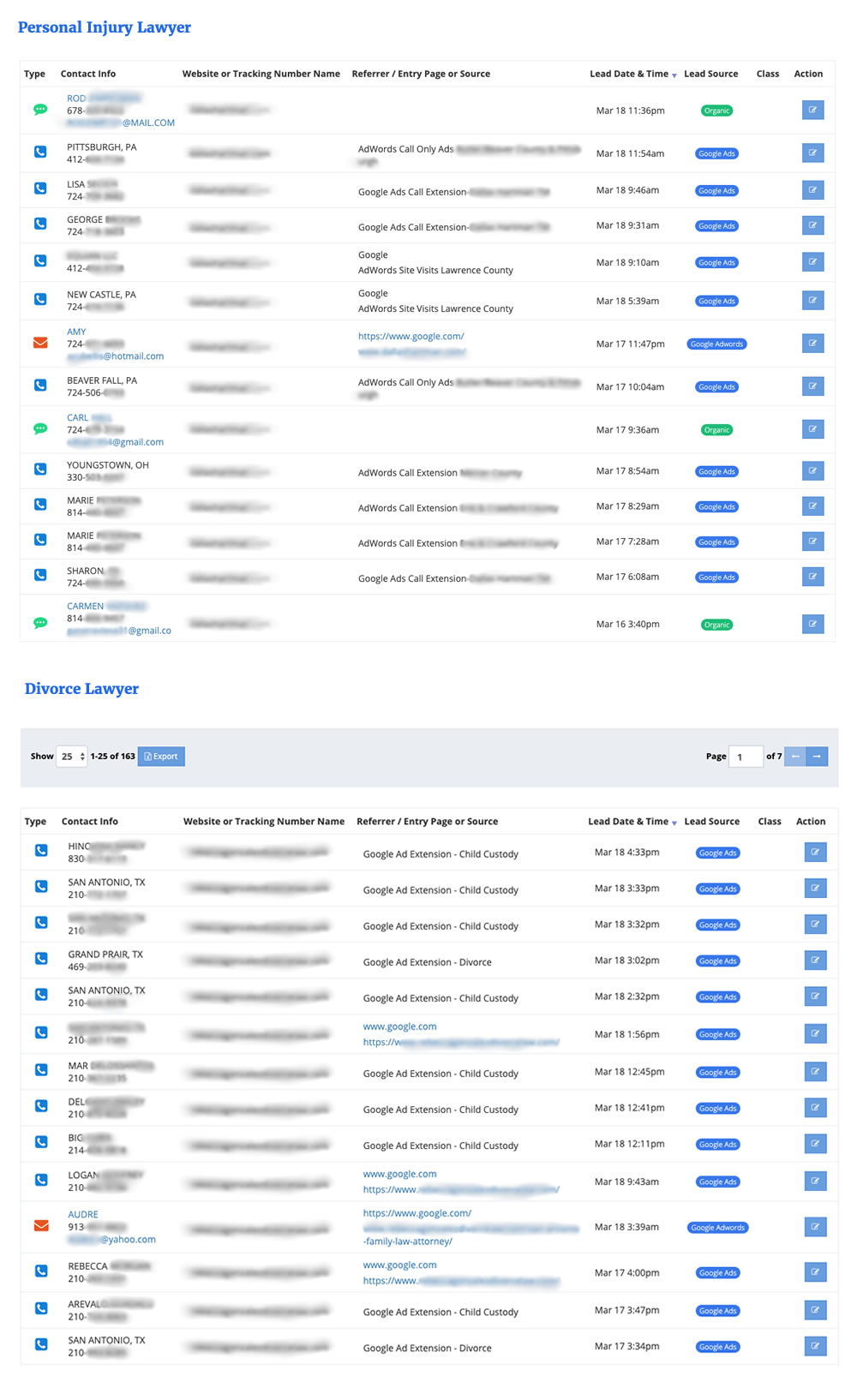 I suppose this isn't that surprising considering so many people are staying home now, meaning they will be spending more time on the computer than they normally do.
Additionally, you should be paying attention to your online competitors. In the always competitive and aggressive world of Google Ads for lawyers, aggressive marketers will continue to advertise. If firms you are competing with do stop running ads though, that could be advantageous to your firm. That's one less firm you have to compete with online.
If you are a law firm that is hurting for business and you aren't running Google Ads, maybe you should be considering running a PPC campaign. It can be an incredibly valuable tool to generate leads quickly for your firm.
One final note here on running Google Ads during this COVID-19 outbreak. We spoke to our Google rep yesterday, and she told us that nobody can run ads using the words "outbreak" "Coronavirus" or "COVID-19" in the ad copy. Google does not want businesses trying to capitalize on this pandemic.
Should I Pause or Stop SEO during the COVID-19 Outbreak?
If you depend on the Internet for leads for your law firm, or you want to generate more leads and cases through higher visibility on Google, then no, you should not pause your SEO campaign.
I've been doing SEO now for over 15 years and have handled or overseen thousands of law firm marketing campaigns. Based on experience,  I can say it's usually a bad idea to pause or stop SEO in the middle of a campaign. Especially if you depend on Internet leads to bring new leads and cases. Now, I've also been a business owner for over 15 years so I know there are exceptions here. One being if you are struggling to keep your business operating because you don't have enough capital to survive. The second is if you have given the SEO process enough time with your current vendor and that campaign is failing. Both are acceptable reasons to pause SEO.
In the incredibly competitive arena of law firm marketing, you can be sure that your competitors will not be stopping their SEO in their race to make it to the 1st page of Google. I would compare pausing SEO to someone running in a marathon and stops running in the middle of it the race. Naturally, the competition will pass by that racer who is standing still.  SEO, especially in competitive markets, is a long distance race.
Take a look at this image below, which shows website traffic from Jan 1-Mar 18 of this year. I grabbed five sites at random here and if we look at the organic traffic, shown in blue, we don't notice any giant drop offs. While traffic is slightly down on average this week, we do not see any significant drops in overall activity.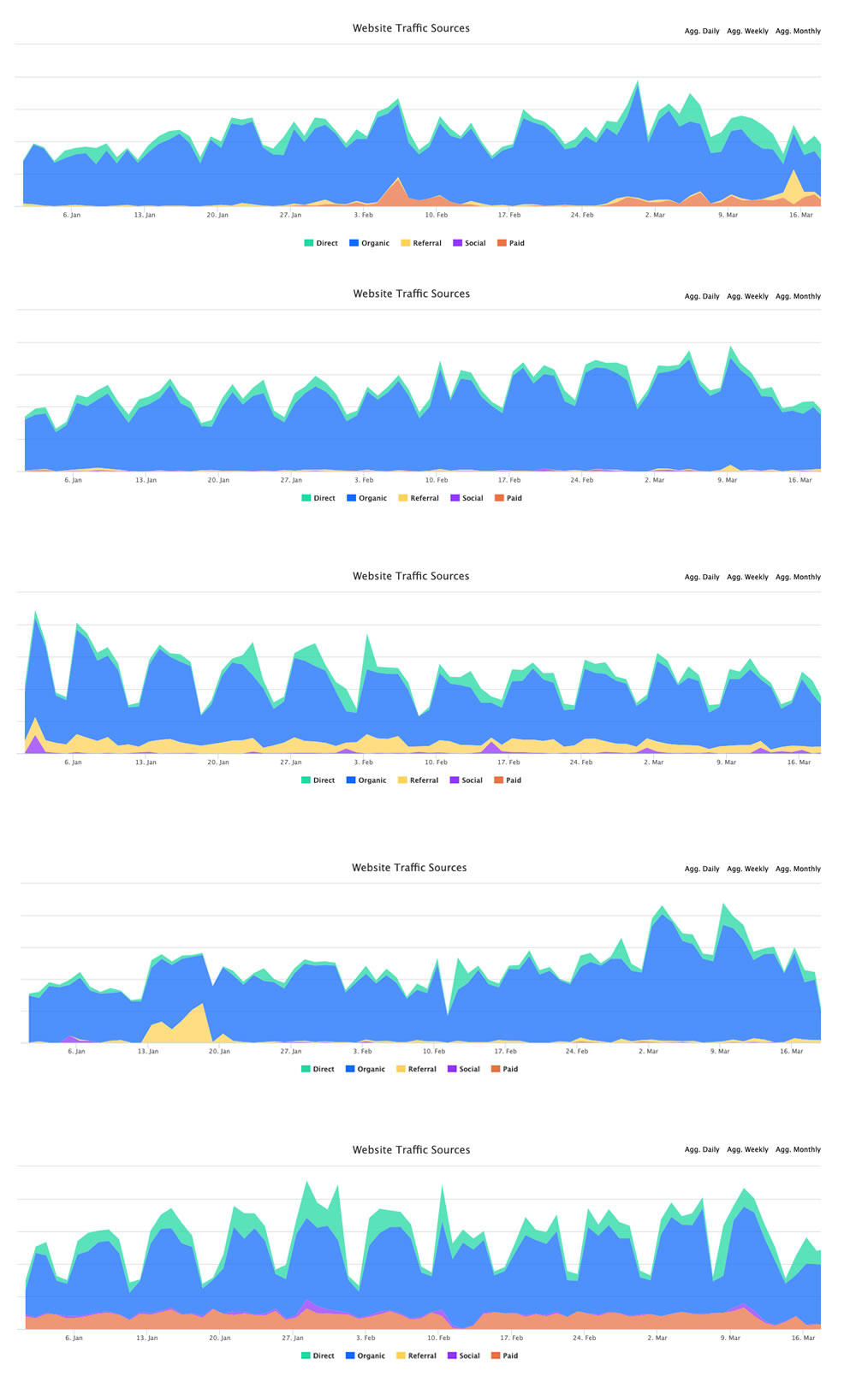 The demand for lawyers will not stop simply because of this outbreak. Of course, certain firms that handle specific areas of law will be impacted more than others, but you really don't want to move backwards in your organic search rankings in these important months that lie ahead. We handle hundreds of SEO campaigns for firms all across the U.S. and just as with Paid Search,  leads (case evaluation request forms filled out and phone calls to the firms) continue to come in. If we look at our data for call tracking from January 1st to March 18th, we also notice that while there is an expected small drop in total call volume, it's not an alarming dip.  This chart data below accounts for all clients that use call tracking with us, so this represents hundreds of law firms and thousands of calls.

People are still going to need personal injury lawyers. Families are going to need bankruptcy attorneys. I imagine that divorce attorneys will also be in high demand this year.
"In the Midst of Chaos is Opportunity"
No doubt, things are a bit chaotic right now and there is much to fear. But it's important in times like these to remain calm and look for opportunity among the chaos.
Is there an opportunity to react to the current situation and offer a remote intake process using tools like Zoom Conferencing or FaceTime meetings with your clients? How about adding a banner to the top of your site like we've done for many of our clients to let people know you can help them even if they don't come in to your office?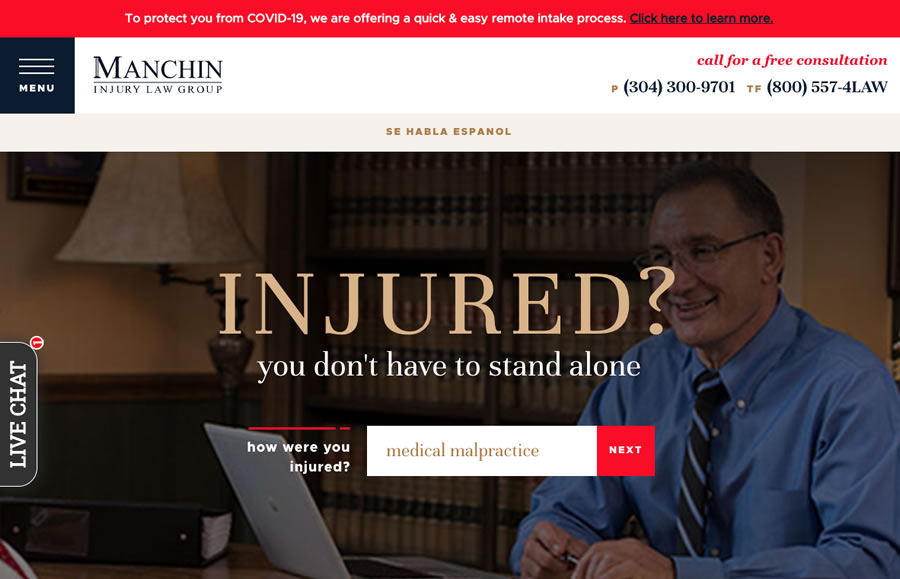 Is there an opportunity to improve the way your office communicates with each other? Tools like Slack, one of the most popular instant messaging platforms around, are incredibly useful. Especially for remote working environments ! It is what our team has used for years for communicating with each other in the office or when working remotely. We made the decision last week to go fully remote (we do already work remote part of the time) and a communication tool like Slack is not only excellent for efficiently communicating with each other but also to continue to feel part of the team. Especially when working out of our homes during a quarantine!
Is there an opportunity to improve the way you sign up new clients? Do you use tools like Adobe Sign to sign up people remotely? There are plenty of solutions these days but no doubt it's something that you can utilize to help you land more clients.
Is this an opportunity to evaluate the content on your website? Most law firms do not add enough quality content to their website on a regular basis. Better content means more traffic, which means more leads and ultimately more cases. Many of your competitors are doing this, are you? Is the content you are adding what Google's current algorithm wants to see? Over the last 5 years, much of my personal time has been devoted to studying Google's algorithms on a daily basis and building proprietary SEO software that gives our SEO team members an advantage over other law firm marketing providers. One of those tools is our Content Analysis & Enhancement Software, which helps us to quickly analyze Google's 1st page of search results for any given keyword so we know what terms Google expects your page to have. Many content writers today think that they need to overstuff keywords into their content in order to rank. These days, the tactic of keyword stuffing your content can actually prevent you from ranking.
While no tools out there (including this one) can make you rank on the 1st page of Google alone, content is a crucial part of the process. If you are looking to generate more cases from the Internet, consistently adding content to your site needs to be part of your marketing strategy.
Is there an opportunity to create videos for your website that help "sell" your firm? Video can be an incredibly powerful way to increase the level of trust a potential client has for your law firm, especially if you are unable to bring clients in to your office. Increased trust means a higher conversion rate, which ultimately leads to more leads and cases. If your competitors do not have impressive video on their site, adding video to your site can give you an advantage in your market. Here's an example of a video we created recently that does a great job of building trust with with website visitors.
Is there an opportunity to go after different types of cases? The smartest marketing law firms I know of adapt to change long before they are forced to. If your firm relies heavily on car accidents for example, are you going to wait for advanced safety technology and self driving cars to reduce your case load or are you going to think of new types of cases to go after? With the COVID-19 outbreak, will there be new types of cases that come out of this situation that you can go after?
Do You Have Questions?
I imagine many of you have already done this, but if you haven't already, you should be considering remote work and allow your staff to work from home to help prevent the spread of COVID-19. The sooner we get in control of the spread, the faster we can get back to "normal" life. With all the technology available to us these days, working remotely can absolutely be done efficiently as we have done ourselves part time for years. If you have any questions on remote working that we can answer for you, please don't hesitate to reach out to us.
Stay safe, wash your hands and practice social distancing. And don't hoard the TP.