Recently iLawyerMarketing conducted a study that involved people who had hired a lawyer in the past. There were 325 participants in the study from all across the United States. One of the questions we wanted to know was how many websites consumers look at before choosing a lawyer. Here is what we found.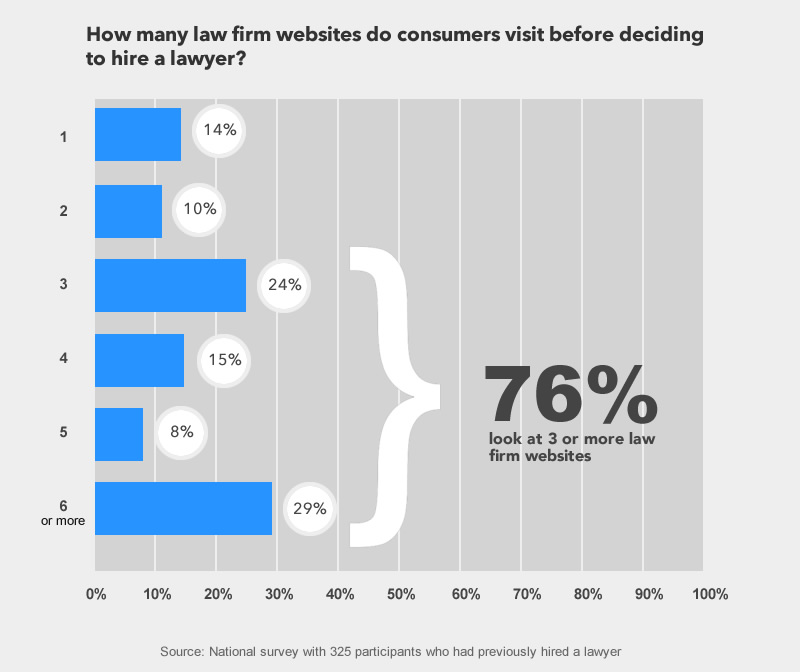 Considering the importance of a decision like choosing a lawyer, it's not surprising that people look at multiple websites before choosing to hire a law firm. Nearly 30% of survey participants said they looked at 6 or more websites which tells us one very important thing: Your potential clients are comparing you and your website to your online competitors. One of the user testing studies we perform is analyzing the behavior of consumers looking at different law firm websites and the information we collect is incredibly valuable and insightful. We know for example that many consumers rank the order in which they would call different law firms. The majority of the time for the site they say they would contact first, one of the biggest factors is because the design of the website made them feel the law firm was "successful" or "prestigious".
Today it's a fiercely competitive market for lawyers so if you want your online marketing, your website plays a huge factor in the success of your law firm. Look at your competitors online and ask yourself "Are my competitor's websites more impressive than mine?". If the answer is no, you may be losing cases to other firms that you compete with.