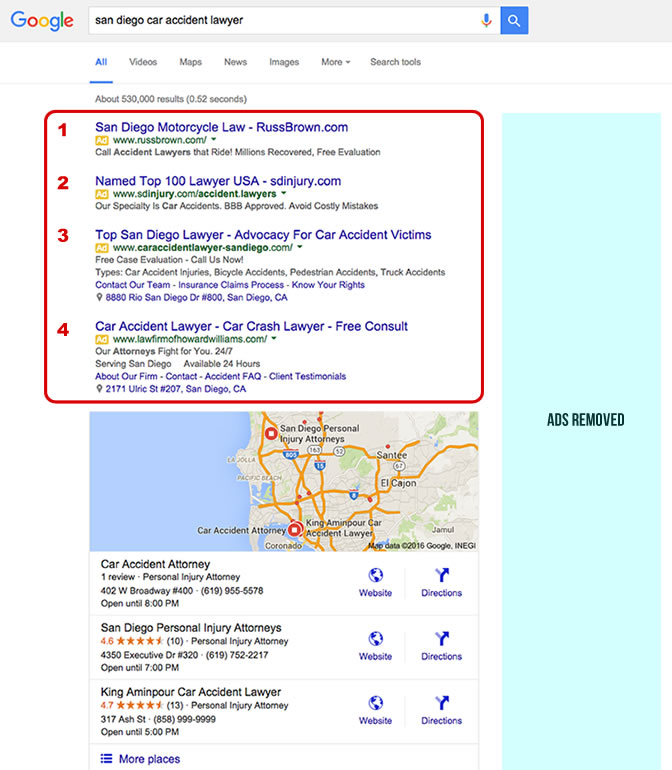 You may have heard or seen by now that Google has removed all ads that appear on the right side of desktop search results pages. At the same time, they now show 4 paid ads at the top of the page (at least for all lawyer related searches I've looked at). Naturally, the addition of another ad now pushes the organic results down even further down the page. For most users, organic placement is now below the fold and requires scrolling.

Should your law firm have a PPC campaign on Google?
I can answer that in one word: Maybe. Ok it's not usually an easy answer but here are some things that you have to consider:
What type of law do you do?
What are the average click charges in your market?
Do you have a healthy budget?
Do you have the patience to wait out an SEO campaign? (it takes time to rank in any competitive market)
Can you afford SEO and PPC?
Have your organic results been impacted over the past year?
Take a look at a click test we recently ran. As you can see, the hottest part of the heatmap is the very 1st paid ad. The second ad has poorly written copy in comparison to the 3rd ad which has quite a bit of activity itself. This is a good example of how weak PPC ads can cost you potential cases. Ad #4 doesn't even have a single click on it. Once again activity gets hot on the #1 maps listing and the #1 organic listing.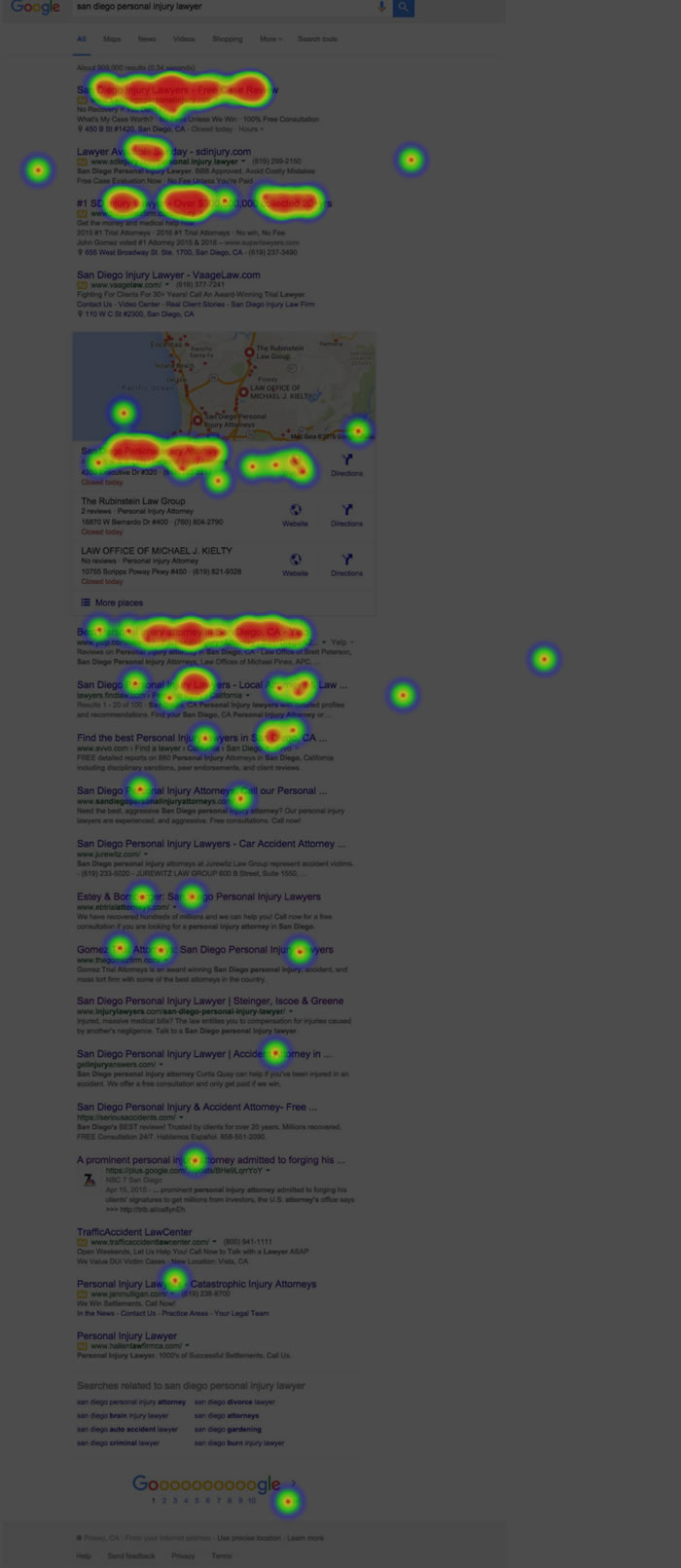 Even being top 5 of the organic results doesn't guarantee traffic. In the test above, the #5 result didn't receive a single click from the 120+ participants in this click test. So should you consider PPC advertising? Without question, you should consider it. In the past, most people skipped over the paid ads but from user tests we run here we often at our office we find that some users don't even realize the top listings on the page are paid ads. From previous click tests we have run, users clearly recognize the ads that used to appear on the right side of the page and avoid those. This is no doubt part of the reason why Google eliminated the right side ads on their search results pages. In 2016, people are without a doubt clicking on paid ads.
Do we recommend PPC over search engine optimization in 2016?
That depends on how you answer some of the questions from the bullet points above. For some the answer is yes, for others, no. Do you need to generate business right now and can't wait for SEO results to happen? PPC may be a better fit. Are you willing to wait for organic rankings? (this could take between 6-12 months on average for most campaigns). If so, SEO may be the right call. While organic results take longer than running paid ads on Google, they also are usually the best bang for your buck. For example, some keywords can get as high as $200+ a click so if you can generate organic traffic you can usually do so at a much lower cost per click. If you would like to find out what we recommend for your law firm, feel free to contact us and let us know how we can help.