As in any industry, Internet marketing companies have a tendency to throw around terms and acronyms without explaining them. A common phrase used among SEO companies is link building. While, everyone working for an SEO company is familiar with the meaning, many of our clients are not. It is an incredibly important part of what we do since it's currently the most heavily weighted factor used by search engines in determine rankings. Without the right kind of links your website will not have the visibility needed in order to generate consistent leads. Therefore, it is important that we take the time to explain to our clients exactly what we mean when we use the term link building.
The simple explanation is that link building is the process of directing links to your website for the purpose of allowing your site to be ranked higher in search results. Building these links is a blend of art and science. Some Internet marketers are tempted to take shortcuts and use junk links to quickly boost a website's ranking. This, however, is akin to eating junk food to boost your energy level. It may work in the short term, but it is followed by a sudden crash in energy and at the end of the day, you have filled yourself with useless calories and are still lacking the necessary nutrients to help your body function at its peak performance. There are no shortcuts in the world of SEO. Link building needs to be done carefully and patiently over time. Having compelling, unique and original content combined with an appropriate amount of links from trusted sites is the only way to build a sustainably high ranking website.
Different Types of Links You Can Get
Contextual links – Links within the context of an article or page on another site. These are typically the most difficult types of links to acquire.
Web directories – These days there only a select few web directories that will actually have a positive effect on rankings. The wrong ones can actually harm the rankings of your site.
Blog comments – Leaving a comment with a link back to your own site. Unless you are actually contributing to a discussion, this is not recommended.
Profile pages – Creating a link to your website on profile pages of sites that allow a listing.
Article directories – Getting a link back to your site from an article you or someone with your firm wrote. Most of these are low quality links.
Author bios – A link back to your website from a guest post or contribution on another site.
Resource Links – Links listed on a resource page of a website.
Natural Links
Ideally websites will build credibility through an abundance of naturally built contextual links, meaning links that occur without ever having to ask for a link to your site. In order to develop these links however, a website must be aligned with other sites and provide exceptional content that other sites want to be reference. To build natural links, your site must offer information that other sites want to share with their readers. An example of a site that continually builds natural, contextual links is Wikipedia, which many sites often link to because the content there is (in most cases) accurate and incredibly thorough. In a perfect world, you would be generating these types of links without even asking for a link but that is not often likely to happen for a typical law firm website.
Quality Links
When it comes to link building, everyone says "build quality links" but what does that mean? Even companies providing SEO services don't always know the answer to this. Quality links come from high quality websites so an obvious example would be a CNN article that links to you. CNN has a large amount of quality links pointing to it making it a powerful site. Of course a site like that is going to be very selective on who they link out to so those factors (quantity of inbound links and their selectivity on who they link out to) make it a high quality link.  That's an obvious choice but for sites that are not well known, analysis and research on that site is required. You never want to get links pointing to your site from sites that are breaking Google's guidelines so analyzing a sites backlink profile is crucial to making sure you are trying to acquire the right kind of links.
Junk Links
There are times when a link is clearly bad, based upon the type of site it is on, such as one with poorly written content, if it's surrounded by tons of other outbound links, the location of the link, etc. For example, a link that is located in the "footer" of a website is located where few people if any will see it. Google knows the behavior of its users and a reasonable surfer is typically not going to see that link. However, there are times when the "eyeball" test isn't good enough and link analysis is required. The are many sites that visually look great and would seem like a great place to get a link but it ends up being a junk link that negatively impacts your rankings. Search engines algorithms, especially Google's, have done a great job of punishing websites that have inbound links from sites that have the sole purpose of raising rankings. Those sites may enjoy a quick, temporary rise, but they are severely punished by Google and other search engines. Without warning the site can plummet in rankings and be handicapped in efforts to rebuild the strength of the website and to regain the trust from Google. It's unfortunate that many law firms come to us and are in this situation. For some websites, depending on the damage caused by previous SEO companies, a firm is better off starting with a brand new website. Examples of junk links include comment spam, listings in low quality directories, and links from low quality sites that have poorly written content and an overload of outbound links. As you can see in the image below, the use of over-aggressive anchor text (the words that are in a hyperlink as in "dui attorney los angeles" and "Bay Area DUI Lawyer" circled below) is one of the biggest reasons why sites are seeing huge ranking drops.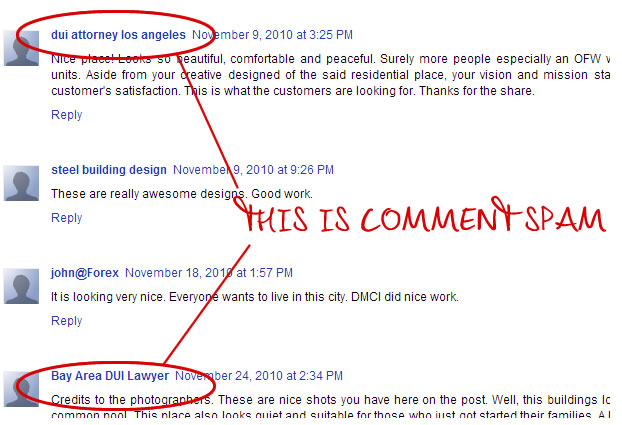 Link Outreach
The most important service that a law firm SEO company can provide to clients is a high quality link outreach program. This is the backbone of raising your website's ranking in search results and if done by a legal marketing company that really knows what they are doing, these are sustainable links that will never be negatively impacted by website updates like Google Penguin. In order to get great rankings in Google in any competitive industry like law, it requires a balance of building enough links from the right type of websites, being able to decipher which links will help improve a websites rankings in Google, and which will be deemed harmful by the search engines ever-changing algorithmic whims. This process requires a significant amount of time, effort and SEO expertise in order to find potential link targets, contact those websites and then attempt to acquire a link back to your site. In the end, this can result in high visibility for your law firm on search engines like Google.
Much of the link building process can be summed up by the adage, 'There is no substitute for hard work.' Quality link building will bring you a long-lasting, highly ranking site. Quick fixes will saddle you with a site absent from the top pages of search results. Build the right kinds of links to your law firm's website and you will be rewarded with high rankings and the potential to to generate new cases from your website.