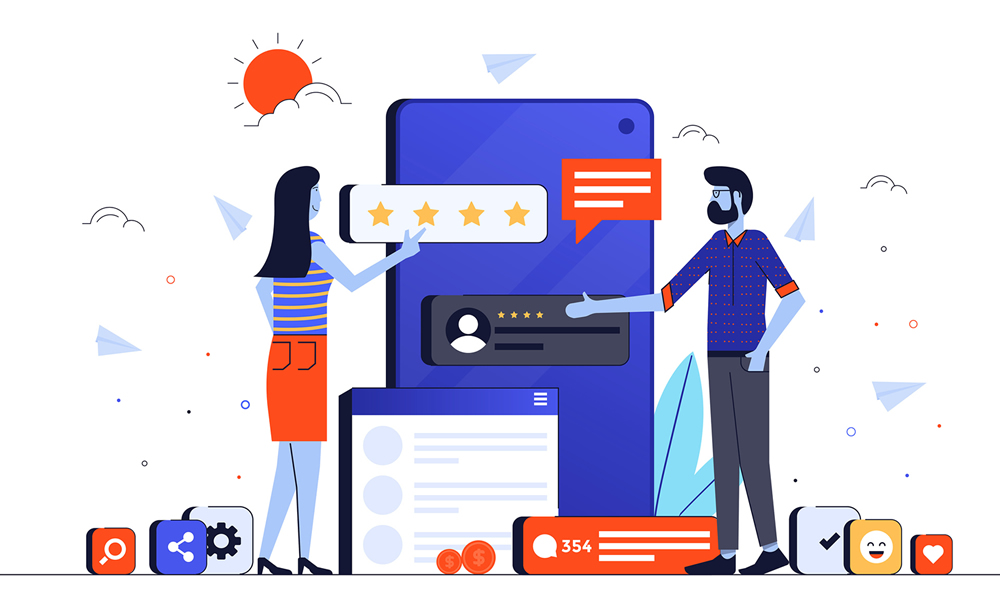 When consumers need legal help, more often than not they look for it online. However, this doesn't mean their journey begins and ends with a search for an attorney. Most often, when a consumer hires an attorney that they found online, it is the culmination of a process that is often referred to as the customer or consumer journey.
What does this journey look like from start to finish? How can law firms strategize to provide answers to prospective clients and be there when they are ready to choose an attorney?
The graphic below outlines the most typical timeline of events for consumers who are trying to find a lawyer online. Let's discuss each step of the process below, to make sure you give yourself the best chance for marketing success in 2021. .

1. Issue arises
In this first step, something has happened to an individual and they need help. It could be someone involved in a motor vehicle accident that caused an injury. Maybe a marriage is falling apart. Or someone's child has been arrested for drug possession. Whatever the issue is, it likely creates a whole host of questions that the person needs to have answered.
2. Consumer searches Google looking for answers

The consumer starts looking for answers online, almost always through Google, which has nearly 88% market share in the United States. Smart marketers try to provide answers for the types of questions that consumers have online. Sometimes the consumer doesn't even realize they need a lawyer until they read an article that explains how a law firm can help.
Marketing strategy: Create "top of the funnel" content that answers consumers' questions related to their situation. If you can rank for related queries, you give yourself an opportunity to put your law firm's name in front of the consumer.
What can help: SEO & Content
3. Consumer searches for a lawyer on Google
Next, the consumer starts specifically conducting targeted searches that clearly indicate they are trying to find a lawyer. "Los Angeles personal injury lawyer", "Orange County divorce lawyer", "Phoenix criminal defense attorney".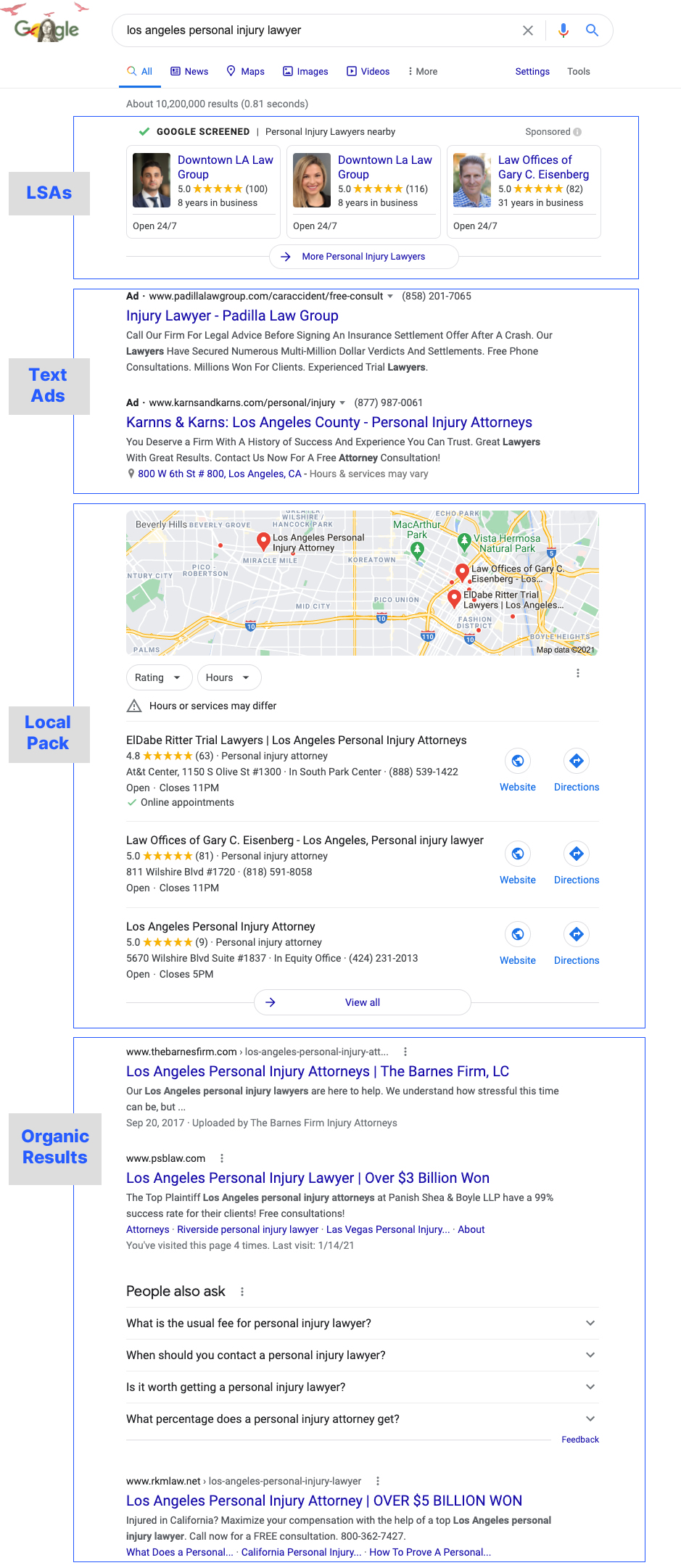 Marketing strategy: You need high visibility on Google for the most common search phrases used by consumers. Since competition for these terms (especially when it comes to personal injury marketing) is incredibly tough, you need a premier law firm marketing company handling your search engine optimization strategy. Additionally, you should consider paid search marketing since consumers are used to clicking on paid ads in 2021. The more 1st page placements you have and the higher you rank, the greater the statistical probability is that someone will end up contacting your law firm.
What can help: SEO, Content, LSAs, Text Ads, Local Packs
4. Consumer visits multiple law firm websites to compare their options
When consumers do research for law firms online, they visit multiple websites before contacting a firm. Our previous consumer studies have shown that the average web user visits 5 or more websites when looking for a lawyer online. For this reason, it is vital that your website is visually impressive, loads quickly, and provides a great user experience to visitors. It should also be built with CRO (Conversion Rate Optimization) best practices to make sure you are converting site visitors at as high a rate as possible.
Marketing strategy: Invest in a website that is better than your online competitors and that is built with CRO in mind. Your website should be visually impressive in order to make a great impression on site visitors. Your content should be more helpful than the other law firms in your market and the user experience needs to be great for both desktop and mobile visitors.
What can help: Website Design, Video, Visual Content, Standard Content, Conversion Rate Optimization
5. Consumer looks at the online reviews of any law firm they are considering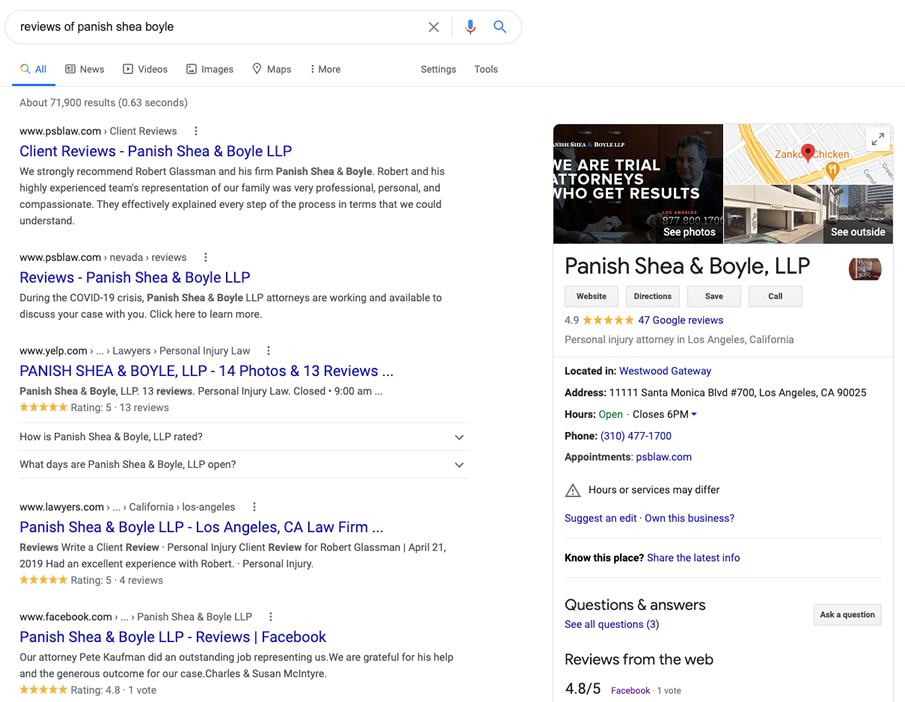 Did you know that 89% of consumers said they would not hire a law firm if that firm didn't have a review rating of at least 4 (out of 5) stars? We all know reviews are important, but without great reviews on Google and Yelp, you will end up losing prospective clients to your competitors. In 2021, consumers need social proof and 3rd party validation from sources other than your website.
While the average rating is most important, consumers also consider the number of reviews you have. If two law firms have 4-star ratings, but law firm A has 100 reviews and law firm B has 10 reviews, most consumers would choose firm A. Essentially, the more natural reviews you can get on trusted platforms, the better (provided they are positive).
Additionally, reviews also play a big part when it comes to ranking in Google's local (maps) packs. We should also mention that having video reviews or video client testimonials is also important. Studies have shown that consumers trust video testimonials more than written testimonials, so try to add those to your website when possible.
Marketing strategy: Focus on getting reviews on Google, Yelp and Facebook in order to provide potential clients with 3rd party validation that you are the right choice for them. Add video testimonials from past clients to your website in order to improve conversion rates.
What can help: 3rd Party Reviews, Client Video Testimonials
6. Consumer contacts multiple law firms
Most consumers will talk to multiple law firms before hiring an attorney. In a consumer study we conducted this past year, 84% of participants said they would talk to 3 firms or more before deciding on the right firm. As the saying goes, you only get one chance to make a first impression. So, make sure your intake process is as streamlined as possible and that you have the right people communicating with prospective clients. The people handling your phones need to be incredibly friendly and empathetic to the person calling.
Likewise, being there when prospective clients call or getting back to them right away are crucial parts of the conversion process for law firms. It doesn't matter if a consumer calls you first if they don't ever speak to someone at your firm. This is where we see many firms miss out on signing up cases to competitors who have a better intake process. If you don't currently have one, consider an answering service after hours. If your calls go unanswered or to a voicemail box, you are no doubt losing business to your competition.
What can help: Quick response to consultation requests, friendly and helpful communication with prospects, after-hours answering service
7. Consumer research process is interrupted by everyday life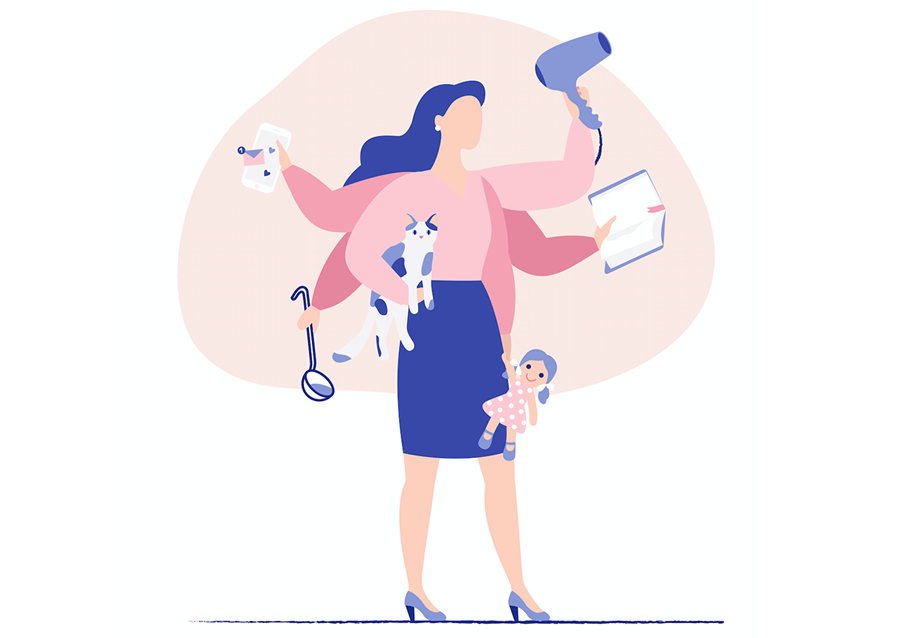 Finding and hiring a lawyer is rarely a quick and straight-forward process, certainly not for more serious matters where people spend more time doing their research. The reality is that most consumers take more than a day to decide on which firm to hire. Past studies have shown that 97% of website visitors leave a website and never return to that website again. Most visitors leave law firm websites without ever contacting the firm. For this reason, running retargeting ads to bring people back to your website makes all the sense in the world.
Marketing strategy: Create retargeting campaigns on Facebook, Instagram, Youtube (if you have video ads) and 3rd party websites to help bring consumers back to your website and to keep your law firm "top of mind".
What can help: Retargeting Ads
8. Consumer engages in their normal online activity
Life doesn't just stop when people are researching a lawyer. During this time, they are still going to on the websites and social media channels they normally use. Did you know that 74% of U.S. adults use Facebook daily? How about the fact that 73% of U.S. adults use YouTube? Or that Instagram has 500 million daily users! Your potential clients are almost all using these platforms, so why not advertise where these consumers already are?!
Marketing strategy: Create ads on the most commonly used social sites to make sure consumers are aware of your law firm. This way, if consumers didn't visit your site during their initial research process, they still have a chance to find out about you. If they did visit your site initially, then the goal as stated above is to bring them back to your site in order to get them to contact your firm.
What can help: Social Ads, Retargeting Ads
9. Consumer continues the research process
Here, the consumer resumes the research process in order to find the right law firm to hire. They may repeat any of the steps above until they finally sign up with a lawyer.
What can help: SEO, Website Design, Retargeting Ads, Social Ads, Retargeting Ads, LSAs, Text Ads, Content, Video, 3rd party reviews, Video Client Testimonials
10. Consumer hires a law firm
The legal consumer's journey has finally come to an end and they have either hired an attorney or had their questions sufficiently answered. However, while one journey has ended, countless others have just begun. Every day, Google processes billions of search queries in the US, and the legal services market is growing every year. Understanding this journey and implementing a digital marketing strategy around it can be the difference between search engine marketing success and page two.