What are the strategies and tactics that the very best law firm marketers are using to be successful in 2016? If you want to give your firm the best chance to succeed, you need to know what other smart marketers know, as well as stay on top of the best law firm marketing ideas.
Key #1: Smart marketers make better content than their competitors
You've probably heard it before. "Make great content". What does that mean exactly? For starters, it's important to understand that content doesn't just mean the words on your page. For example, content can mean:
video
pictures
animations
data visualizations
studies
data
guides
podcasts
long form content
Creating content that is head and shoulders above what your competitors should be the mindset you have when it comes to creating content for your website. Usually the best way to do that is to create visual content (video, animations, data visualizations, etc.) that engages your audience. Although visual content is more expensive to produce, it's also much more memorable to your audience. From an SEO perspective, it's also much more likely to be linked to if it's done right. In addition, increasing the amount of time your visitors spend on your site can help boost rankings as Google's algorithm rewards content that has good engagement metrics. Here are a few examples:
Exonerations in the U.S. (Interactive map)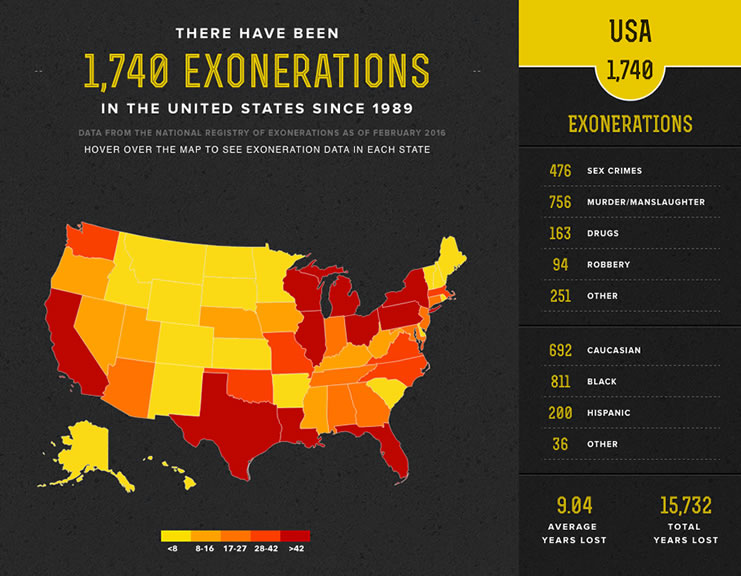 Bicycle Accident Prevention Guide (animations)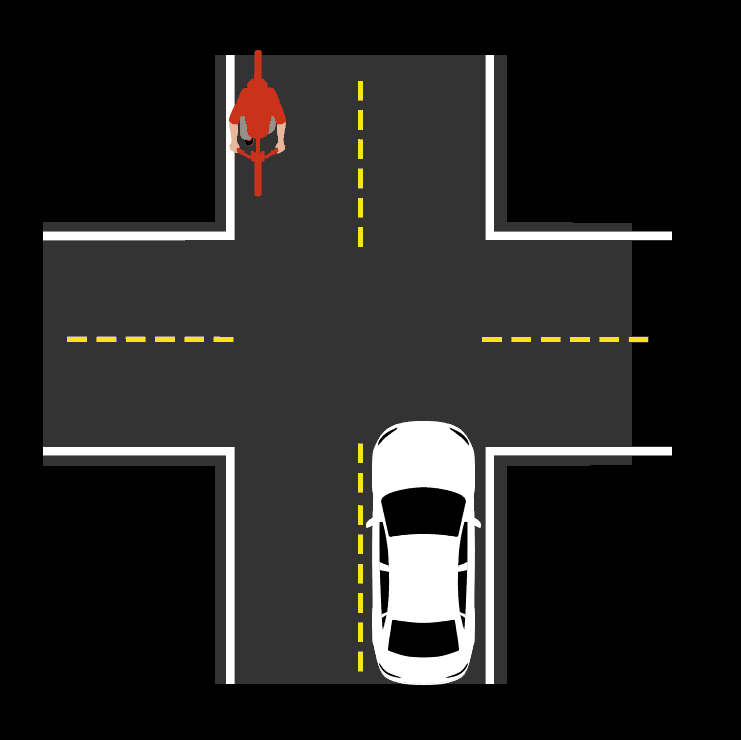 Divorce and Technology (long form page with interactive content and visuals)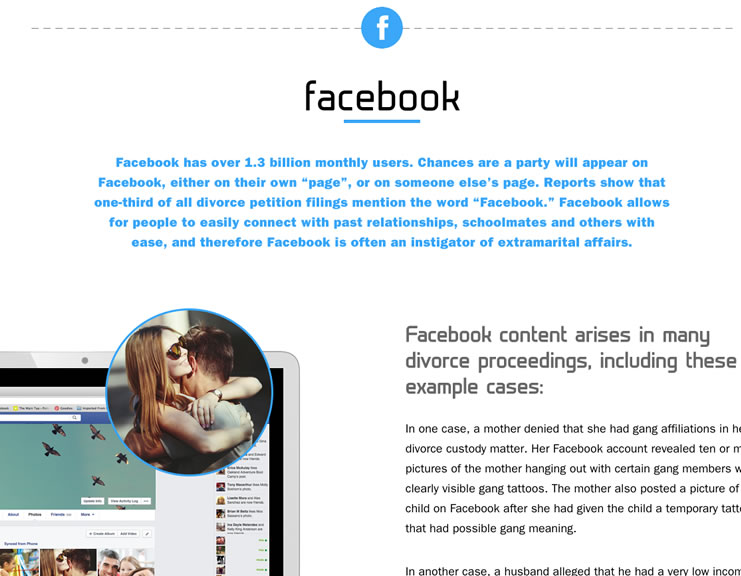 So does adding beautiful visuals or making interactive content automatically mean that the content is "great"? Not necessarily but if it's done the right way it absolutely can be.
Visuals alone aren't the only thing that can make content great however. Content that is more in depth (ie long form content) is often rewarded in the Google search results. A recent study found the average content length for a page on Google's 1st page has nearly 1,900 words on it. Remember the old "5oo words on a page" you used to hear about so often? Smart marketers ditched that long ago. So should you.
Key #2: Smart marketers target long tail keywords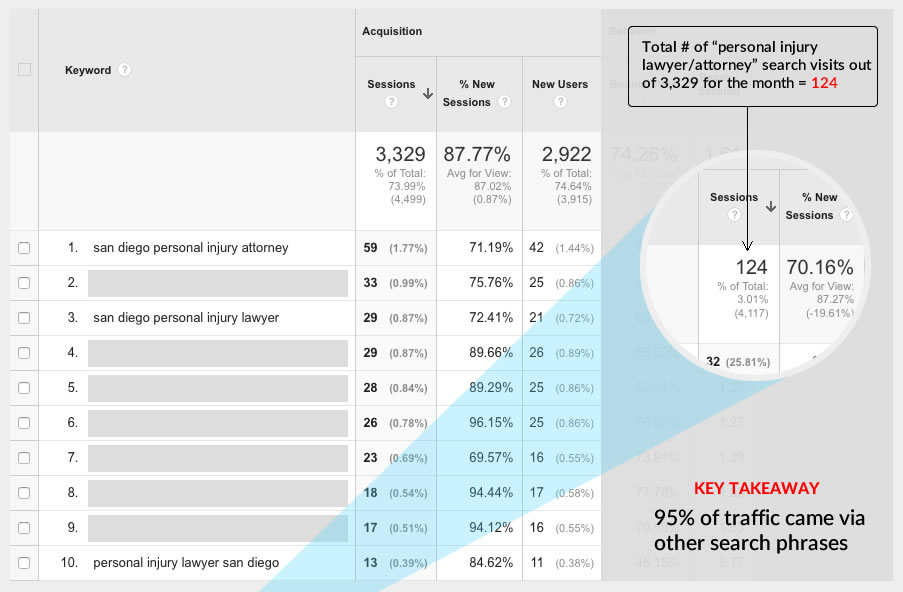 It takes much more than simply ranking high for a certain keyword to successfully market your practice in 2016. Some lawyers think that if they just rank #1 for a certain keyword, all their marketing problems are solved. From experience, I can tell you this is NOT the case.

Back before Google removed the ability to see which keywords were driving traffic to your website, you could see all the combinations of keywords that were sending traffic. In fact, if your analytics account is old enough you can still see those keywords (which can be great for keyword research and content ideas). The image above is from one of these accounts that has historical data. This particular client was ranking #1 for almost every local personal injury search imaginable. In an average month that accounted for around 100 total visits and this was in a large city like San Diego. Here in this example above, that accounted for 124 total visits out of 3,329 which is about 5% of all traffic.
This means that 95% of all their search traffic came from different search phrases, much of it being long tail search traffic.
While it's great to rank #1 for your home-run keyword phrase, it's much better to rank for many variations and combinations of keywords so you can drive more traffic and potential clients to your site.
One of the ways you can create smarter content than your competitors and generate the right long-tail keywords is to create "top of the funnel" content. Top of the funnel content is content that is aimed at pulling in visits from your potential clients at the very top of the marketing funnel. This type of content helps a potential client to solve a problem or meet a need. For example if you are a divorce lawyer, you could be creating content that helps that web searcher answer the question "How to know when to get a divorce" or "How long does the divorce process take in Texas?" While they are not yet searching for something like "Houston divorce lawyer", answering the questions they have can help guide them through your marketing funnel when they do realize they need to actually hire a lawyer and you can help them.
Another important reason to target long-tail keywords is Google's RankBrain. Considering that Google says that RankBrain is the 3rd most important ranking signal they use, you will want to incorporate natural language search queries into your content. RankBrain is Google's machine-learning artificial intelligence system that's used to help process its search results and it is used to provide better search results for long-tail searches.
Key #3: Smart marketers try to connect with influencers
After creating your content don't expect to be able to throw your hands behind your head, kick your feet up and see the traffic and cases to pour in. The process does not end there. Smart marketers try and promote their content. Now let's be realistic here. You're a law firm. Not all your content on your site is going to be interesting but in order to connect with influencers you will need that share-worthy content that we just talked about. The excuse that "I'm in a boring industry" doesn't apply. Smart marketers come up with creative content ideas. If you are not familiar with the concept of influencers, an influencer is someone with a large following who can "amplify" your content. For example, we created a "college graduate affordability" interactive tool for a client (check it out, it's pretty fun to play with).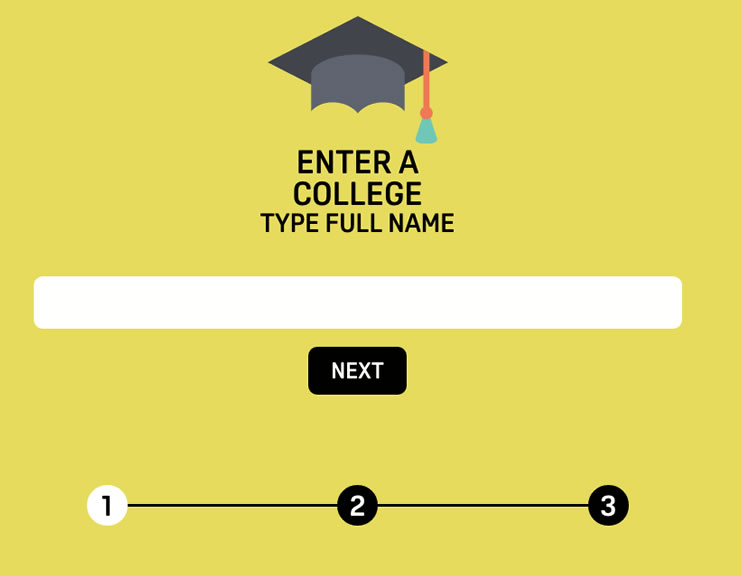 After creating this piece of content, we outreached it to influencers and were able to get the content covered on MarketWatch and our client had a story written about them in a website that gets millions of visitors a month. MarketWatch also tweeted out the story multiple times to their 2.6 million followers.
Connecting with influencers can be challenging as they are busy people which is why it's important that you actually have something that is going to intrigue them. Whether you contact them via social, email or phone will depend on the individual but smart marketers do enough research to figure out the best ways to connect with those who can amplify your content.
Key #4: Smart marketers utilize PR
PR is often overlooked by smaller law firms but it shouldn't be. Let's be honest. Lawyers in general have a poor level of trust with most consumers according to PEW research studies. When you can do something to help improve your public image, you should do it if it's in your budget. Not only can it help bring awareness to your law firm but it also can potentially work hand in hand with good SEO. Take for example a recent PR campaign we worked with for one of our clients.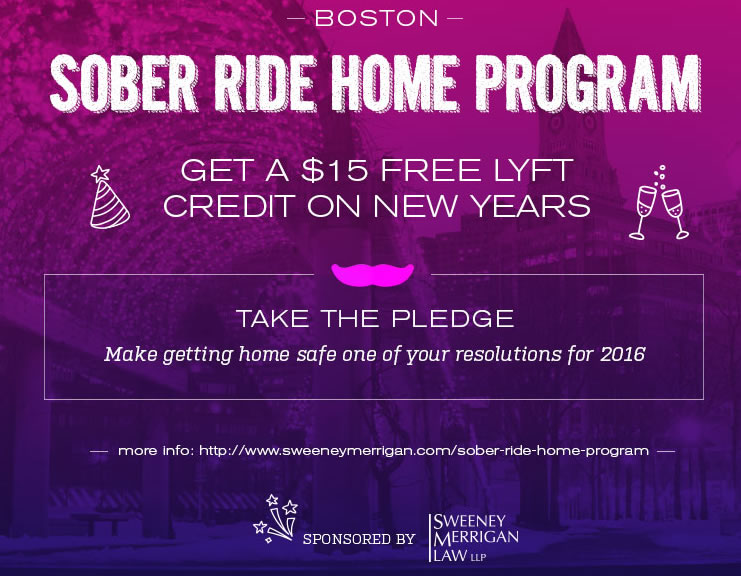 Not only did this help their brand image in their market, it also was linked to by numerous sources including the Boston Globe's online newspaper. Do you think having an article that paints your law firm in a positive light in a highly read newspaper would be good for your business? Most definitely.
Key #5: Smart marketers work with smart SEO's
Unfortunately there are many law firms who have had bad experiences with SEO and that's understandable because most people or businesses offering SEO services are not good at what they do. For those firms who have worked with bad SEO companies, they didn't get the results they were promised or their site ended up getting hit with Google Penguin, Panda or manual penalties and their sites stopped ranking. Understandably, law firms like this have a bad taste in their mouth when it comes to organic search optimization. If your SEO company is not talking about like creating share-worthy content, outreaching to influencers and finding ways to improving conversion rates, you're probably not with the right SEO firm.
Smart SEO in 2016 means safe SEO with long term strategies in mind. The days of overaggressive link building are long over and often when it comes to link building less is more, meaning it's better to have less links from high quality sources like some of the examples above than to have many from low quality sources. Getting links from sites that Google trusts is needed in 2016. When you create great content and/or utilize PR, smart SEO's know how to connect with the right websites and influencers in order to generate the kinds of links that "move the needle" when it comes to rankings. While links are absolutely not the only thing that matters when it comes to SEO (there are hundreds of other factors), it's still very important to Google's algorithm. So how do you find the right SEO? For starters, ask to see results in multiple competitive markets for multiple competitive keywords. Then ask for them to share some success stories with you for their existing clients.
Key #6: Smart marketers use intelligent PPC strategies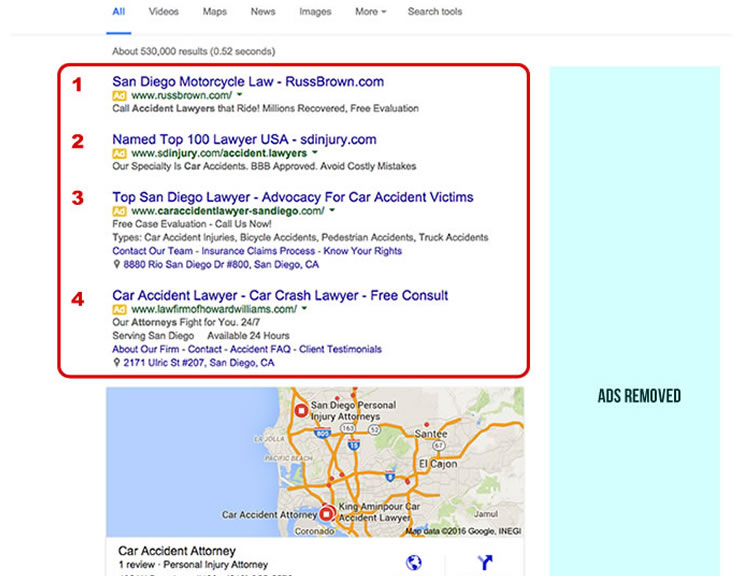 One of the most important changes made by Google so far this year was the removal of ads on the right side of the search results while at the same time adding another top ad. With the addition of another PPC ad up top, this pushes down maps and organic results even further. If you weren't thinking of PPC before, you should be thinking of it now. We've run multiple click tests to see if PPC ads are getting clicked on and the answer is absolutely. The click heatmap below is from a test we ran last month and it shows where people are clicking on in the SERPs. You might find it interesting that the 1st paid ad has around the same number of clicks as the #1 organic listing! If your budget allows, you should be doing both organic and paid search campaigns.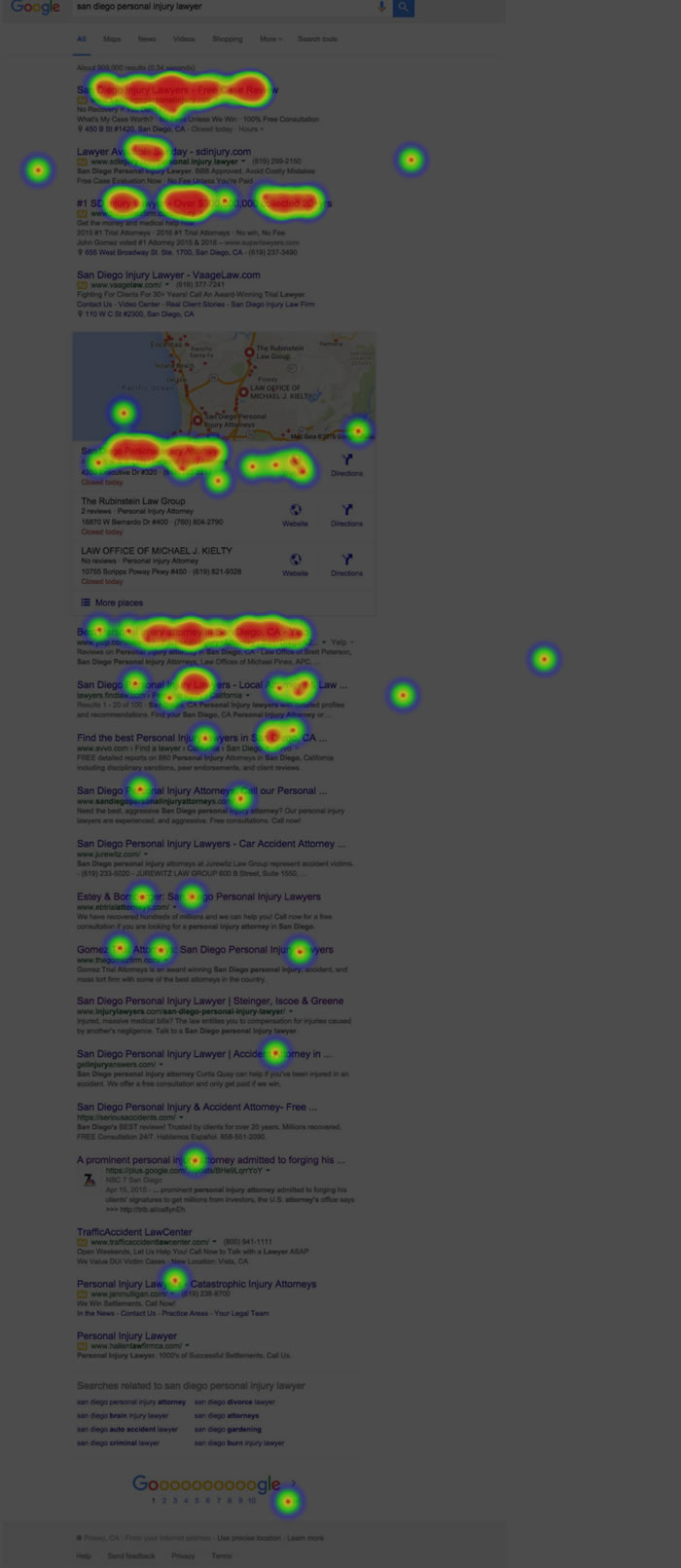 I won't get into all the details in this specific post about how smart PPC campaigns are run (I'll save that for a future post), but the right campaign manager can make all the difference in your paid campaigns. A poorly managed campaign can mean wasted clicks, higher click charges, low click through rates and lower conversion rates. Intelligently run paid search campaigns can have the exact opposite results by taking advantage of optimized campaign settings, running ad extensions, tracking conversions and being as efficient as possible with the campaign budget.
Key #7: Smart marketers use retargeting
Considering that most visitors do not "buy" on the 1st visit, your law firm needs to be retargeting if you are spending money on organic or paid search. For most websites, only 2% convert a visitor on the 1st visit. This means that 98% of visitors leave without buying so you need to trying to pull back those people back to your site. Retargeting allows you to do that by reminding those past visitors of your site that you are still there ready to help.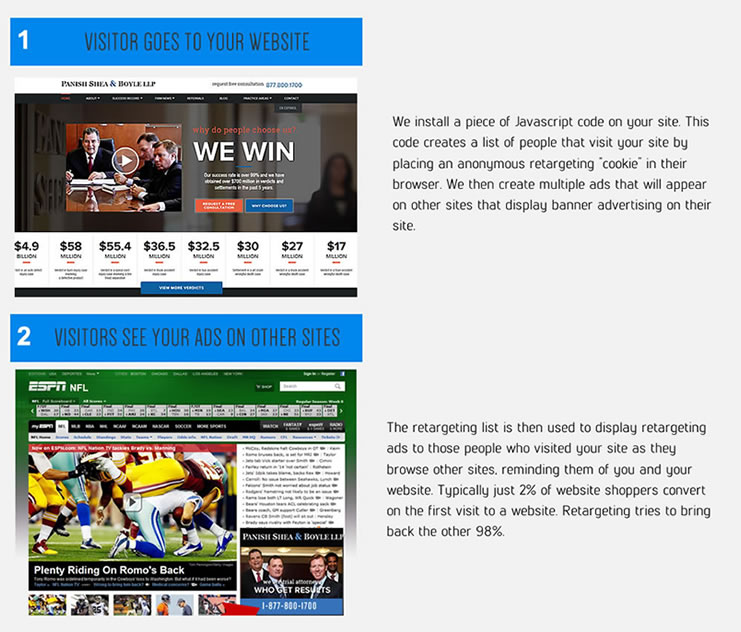 Key #8: Smart marketers make sure they have a phenomenal website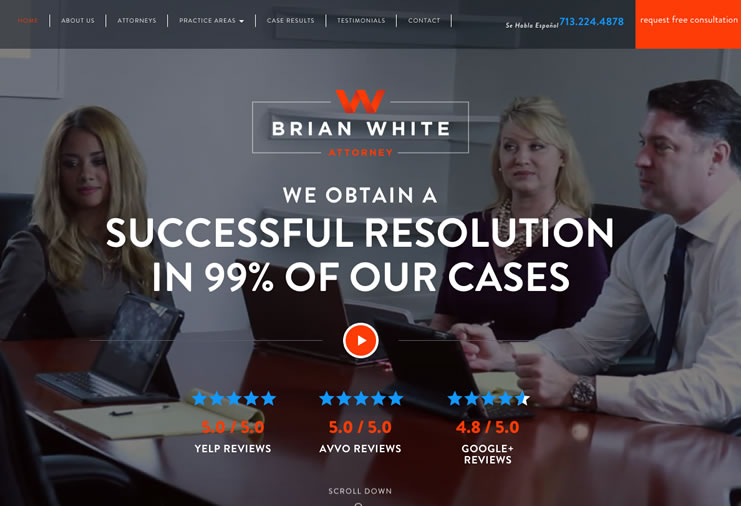 After 10+ years of law firm marketing, I'm still shocked to see lawyers who aggressively spend on marketing their practice but have a cheap, outdated looking website which converts poorly. One of the things we invest in regularly is user testing and understanding the mind of people who look for a lawyer online. It's not uncommon for law firms in competitive markets to spend $25,000-$50,000 on paid ads for example and personally I've seen too many of these law firms sending visitors to old outdated and cheap looking template websites. These websites give your law firm a bad impression and as a result they convert terribly.
Whether you are spending aggressively on SEO or paid ads, you need to make sure your website converts or else you are losing cases to your competitors.
One thing we know is that consumers are looking at multiple law firm websites before they decide which law firm to call. We also know that the way your website looks impacts the impression that your visitors have about your law firm. Are visitors getting the right impression about your law firm? Are they more impressed with your competitors website than yours? You need to be asking the right questions and have impartial people providing these answers if you really want to increase the business your law firm generates from your website.
Key #9: Smart marketers focus on conversion rates
How can you improve your website conversion rates? Through usability testing. If you have never run focus groups or had consumers user test your website, you are no doubt missing out on feedback that can be crucial to improving your conversions. A few months ago we recorded a session which you can see here:
The insight that impartial users can give to you could significantly impact the number of leads and cases you generate from your website.
Questions?
If you have any questions about the tips above, let us know in the comments or feel free to reach out to us.