There are few things more important to the livelihood of a law firm (or any business) than generating new revenue. Whether you are a sole practitioner, small to medium sized firm or a large firm, in order to be profitable you need new cases coming in consistently. And for any law firm trying to compete for new cases online, it's absolutely crucial that you choose the right company to work with. This post should help you accomplish exactly that.
If you're like most attorneys, you get calls or emails daily from people who are trying to sell you their law firm SEO services. The promises and claims people make are incredibly impressive aren't they? "We can guarantee you first page ranking for all your desired keywords at the low price of $500 a month!" Understand this: That's not reality and it won't happen. Don't be tricked into thinking that you can compete with law firms who are aggressively marketing online if you are only spending a few hundred dollars of advertising a month. That's like trying to take a knife into battle with people who have automatic weapons….that's not a battle you're going to win. As with anytime in life, if something sounds too good to be true, it probably is.
These days not only would you be wasting your money by choosing a low cost SEO provider, you would also be jeopardizing your website's ability to rank in the search engines now and in the future. The tactics used by low cost SEO providers for example can not only fail to get you ranked high on the search engines, but it could permanently damage your site's ability to rank (just ask anybody who has been hit by Google Penguin or Panda). So how do you find the right company to handle your law firm SEO? Here are some important things to keep in mind as well as questions you need to ask in order to help you find the right one.
1. Make sure the company currently has clients ranking on the 1st page of Google search results for competitive terms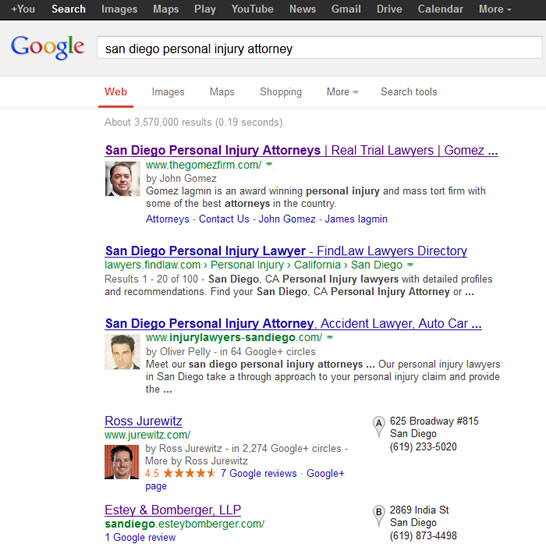 Any company can show you a site ranking high on Google for a few random searches but trying to rank for highly competitive terms is a different story. For example trying to rank for 'tax lawyer in Fort Bend, Indiana' or "Sedona personal injury attorney" is not nearly as competitive as a term like 'San Diego personal injury attorney' so don't be fooled by uncompetitive search phrases or obscure long-tail searches. While ranking for long-tail keywords is important to the success of your campaign, you want to make sure that the SEO company you hire can get you ranking for your primary keywords. Generally speaking, the higher the population of a geographic area, the tougher it will be to rank. The same goes for the area of law you are targeting. The most common areas of consumer law such as personal injury, mass torts, criminal defense, family law, employment law, immigration law, etc. are are in most cases much more competitive than tax law, business law, etc. You can get a general idea for how competitive a search phrase is by using the "allintitle" search on Google as in the images below. Note, there is no space after the colon in the search below.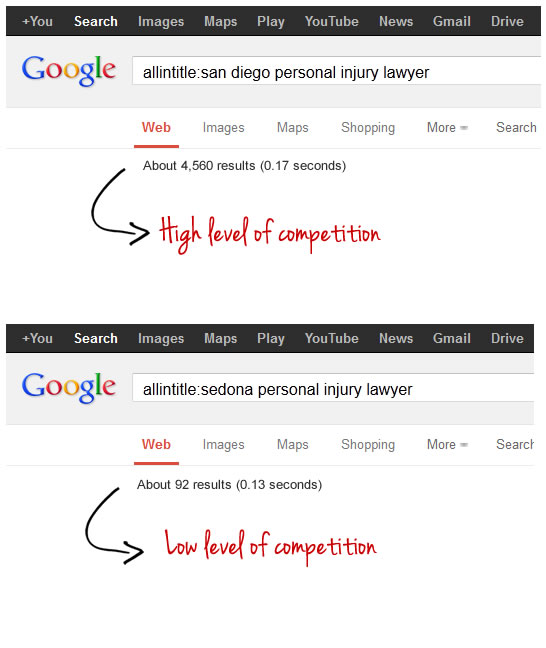 2. Make sure the SEO company can show you multiple clients who rank high on Google, not just one!
Many SEO agencies have one or two clients who are their "show pieces", meaning they show the results for these to everyone they demo their services to. While that can look impressive, you have to ask a couple of questions in these scenarios:
How do the majority of their clients rank? If the company you are talking to has a few clients ranking but most who are not, you are probably taking a big risk in using that company. Many of the larger law firm marketing companies in the industry are perfect examples of that. If you realized that less than 10% of their clients had good visibility on Google, you would probably think twice about using them because at the point your taking a big gamble with very low odds of winning. You have a better chance of winning in Vegas.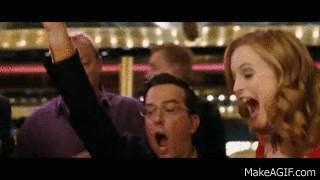 Is what they are showing to you the same service they are trying to sell you? For example, at iLawyerMarketing we have some clients that target multiple geographic areas and/or multiple practice areas and those campaigns are always more expensive than optimizing for a single geo area or a single area of law. The more keywords you are targeting and the more geographic areas, the higher the cost of SEO.
3. How many clients does the company currently have in that market?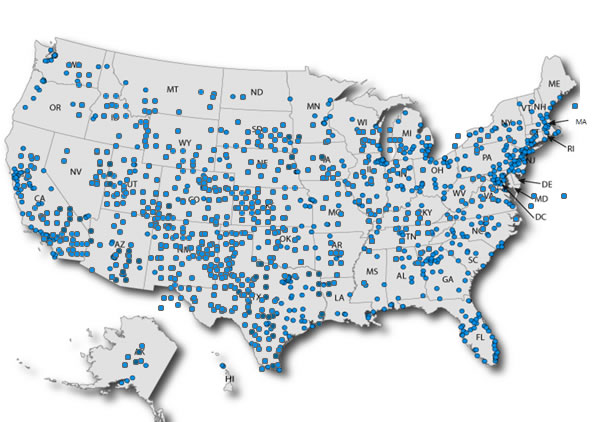 Many companies providing SEO for law firms will take on as many clients as they can possibly sell in any given market. Especially the big boys in the industry who have sales quotas that they must hit. Is it really smart to choose someone who already has 20 attorneys competing for the same cases in the same market as you? Of course not. Especially if the majority of those law firms do not high 1st page visibility on Google!
4. Ask if they have had any clients get hit by Google Penguin
You may or may not be familiar with Google Penguin by now. If you aren't, that is probably a good thing. Google Penguin is a Google algorithm that was created in order to prevent sites that "over-optimize" from ranking high on their search results. Sites that have been affected by Penguin have seen a significant drop in traffic, often times tied in directly to the keywords that were being over-aggressively optimized. You may be looking for a new company to handle your law firm's SEO specifically because of a direct drop in traffic related to Penguin. If you are wondering if your own site has been hit by Penguin, look at the chart below and compare the Penguin dates with your analytics data. If you notice a sharp drop in traffic right at the point of any of the dates listed below, most likely you've been hit.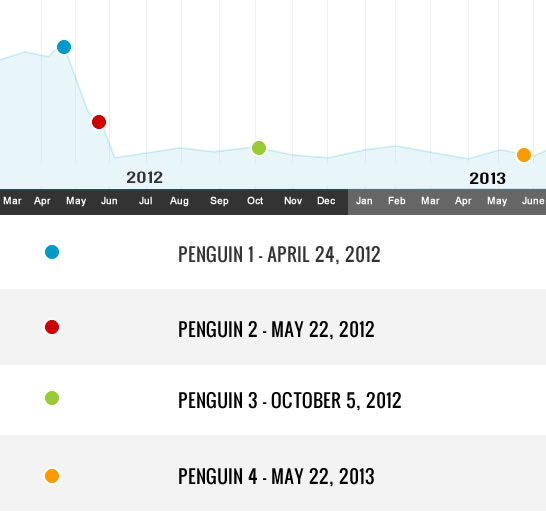 SEO agencies that have engaged in "cheap" link building tactics have caused many sites to "tank". In the graph above you'll notice a steep drop in traffic on the first two dates of Google Penguin and this is very typical for sites that have been effected.
5. What types of link build strategy does the SEO agency employ?
One of the most important things you can find out is what types of links are being built to your site and what type of strategy do they take to generate those links. Certain types of link building are a sure fire way to ensure you get slapped upside the head by Google Penguin. Directory link building, article submissions, blog commenting or other sorts of "link schemes"…all of these are cheap links building tactics that will end up getting your domain penalized. The reality is that SEO is harder than ever before because the types of links that used to positive effect on rankings no longer work. In today's post-Penguin link building world, it takes getting links from high quality sites in order to "move the needle" (at least for an extended period of time). Don't get me wrong, there are black hat tactics that will work…but only for a short period of time so it's not something you want to be involved in when it comes to your law firm's website. Getting links from high quality sites takes creating something great, the type of content that others will actually want to share by linking out from their site, Tweeting about or sharing on Facebook or Google+. On top of that it takes a significant amount of outreach in order to make other webmasters aware of that great content. Outreach is the process of contacting other people with the purpose of generating links or PR. SEO is not about tricking the search engines into getting your site to rank, it's about smart marketing and you just don't get that with low cost SEO providers because it's not economically possible.
6. Be clear on the services offered and what keywords you are targeting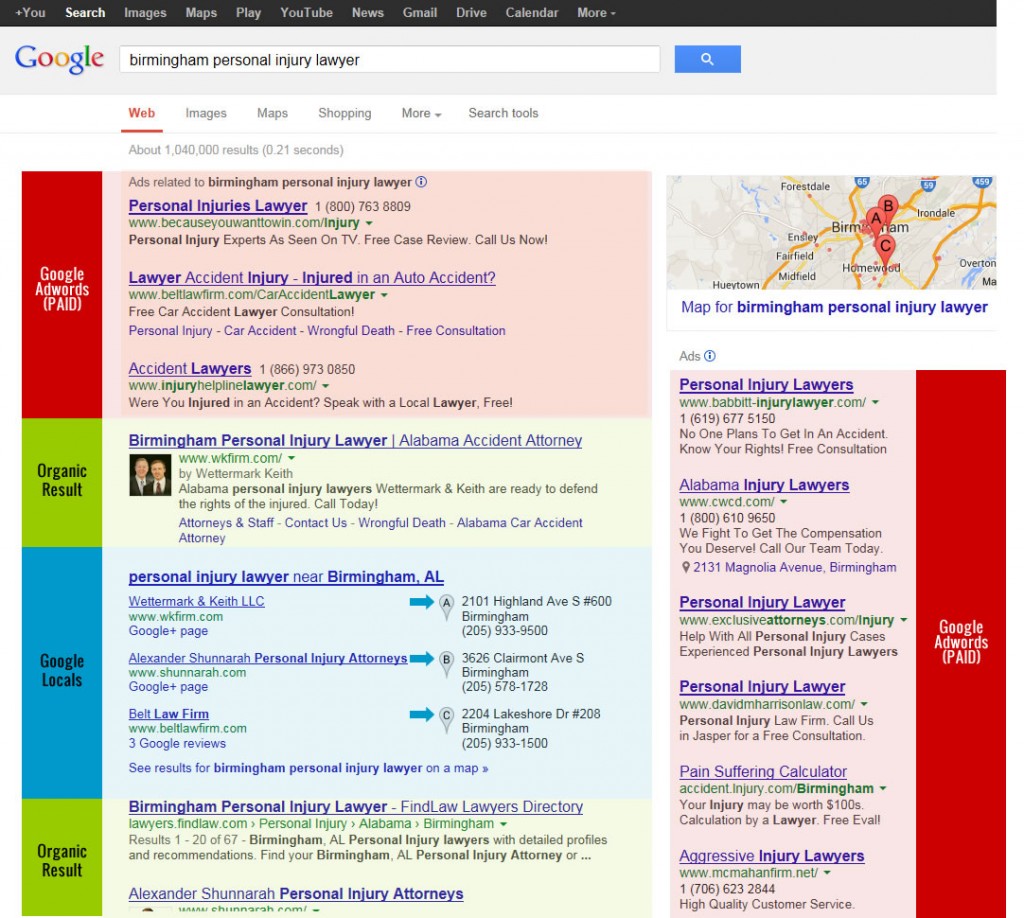 One of the common misconceptions that attorneys have is thinking that new cases will simply pour right in by ranking #1 for a term structured like "(city) + (practice area) + lawyer/attorney" such as "Phoenix personal injury lawyer" . That seems to be what initially most firms that contact us care about, ranking high for a single term. After 10 years of analyzing law firm website traffic, I can promise you that if you only rank for a single term (even if it is your "home run" term) you are going to be severely disappointed. Before Google started encrypting keyword traffic and replacing that with "not provided", it was common to see over 80% of organic traffic coming from unique keyword combinations. The point is, for best results you want to show up for many variations of keywords….not just a few. Many companies providing SEO for lawyers out there only try to optimize your site for a small handful of terms when you need to be optimized for many variations of search phrases relating to the types of cases you are targeting. At the same time, some only optimize you in Google locals (the maps listings) when you should be optimized for both Google locals and organic results.
Choosing a company to handle your law firm's SEO is not an easy choice. It's hard to find out who to trust because you've probably been let down by many other companies before. This is a serious investment and the marketing of your practice is going to be the key to your survival and growth. It may be wise to visit the firm in person to see what the setup is like and to make sure you have a high level of comfort before deciding which company to choose. Talking to some existing clients is probably wise to do as well (although I wouldn't take the word of your competitors). In any event, make sure you do your due diligence before choosing which company to hire.