Over my 12+ years in the industry of Internet marketing for law firms, I've seen many attorneys who have tried to handle their own Google Adword campaigns without the help of a PPC professional. As a business owner, I understand why many firms try this instead of paying a percentage of their spend to an agency. Why pay someone else to manage PPC when you could use those funds towards your advertising budget and manage it yourself? The answer here would be the same answer you would probably give to someone who wants to avoid paying a lawyer to handle their case after they have been injured in a car accident. "Why pay a lawyer a percentage of the settlement when I can handle it myself and keep all the settlement money?" In both instances, these are ways where attempting to save money will actually cost more in the end.
While a very select few (I can count them on one hand) do a fantastic job of running smart and efficient campaigns, the vast majority of law firms are wasting marketing budget dollars and most importantly missing out on potential new clients through improperly run paid campaigns. Competition among lawyers is very tough, so unless you have someone that really knows that they are doing handling your campaign it's not going to be very productive for you.
Running a Google Adwords campaign and running an efficient and successful one are two very different things.
With the time our team spends analyzing search results and paid search campaigns every day, we see a lot of the mistakes being made and money being wasted by law firms around the country. To be fair, it's not always the law firms themselves who are managing these poorly run PPC campaigns. Often times agencies who are managing the campaigns don't take the time to make sure they are maximizing the PPC budgets they are responsible for or simply don't know how to run one successfully.
Should I hire someone in-house or go through an outside agency?
Maybe you are a lawyer who realizes you shouldn't be running paid search campaigns yourself but are considering hiring someone in-house to manage this for you. If you are spending a very large amount on Adwords each month, no doubt this is something to consider. The average salary according to Payscale for a PPC manager is $48,292 a year which comes out to $4,049 a month. Of course for someone who is really good you are going to be paying a lot more than that. The average cost that agencies charge to manage PPC is 15-20% depending on monthly campaign spend. So with a 15% management fee, you would need to be spending $26,993 a month to equal that $4,049 monthly salary. Of course that doesn't include payroll taxes, etc. so really that monthly cost to your business is actually higher to have someone in-house. However, your average PPC manager is not going to be able to compete with agencies who have many more assets available to them to help maximize the efficiency of campaigns, including software, keyword data sets, web designers, programmers, CRO (conversion rate optimization) experts and experience managing many campaigns to help understand what works and what doesn't work. For most law firms, hiring someone in-house is not the best option.
How to choose the right company to manage my Google Adwords campaign?
There are a number of things that are vital components of running successful campaigns. The company you hire to run your paid search campaigns should have or be doing all the following:
Experience managing PPC for law firms
While experience alone should not be the reason you hire someone to manage your PPC, it is important that someone has extensive experience running successful paid search campaigns. Even more important is experience within the legal industry and having a deep understanding of what works and what doesn't work. Whether it's personal injury, criminal law, family law, bankruptcy or anything else in legal, you can be sure it's highly competitive and keywords in the legal industry are among the most expensive in all of paid search. When a single keyword can cost hundreds of dollars, you better make sure the company managing your campaign really knows that they are doing. If you are a criminal lawyer for example, do you really want to show up for keywords like this below? No, you do not.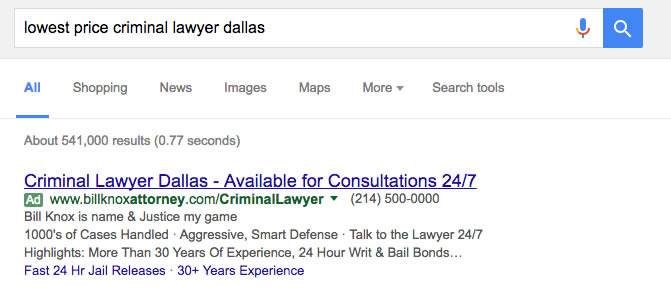 Utilizing Research & Data
Understanding how to properly research the right keywords to use in your campaign is another critical component of running smart and efficient campaigns. Take a look at Google's suggested bid amount for the search term "Houston personal injury lawyer". Not exactly cheap, right?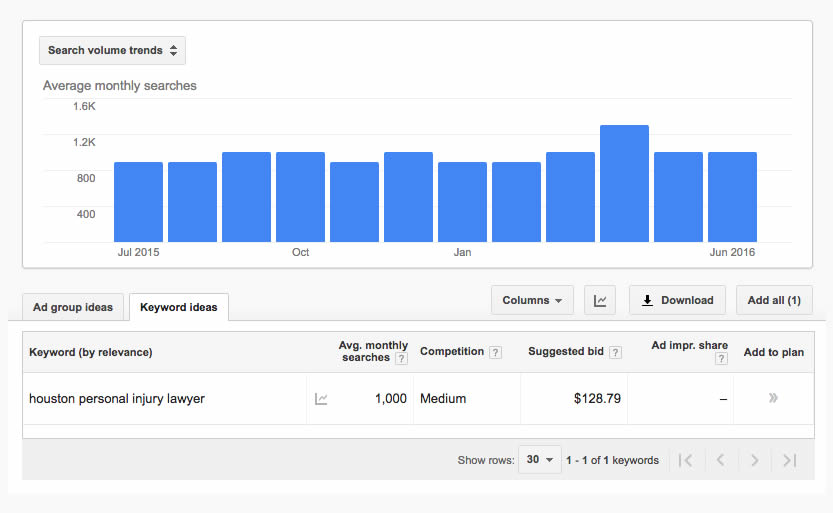 While there are plenty of law firms that spend $25,000-$50,000 a month (and more) on Google Adwords, most law firms don't have that kind of budget. So how do you compete with the law firms that have much larger budgets than you do? The PPC management agency running your campaign should be smarter about the campaigns you run and what keywords your ads show up for (or don't show up for!)
Conduct Testing
Successful campaigns don't begin and end with simply selecting the right keywords to run. Equally as important is to make sure you are testing which ads perform best in order to maximize click-through rates and lower your cost per click. The best Google Adwords agencies also conduct A/B testing on your landing pages to help improve conversion rates and to maximize performance of your campaigns. Will a different tagline help improve conversions? How about a different image? Will a picture of the attorney smiling as the main landing page image produce better results then an office staff picture? You don't know unless you test!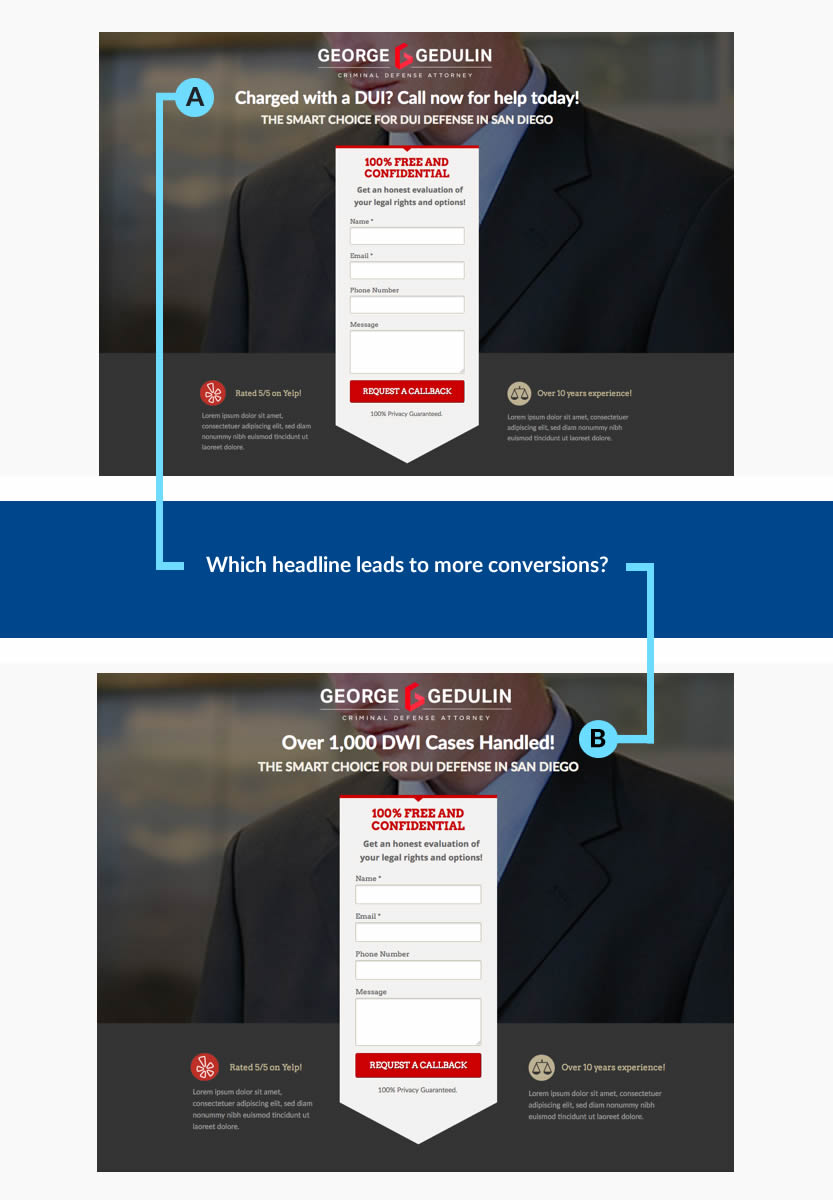 Understanding how to properly conduct these tests is key to helping your campaign perform better.
Data Analysis
What is working and not working? Why? What ads perform the best? Which ads get the highest click throughs? Which pages convert best? Does video help conversion? Can video hurt conversion? What do users think about your website? What do site visitors think about your site compared to your competitor websites.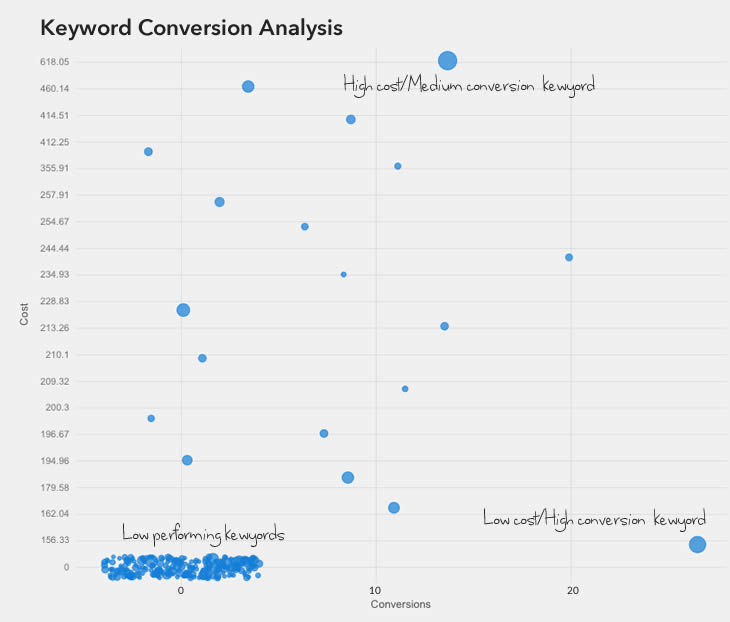 Analyzing the data can provides mountains of invaluable insights and information. Knowing what to look in the data analysis process is crucial to making your campaigns work.
Image: Click heat map test to see what ads earn the highest click throughs for a specific keyword
Questions?
Let us know if you have questions, we'd be happy to answer them for you.